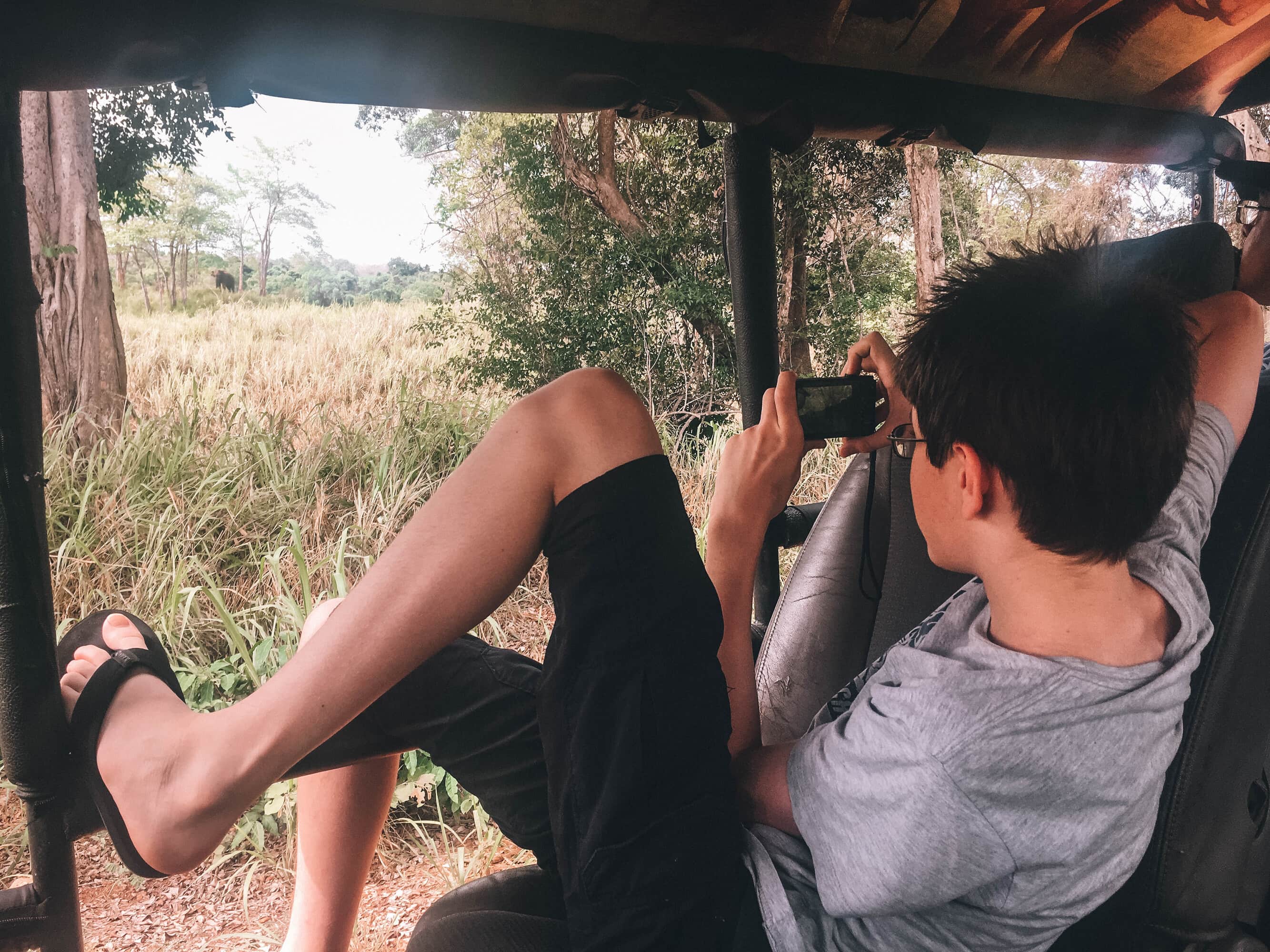 Have you ever abandoned the idea of an adventurous family holiday to Sri Lanka because you think it may not be kid-friendly enough? Well, what if we told you that travelling to Sri Lanka with kids is much easier than you imagine? In actual fact, it's the ultimate family holiday destination. From immersing yourselves in the vibrant local culture to encountering majestic elephants and enjoying a wide range of activities, Sri Lanka offers countless reasons to consider it for your next trip.
Is Sri Lanka Child-Friendly?
Travelling to Sri Lanka with kids undeniably requires more consideration than a beach trip to Europe. Not only are the flight times longer, but you need to consider travelling around and the facilities within the country too. However, those who put a little extra effort into the planning process will be greatly rewarded.
How Do You Travel to Sri Lanka with Kids?
A 12-hour flight might sound daunting, especially to parents of little ones who have never done such a journey before. There are, however, many positive things about the flights to Sri Lanka. Sri Lankan Airlines fly direct from Heathrow to Colombo daily, departing at either 8.30 or 9.30 PM depending on the time of year. These evening timings make it ideal for settling down with a film and some dinner before drifting off to sleep. The seat configuration of 2-4-2 makes it great for families who prefer to sit in one row together. If you prefer to break the journey up with a stop, there are indirect options with Emirates and Qatar Airways.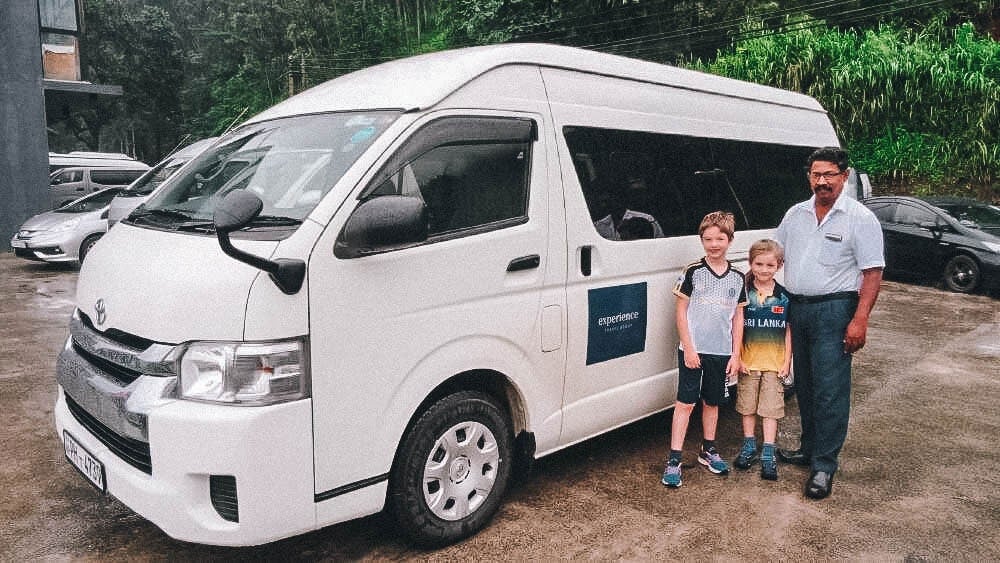 What's the Best Way of Travelling Around Sri Lanka on a Family Holiday?
The best thing about Sri Lanka is the variety of experiences and landscapes. Although it is a relatively small island, most sites are spread out across the country, so you need careful planning to ensure you don't spend too much time in transit. Due to the logistics, the best way to get around is to hire a chauffeur guide. This ensures that you can travel around stress-free, and directly to your hotel. Not only will this mean you have a driver, but also a local guide to help educate all the family and recommend the best spots for you to visit. All Experience Travel Group vehicles are air-conditioned with proper seat belts, and car seats provided for all young children and babies.
However, travelling by car isn't the only way to get around, and we'd highly recommend breaking up your journeys by taking local trains or hopping on a tuk-tuk, which we guarantee kids will love!
Can you Find Family-Friendly Accommodation and Food in Sri Lanka?
Sri Lanka has a great variety of hotels, ranging from larger resorts to smaller more characterful hotels with excellent service. We highly recommend the locally run boutique properties, as they are excellent at attending to individual requirements. Plus, the staff will often get involved with babysitting services or entertain the kids with a game of cricket!
Sri Lanka is a foodie's dream, with colourful curries and dishes packed full of flavour. However, understandably this can be a concern for the fussier eaters among us, especially when travelling with kids! Rest assured though that most hotels will also offer European dishes or happily make sandwiches upon request.
Are Vaccinations Needed on Family Holidays in Sri Lanka? 
As with most foreign countries, it's sensible to check with your nurse or the NHS website about which vaccinations your family needs before travelling. For most children, their standard immunisations should still be in date, which is the most important thing. Although Sri Lanka is not a Malarial country, its tropical climate means that there are mosquitos. However, these usually only come out in the early evenings. As long as you use mosquito spray before heading out for dinner, they shouldn't be too bothersome.
Tap water in Sri Lanka should not be consumed. Not to worry though, most hotels provide either bottled water or a clean water refill station.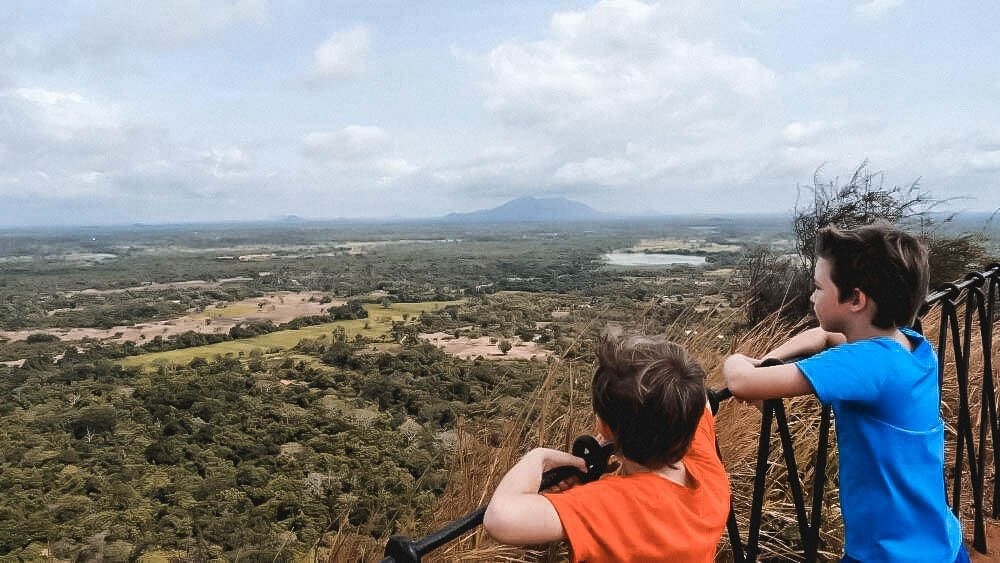 Are Sri Lankans Good with Kids?  
The Sri Lankan locals are among some of the friendliest people in the world and are arguably the reason that most travellers leave with such warm memories. You'll be welcomed as though you're part of the family, fed as though you haven't eaten for days, and questioned with genuine interest. In particular, Experience Travel Group takes great pride in our local guides, who are hired just as much for their warm personalities as their in-depth knowledge. We aim to pair the interests of the client with the appropriate guide and match families with those who are great with children or have families of their own. (Don't just take our word for it: hear an account of one of our travellers who took her first long-haul trip with kids in tow to Sri Lanka).
Is it Safe to Take a Baby to Sri Lanka?
For those considering heading to Sri Lanka with small toddlers or babies, there should be no reason not to travel so long as you have made all of the necessary arrangements. Nearly all hotels, even the smaller boutique-style ones, are able to arrange a cot in your room, and will happily store any food or equipment that you need. Baby-sitting services can also be booked in advance if you need a little R&R time. When booking your room category, ask your travel consultant to double-check that any balconies or pools are child-safe. At ETG, we will always verify that the vehicles are able to have the correct seats for your child's age and size.
Beyond all of this, Sri Lanka has such a wonderfully calm and welcoming vibe that the whole family will feel relaxed the moment you arrive.
Where to Travel in Sri Lanka on a Family Holiday?
The best thing about travelling to Sri Lanka is that it has it all: diverse wildlife, untouched beaches, fascinating history, dramatic scenery and the widest smiles. The trouble is knowing which places to focus on for your trip! To ensure that you embark on the right holiday for your family, the best thing to do is to speak to a Sri Lanka specialist who'll be able to advise you on the most suitable locations for your family's needs and interests. But to help whet your appetite, here are a few suggestions which in our experience, families will love to visit…
A relaxing and beautiful beach destination in southern Sri Lanka, Mirissa is a popular spot for surfers and beachgoers. From the coconut trees to the turquoise water, Mirissa is full of unforgettable beauty that the whole family will enjoy. 
A small but mighty city located in Sri Lanka's hill country, Kandy is brimming with culture and history. Influenced by its tea production, getting here on the most beautiful railway is a destination in itself. Wander the streets and marvel at the incredible architecture and art that scatter the city.

Colombo offers an excellent Asian city experience for families; it's laid back and relaxed. The city itself is booming, with skyscrapers and bustling backstreets where you can find yourself wandering for hours. At sunset, head down to Galle Face Green, located on the seafront, to be captivated by snake charmers and kite flying.