ETG travellers John and Lesley recently visited, Chiang Mai where they enjoyed our 'Thai for a day' experience. Joining a local family for a tour of their stilted teak Ruen and an informal cooking class, here Lesley shares her thoughts on her time with the 'Parats'.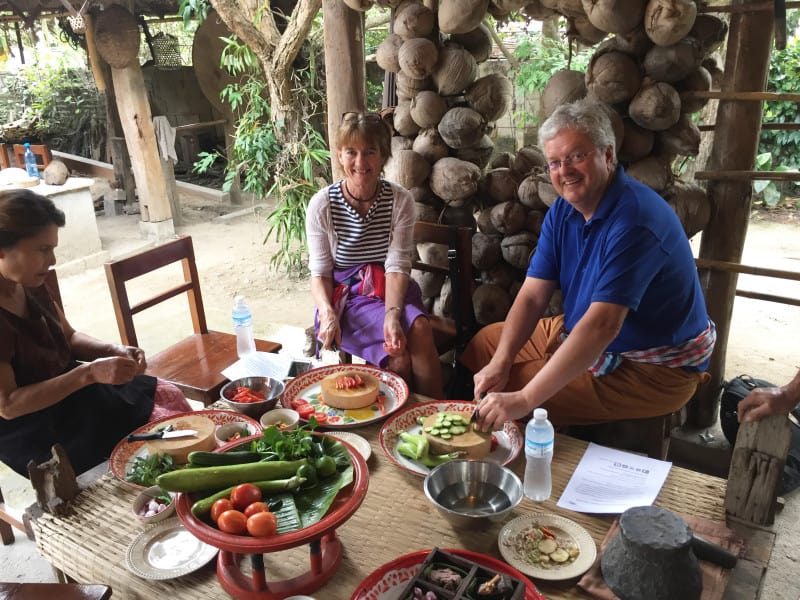 ---
The whole experience was like visiting a close friend's home. Mr Parat, our host for the day, was very welcoming and his son gave us such a vivid insight into life around Chiang Mai. There were the same issues we used to have in our family; Parat Junior's daughter for example wanted a lift to school and not have to walk. At the same time, you could see this area is under a process of rapid change, in between two ways of life – the older giving way to a more tech-based, urban and fast moving system. Parat Junior told me he tries to make sure his daughter doesn't sit in front of screen all day – so similar to the challenges facing all parents around the world.
At the same time, the old heritage of Thailand was very apparent. Mr Parat and family live in a series of beautiful teak homes in an extended unit. It was very obvious that the duty of Parat Junior was to take care of his elders and other relatives.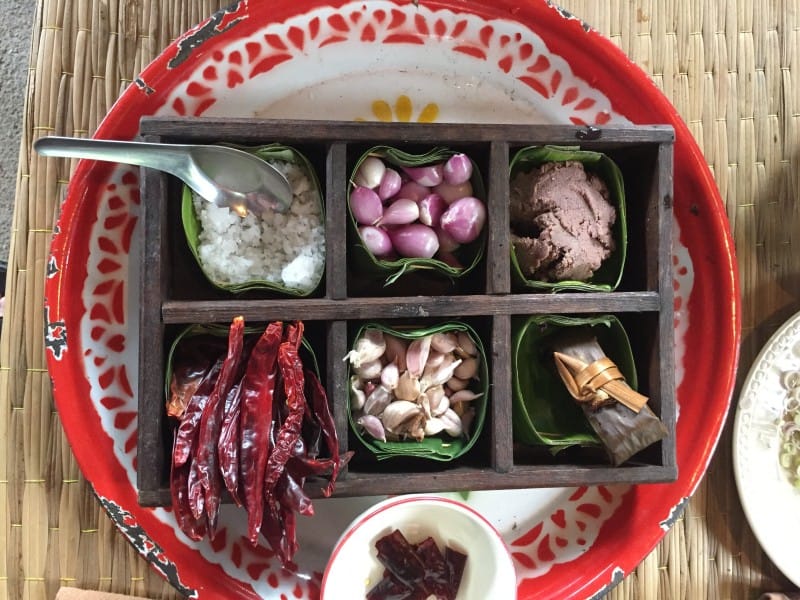 Our experience began with a quick tour inside the main family home. We learnt about the importance of the façade facing east – symbolising new life, rather than west which represents death – an example of Feng Shui in action. Later, we had a tour of the garden where all types of vegetables and herbs are grown. It was so interesting to see lemongrass sprouting from the soil and funny to see chickens roosting in trees – apparently dogs will eat them given half the chance so they've learnt to relax on high.
We then moved on to the outdoor kitchen area where we cooked over charcoal cooking pots. Mr Parat's son, ably assisted by his Aunty, taught us how to cook Thai-style.
In just an hour, we prepared various Thai dishes for our lunch (in rather funny looking trouser aprons!) We made a chicken curry, a beef curry, an aubergine dish, soup and some delicious dessert. The meal was served with the family, and their standard of English was fantastic; Mr Parat's parents had sent him to a Catholic school in the 1970s as they knew he'd get a good language education there. His linguistic ability had certainly passed down to his son too.
As a final parting activity, we were taught how to weave a traditional basket and the family filled it with miniature pears from the garden for us to take back to the hotel. All in all it was a wonderful experience and I'd thoroughly recommend other Chiang Mai travellers to do it too.
---