November 2nd 2009 sees this year's Loi Krathong festival which will be celebrated across Thailand. The festival marks one of the highlights of the year for Thais and visitors to the Kingdom alike.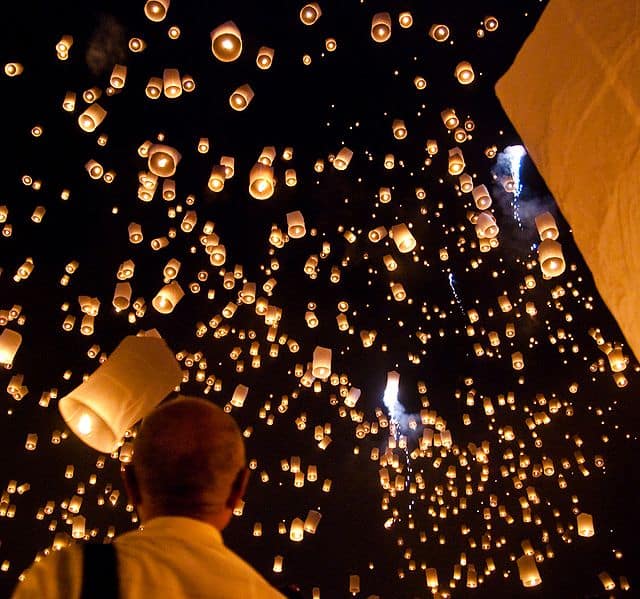 (photo courtesy of Takeaway and used under the Creative Commons Attribution ShareAlike 3.0 licence)
Arguably one of Asia's most colourful and spectacular sights, the festival celebrates Loi means 'to float' and Krathong means is a special kind of hand-made raft using banana trunk, leaves and flowers decorated with incense, candles and coins.
The history of Loy Krathong Festival is slightly obscure and seems to date back to Hindu origins in India. First, it is to ask for apology from the water goddess for having used and sometimes made rivers and canals dirty. Second, it is to offer flowers, candles and joss sticks as a tribute to the footprint of Lord Buddha on the sandy beach of the Nammatha River in India. Third, it is to show gratitude to the Phra Mae Kong Ka or Mother of Water. Fourth, it is to wash away the previous year's misfortunes. People will also cut their fingernails and hair and add them to the raft as a symbol of letting go of the bad parts of oneself. Many Thai people believe that floating a krathong will create good luck, and they do it to honour and thank the Goddess of Water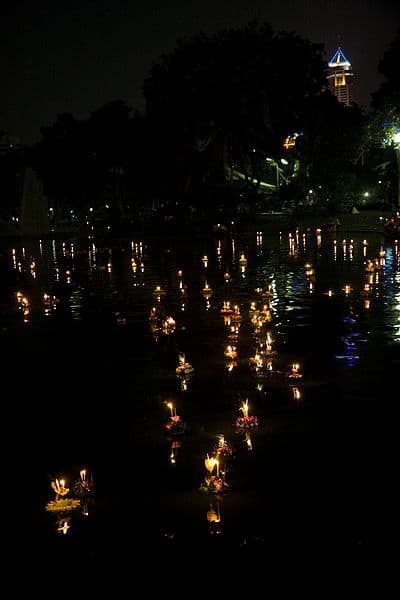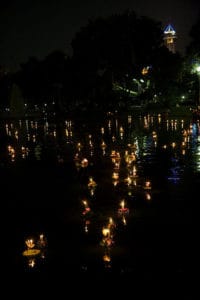 (Image courtesy of Robert Pollai)
The festival falls at the end of Thailand's rainy season, when lakes, streams and rivers are brimming with life and activity. It's a big occasion for families who tend to congregate to celebrate together, making the Krathongs together. The ritual tends to involve saying prayers and before releasing the rafts into the water.
Hundreds of Krathong floating gently with their beautiful flowers and candles flickering is a sight to behold which can be witnessed throughout Thailand.
In Chiang Mai Loi Kratong is also known as "Yi Peng" and is celebrated witha special twist. Here the people create the typical Krathong as well as Kom Fai (Sky Lanterns) which are launched into the sky creating spectacular scenes.