Want something a little more adventurous than a countryside cottage in the west country or a hop across the pond to France? Asia boasts some fabulous weather in the summer, with colourful festivals, delicious food, idyllic beaches and family friendly boutique accommodation to boot. It's the perfect place for a holiday with a difference.  Here's our rundown of the best places to visit in Asia during the school summer holidays. 
---
1. Sri Lanka
Boasting beautiful sunshine, warm tropical weather and some incredible summer spectacles, Sri Lanka is a brilliant place to go on holiday during our summer. Throughout this period – especially towards the end of August – you can for example experience the biggest natural gathering of elephants in the world. Appropriately named 'the gathering,' it's a fantastic way to see these animals enjoying life in the wild.
There's also an incredible parade in Kandy at the end of July called Esala Perahera: Buddha's tooth is paraded through the streets of this beautiful colonial city on the back of an elephant with music, dancing and fabulous street food. You can watch the ceremony from comfortable viewing benches or we can book a special hotel room that'll give you a great view.
Speaking a little more generally, Sri Lanka has some brilliant experiences everyone will love, from scaling the UNESCO heritage Sigiriya Rock Fortress to swimming in beautiful ancient water tanks, from watching the sun go down from the ramparts of Galle Fort to taking in view of the stunning tea plantations on a local train ride. With wonderful family friendly accommodation in former colonial villas and renovated hotels, it's the place to go if you want a laidback cultural adventure with plenty of local colour.
Flight time: 10-11 hours
---
2. Borneo
Perfect for lovers of the outdoors, Borneo is world famous for its 130 million year-old rainforest (the oldest in Southeast Asia), its diverse range of wildlife including Orangutans, and its beautiful beaches. We recommend visiting Danum Valley, a mysterious area of virgin rainforest that Prince William and Kate visited on their trip to the country, and spotting wild Orangutans and clouded leopards. A stay on Gaya Island Resort is an opportunity to do some serious relaxation on an idyllic stretch of beach. Bako National Park and the Santubong Peninsula is another brilliant experience off the usual tourist route, where you can spot big-nosed Probuscis monkeys, saltwater crocodiles and dolphins as you cruise rivers and mangroves. It suits families with older children as the longhaul flight is longer than nearer Asian countries; the wildlife, nature and landscapes are more than worth it though!
Flight time: 16-20 hours depending on connection times
---
3. Indonesia
With ancient heritage, stunning beaches and exotic wildlife, Indonesia is an adventurous destination for a family holiday. Set sail on your very own junk boat to see Komodo dragons and flying foxes, climb up to stunning Hindu temples on the spiritual island of Bali, explore fantastical underwater worlds, and get up close to smoking volcanoes. Whether you hop around this archipelago or focus in-depth on one island for a more relaxed trip, Indonesia really is a place of exciting discoveries where 'geography' spectacularly comes to life.
Flight time: 15-20 hours depending on connection times
---
4. Indochina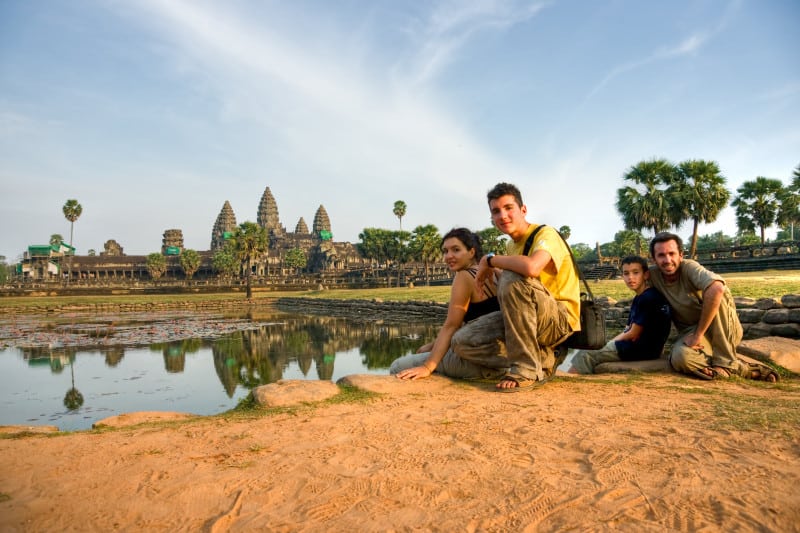 One of our most popular family destinations in Asia during the school summer holidays, Vietnam, Cambodia and Laos (collectively known as Indochina) have a perfect mix of tantalising food, ancient culture, stunning landscapes and family friendly accommodation. Plunge into the stunning waters of Halong Bay from your own refurbished junk boat, taste delicious Pho and spring rolls in Hanoi, kick back and relax on the beaches near UNESCO heritage Hoi An, whizz through the bright lights of Saigon on an expertly driven vespa tour. Discover the temples of Angkor and ride a boat to nearby undiscovered floating villages. Shop in the beautiful night markets in the romantic city of Luang Prabang and give alms to a serene procession of orange-robed monks. It's ideal for families wanting a cultural holiday with lots of immersive experiences.
Flight time: 13-15 hours depending on connection times