Cat and family went on a summer holiday adventure with ETG to Sri Lanka and we asked her to share her top 5 favourite experiences. From swimming races with her brothers, to absorbing the stunning hill country scenery by train, to canoeing in the great outdoors, here she shares her thoughts: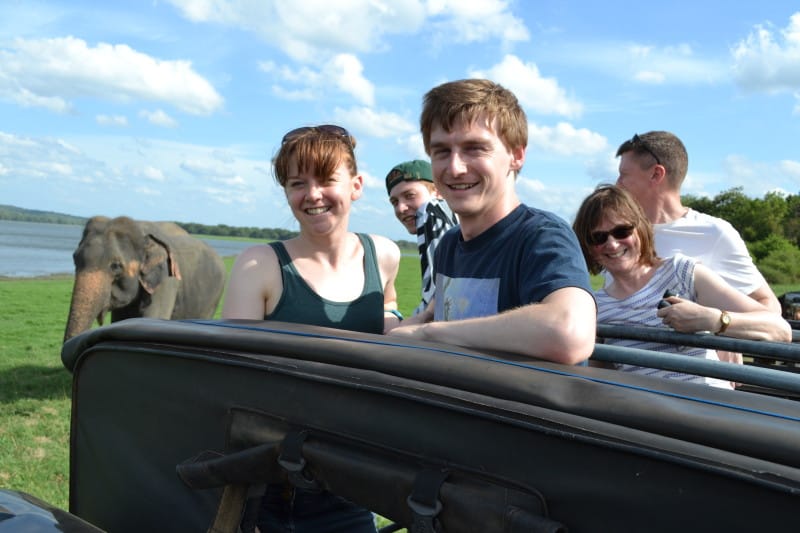 Family holidays used to be a big feature of every year, planned out months in advance and the biggest thing to look forward to in the long summer holidays. But as my brothers and I have all got older, we have decided we are too cool to go on holiday with our parents and it has happened less and less often. This year was different though. Sri Lanka was suggested as a potential destination and suddenly everyone was interested.
UK festivals and social gatherings were turned down and put on hold as we all got excited about our big family holiday for 2016. Sri Lanka certainly more than lived up to our expectations and we all had a fantastic time away. Below are my top 5 family experiences in Sri Lanka that are guaranteed to get any family considering it for their next big adventure.
---
5. Riding in a massive air-conditioned car along crazy Sri Lankan roads.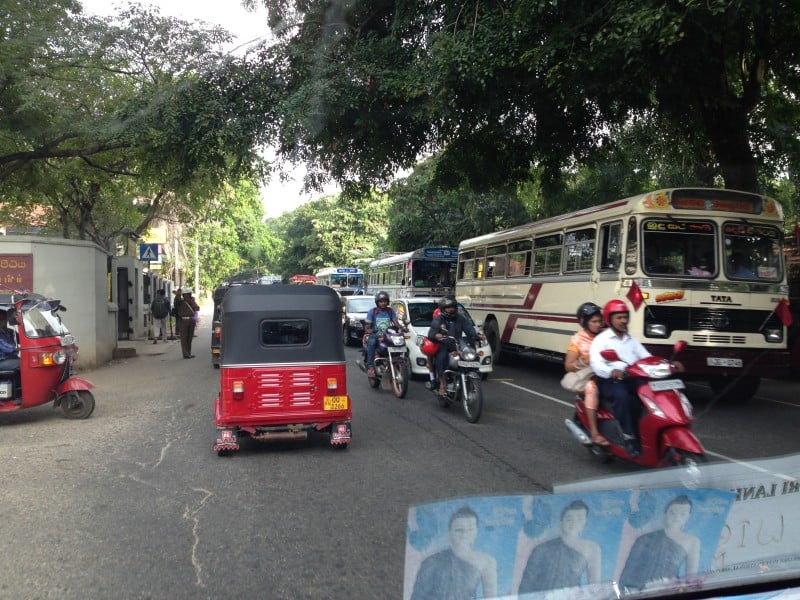 This may seem like an unusual experience to kick off my list, but honestly, driving in Sri Lanka is an experience like no other. The road conditions vary greatly from smooth dual carriageway to pothole minefields but the rule always seems to be the same: just beep your horn consistently and overtake everyone. There are plenty of tuk-tuks, slow busses and large lorries to pass and as long as the vehicle coming the opposite direction is small enough to squeeze by, there is little hesitation from Sri Lankan drivers. Just to add to the chaos, vehicles frequently have to dodge a fearless dog wondering leisurely across the road amidst the traffic.
There really is nothing like a near-death experience to bond a family together! Sorry, I'm exaggerating, we didn't nearly die at all, but the journeys certainly kept us entertained and served as a good talking point! Sri Lanakan drivers seem to know what they're doing, and my family and I soon got used to this style of driving that would be frowned upon at best back in the UK. I have to say I felt incredibly safe in the hands of our trusty chauffeur guide, but this is definitely not a try-it-yourself-experience. Hire a good driver, a comfortable vehicle, buckle in and enjoy the ride!
---
4. Taking a scenic train ride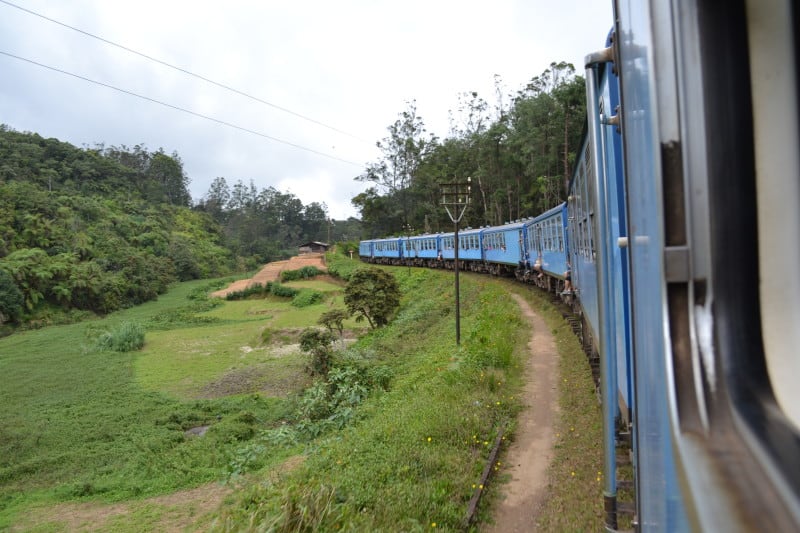 Other than driving, the other mode of transport we used to get around the country was train. However this was not particularly out of convenience but more for the experience. The route between Kandy and Ella takes around 7 hours, which is longer than it would be to drive, but it has been named the most scenic journey in the world. To compromise in the interest of time and diversity, we decided to take only part of this train journey and boarded at Nanu Oya station in Nuwara Eliya, giving us a good 3-hour train journey down to Ella to enjoy.
As we trundled along, my family and I kept swapping seats with each other, sticking our heads out of the windows in order to take in every view of the hill country and passing tea plantations from the train, which is indeed stunning. The highest station on the journey stands at an elevation of 1897.5 metres and there are points around here where you can see right down to the lakes.  There are also local villages to take in as the train passes through and I even spotted a monkey in the trees. There is plenty to look at and discuss with your family on this magnificent journey.
---
3. Staying at The Dutch House and taking a dip in the private pool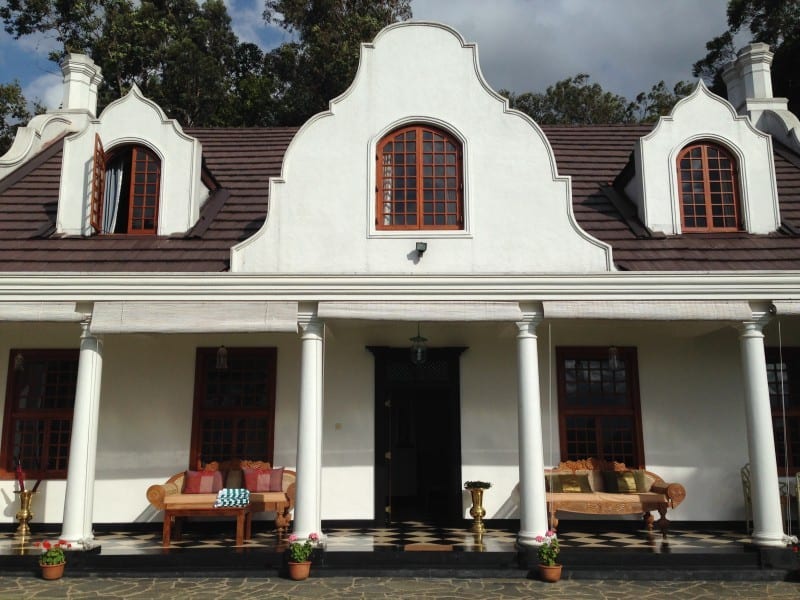 After disembarking from the train just before Ella in Bandarawella, we made our way up a rather steep hill to arrive at our home for the next 2 nights – The Dutch House. This secluded property is the perfect place to retreat from the hustle and bustle of city life for a couple of days. With the whole place to yourself (and even your own room if you get lucky like me!), there is plenty of space to relax and unwind. Sipping a welcomed cup of tea on the veranda of this beautiful colonial house looking over the finely kept gardens shortly after we arrived, we observed how we felt like we might be on the set of a British period drama. The views from the Dutch House are stunning. The surrounding tea plantations are easily explored on foot, which we did the following morning in the company of our host, who went over and beyond to ensure we were comfortable and happy during our stay. If you'd like to see more family hotels and resorts in Sri Lanka, do have a look here.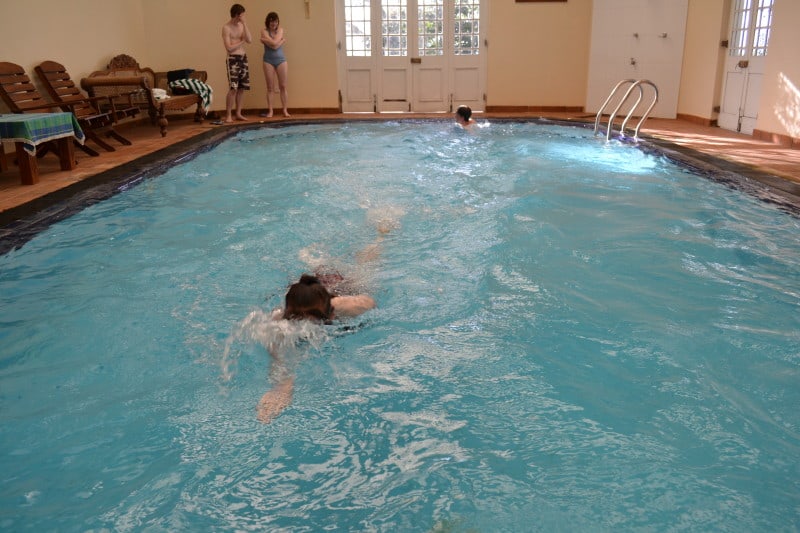 One of the best parts of the Dutch House is the indoor pool, which is hilariously not heated and seems keep a stable temperature of around 20°C.  My brothers and I decided to conduct our own swimming races to combat the cold as mum jumped at the poolside role of timekeeper – the only one out of the five of us not to take the plunge. There is plenty to explore in the surrounding area but make sure you save some time to just enjoy the Dutch House.
---
2. Taking a Jeep Safari in one of Sri Lanka's great national parks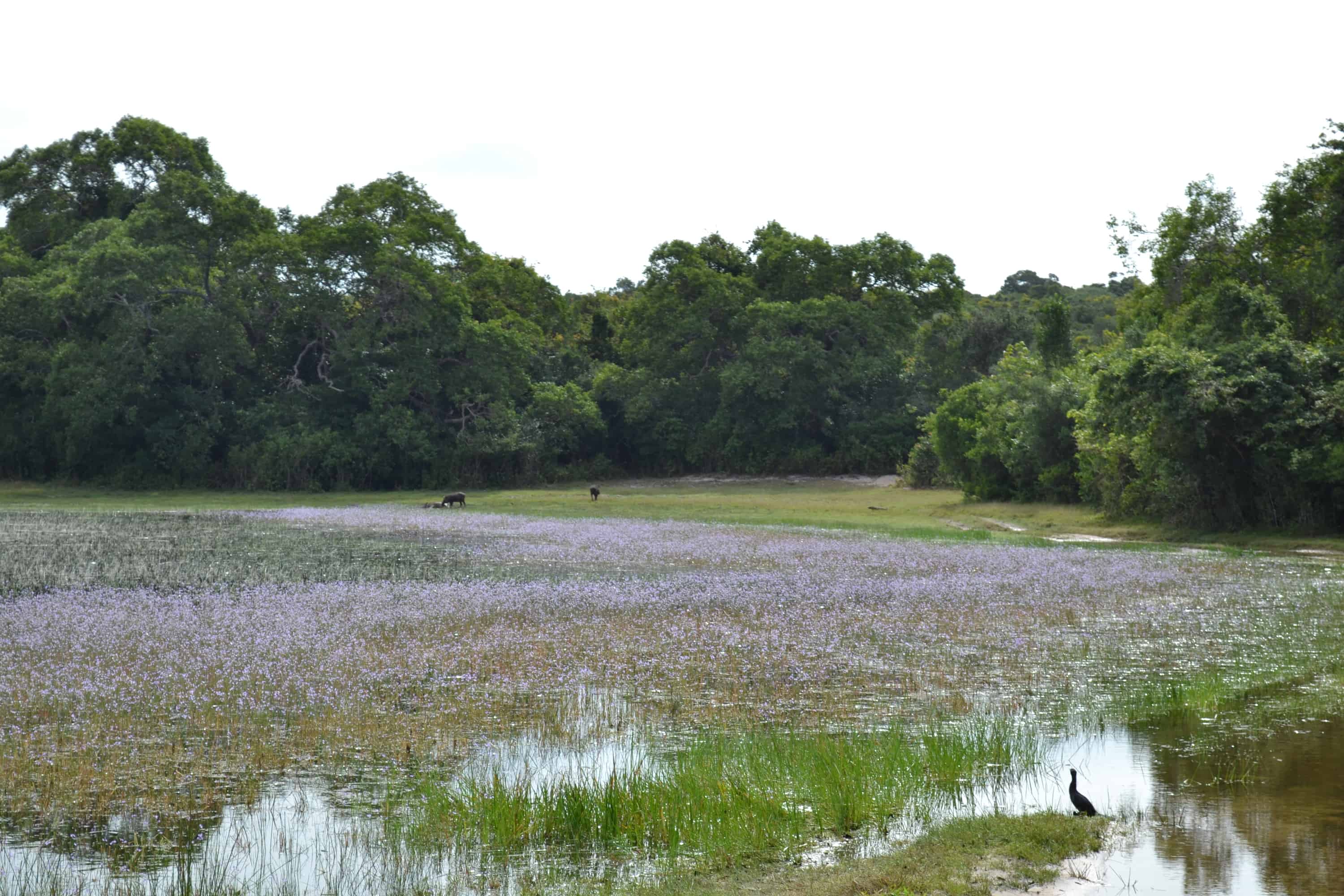 A visit to Sri Lanka must include a safari for any family interested in wildlife. After all, how often do you get the chance to see an elephant or leopard roaming around the wild back home? Sri Lanka has several safari parks to choose from depending on what you most want to see and where you are. We opted to visit Wilpattu National Park, just west of the ancient capital of Anuradhapura. Sadly we weren't too lucky with big wildlife sightings, but we still encountered a variety of birds, spotted dear, monkeys, crocodiles and more.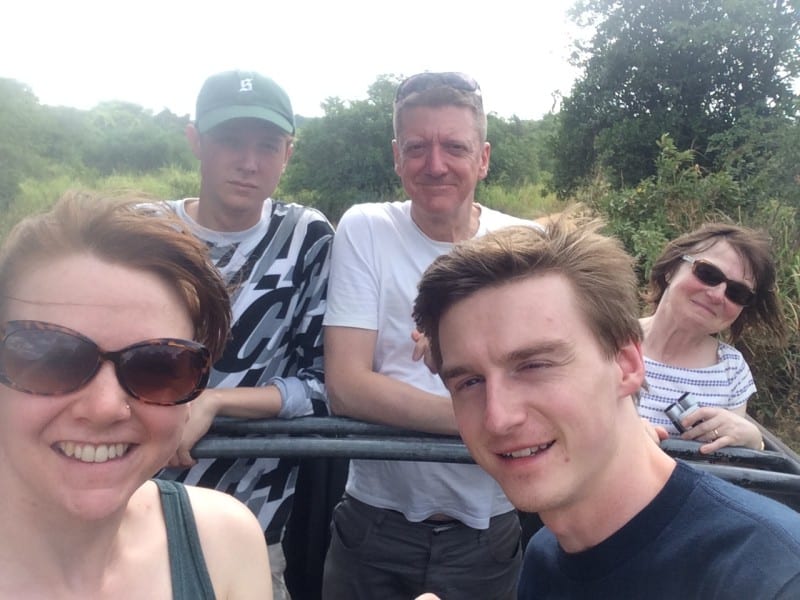 To be honest, even just riding around in a safari jeep, with the wind racing through my hair, passing through dense jungle, over bumpy group and occasionally through water was exhilarating in itself.  The only downside to this experience is that it is hard to take a good quality family selfie whilst bouncing along in a 4-wheel drive.
---
1. Canoeing at the Mudhouse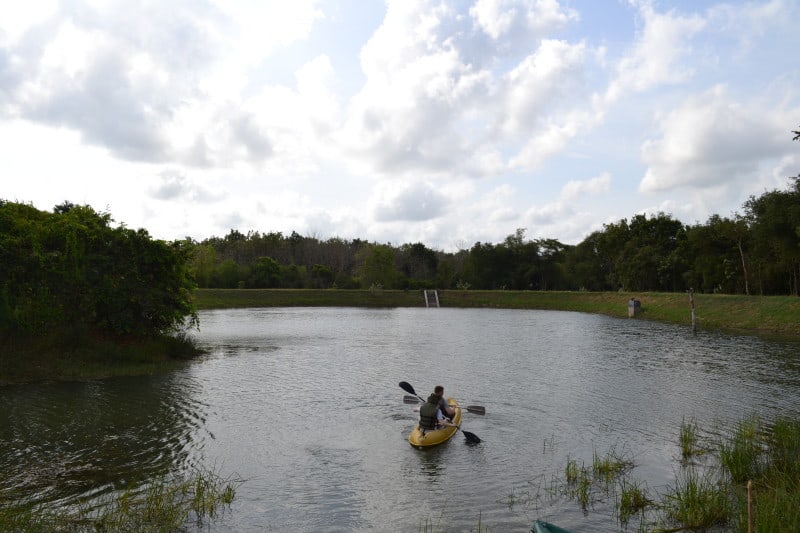 After two weeks of touring Sri Lanka, our family had stayed in 7 different places and ticked off countless memorable experiences but all 5 of us agreed on our favourite: The Mudhouse. We all loved it and were sad to leave after our two nights there. The Mudhouse is a luxury eco complex with several mudhuts of different sizes open to the elements where you can really appreciate the natural beauty of the surroundings. Located in rural Anamaduwa, The Mudhouse is far off the beaten track but there is so much to do here. We decided we wanted to make the most of our time there and tried our hand at all that we could.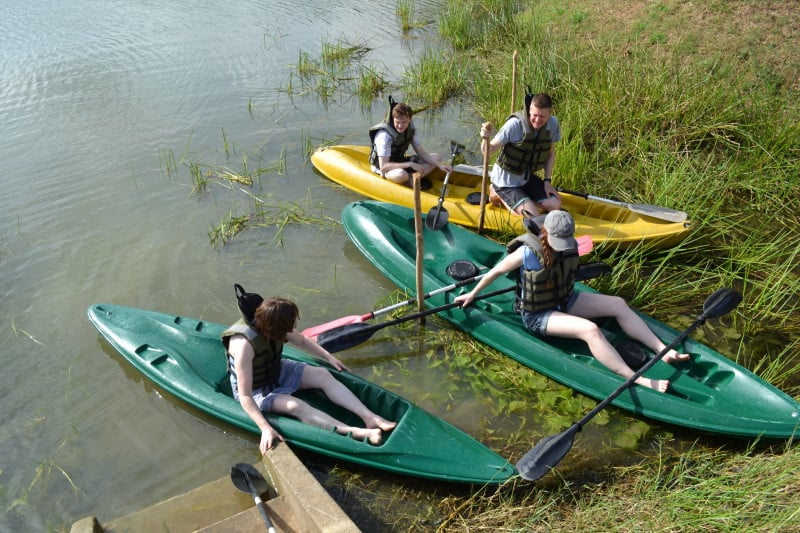 We went bird watching, attended a cooking class, cycled to a local temple and went canoeing in the Mudhouse's private lake, the latter being a personal favourite of mine. It was a bit of a struggle stabling the canoes well enough to get in them, but getting out of them half an hour later was like taking part in an episode of Ninja Warrior. My youngest brother paddled ahead and reached the steps first, managing to hop out relatively easily. But for the rest of us who were paddling in pairs, it was a little trickier. We managed to successfully moor our canoes near the bank but found ourselves a few feet away from the steps, the other side of my youngest brother's vacant canoe.
In order to safely reach dry land, we had to work together to steady all three canoes in the water so each of us could walk across the boats as if they were stepping-stones to the steps. It was the ultimate team building exercise for any family. Mum went first. Our canoe rocked from side to side as she precariously rose up from sitting to crouching, with my dad and other brother steadying the boat as much as they could, before she reached out an arm for support from my youngest brother on the bank. Unfortunately for mum, my youngest brother's hands were occupied with a camera, as he stood photographing our helpless state of disarray. After several cries for help and once all uncontrollable laughter had subsided, the camera was returned to its case and mum was helped out of the canoe. The rest of us followed suit with me bringing up the rear (most successfully, I have to say) and fell about laughing at the pictures taken minutes before. It was only the next day when we returned to the lake for a swim, that we realised the water at the bottom of the steps was only 6 inches deep and we could have simply removed our shoes and walked out of the canoes. But that would not have been nearly as fun and may have impacted on the position of this experience in my Top 5 list that thus concludes here.
---
For more family holiday inspiration, have a look at our suggested family holiday itineraries or call one of our travel experts on 020 3355 2507. For an outdoors holiday we'd recommend a holiday like our Wild Family Adventure in Sri Lanka. We can also send a sample holiday to you by email if that's easier – just let us know.