Philly and family recently travelled to Indochina for a very special Christmas holiday. Celebrating in Ho Chi Minh, Hoi An and Siem Reap, their trip included some incredible moments thanks to the expertise and connections of Experience Travel Group. Here's her top 5 list of things to do that you could enjoy on your next family voyage.
---
I'd been campaigning for a good two years to do a Christmas in Asia.  I for one, am tired of the cold, wet, 'same old same old' winter holiday and wanted to push all of our boundaries whilst indulging in some sunlight – decadent I know. With Mum and Dad retiring, they finally said yes and our first Experience Travel Group holiday was booked. Here's a top 5 list in no particular order of my favourite experiences that we just couldn't have arranged by ourselves.
---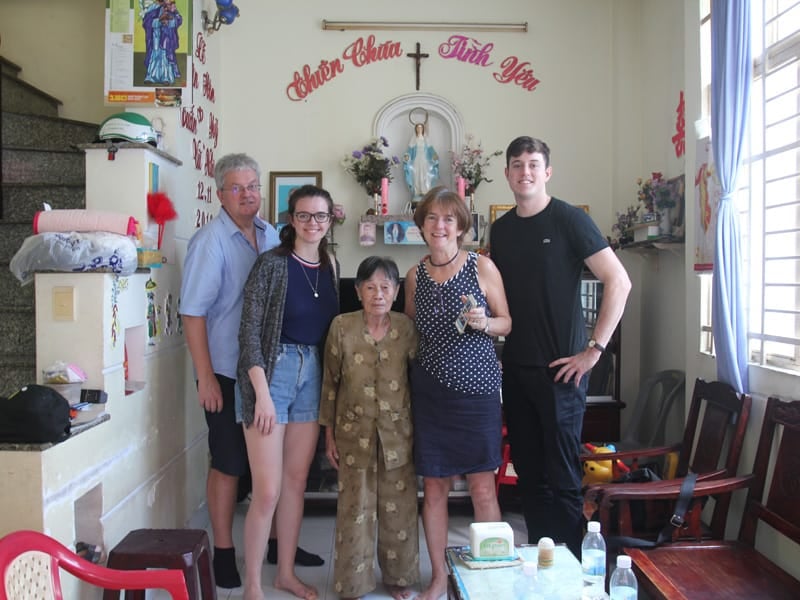 1. Being adopted by a Vietnamese Granny
This is probably our most unforgettable family moment whilst on holiday. We got on particularly well with our Vietnamese guide Huey and he decided to introduce us to his Granny whilst on a signature family tour of Ho Chi Minh. Strolling through district four, we were in an area with no other tourists. We tucked into a little alley that led to her front door and she greeted us with a big warm smile.
She invited us to sit down on her lovely antique Indochine chairs. With Huey acting as translator, she told us her story as a Catholic, growing up in the more turbulent years of Vietnam's history. She was so happy to have visitors and was excited to show us her family photo albums, she took me and my Mum by the hand and pointed to all her children and other relatives growing up over time. Huey was able to explain where they all were now which was really lovely to hear.
Before leaving, Huey's Granny asked for a photo with us all and I think it's my favourite shot from the whole holiday, we all felt part of her family! ETG does so much work to make sure family travellers like us have exceptionally trained and vetted guides. It's experiences like this that would be so difficult to have if you decide to book a holiday alone and set our holiday to Indochina totally apart from any other holiday we've ever had.
---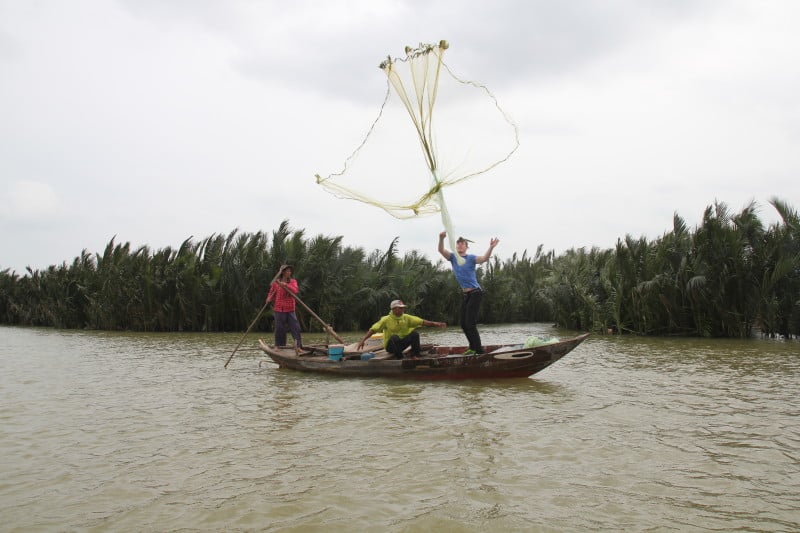 2. Becoming a fisherman in Hoi An
The canals around Hoi An are often frequented by tourists floating about in tub like boats through the reeds, but we did something no other travellers were doing: hopping on board a fishing vessel and having a go at casting the net.
It was hilarious, largely because my brother has the physique of Arnold Schwarzenegger so was fantastic at it. The fishermen were incredibly pleased with his technique and given the need, I'm sure he could have joined their crew. I, however, was a disgrace to my family and a pathetic thrower. Safe to say I'm not pursuing a career in net throwing.
---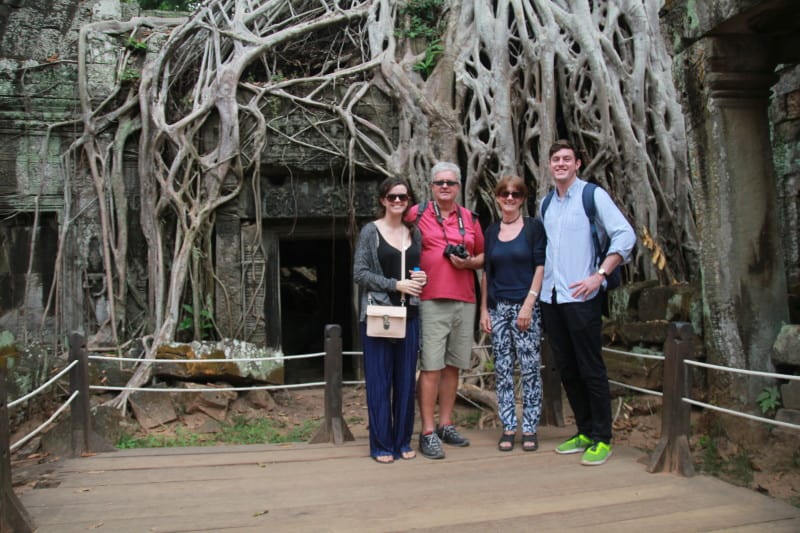 3. Discovering an Angkor away from the crowds
Mr Gear, our good humoured guide in Siem Reap, knew all the insider ways to beat the crowds in Angkor, despite us travelling there on one of the busiest times of the year: New Year's day. He tucked us through quieter passages to avoid congested walkthroughs so we got a fantastic insight into the temples. He also knew the best places to take pictures, which was great as it was blooming hot and poor Dad wouldn't have appreciated my route marching the family round and round for a group photo.
---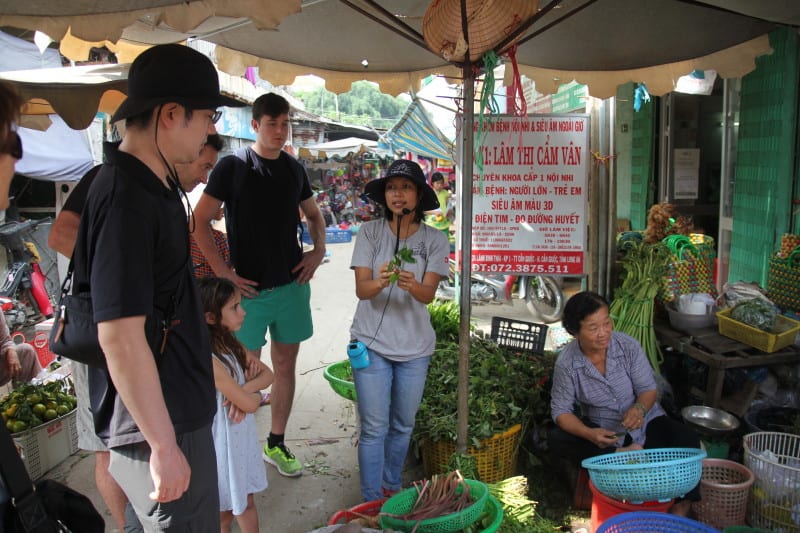 4. Visiting markets along the Mekong
We enjoyed an amazing speedboat ride out of the metropolitan city of Ho Chi Minh to see alligators and monkeys in the nearby Can Gio Forest. En route, we stopped off at a rural market and gained an unprecedented insight into the way of life. We saw some incredible food being sold, including frogs, crickets and silk worms.  Our guide Hang spoke fantastic English and was able to explain more about the architecture and people living in this town. For example, all the homes are usually long and thin as there's a tax on how wide buildings are. This is why high-rise, long, thin buildings characterise much of Vietnam.
Not only this, but the face of the Mekong is going to dramatically change over the next 20 years, as the government plans to relocate stilted communities along the river to reduce the pollution in the water. I felt very much we were gaining a glimpse of a way of life that will become incredibly different as Vietnam rapidly develops.
---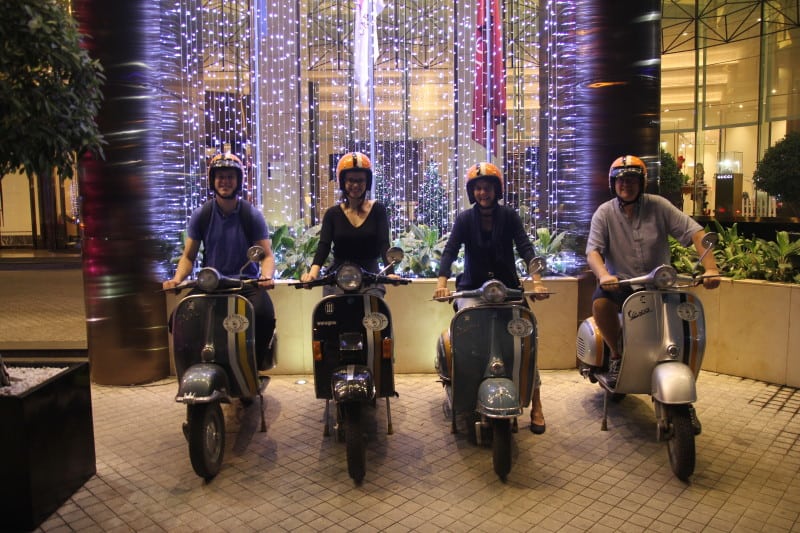 5. Family foodie tour of Ho Chi Minh by vespa
I thought this foodie tour was going to push all our boundaries. I had heard so much from other ETG travellers that this was a fantastic family experience and boy were they right.
We hopped on our expertly driven vespas at our hotel and whizzed through the streets at dusk. After a delicious Saigon beer, we all relaxed a bit and enjoyed having the wind in our hair and the prospect of trying new delicious food. We went to small restaurants with no other travellers around and were joined by a lovely Canadian couple on the tour who had fantastic conversation – it was really nice to encounter some other likeminded travellers on our trip.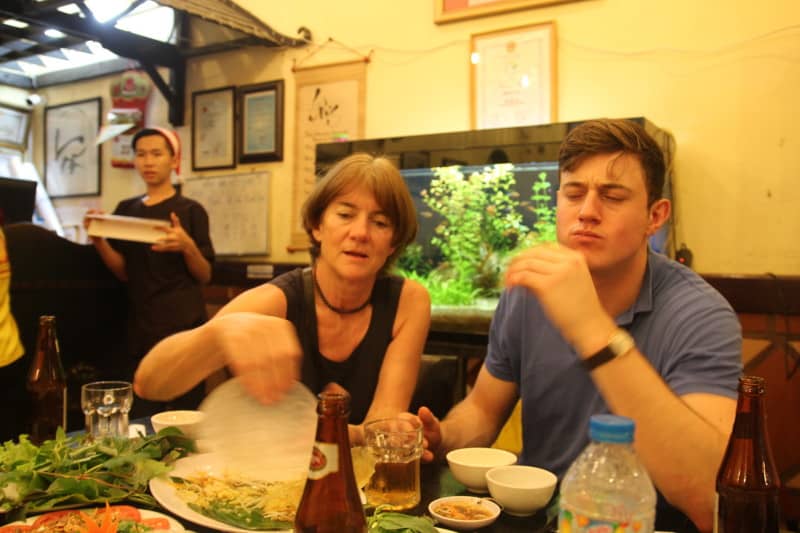 We rounded up the evening at a bar where local singers sang a mixture of Vietnamese and classic Western songs. It was an amazing first evening in the country and a memory we'll never forget.
---
For more information about our experience in Indochina, do call 020 3432 1691 or email us with your questions here. To see an example of the kind of trip you could have with your family, do take a look at our example holiday itineraries. They're just a starting point, all our holidays are tailor-made so we can tweak all elements to suit your exact interests.