We asked the resident chef of Jungle Beach on Sri Lanka's east coast to share his favourite recipe with us. He chose Trincomalee crab curry, a delicious dish best served with a beautiful view over the sea and a cold drink.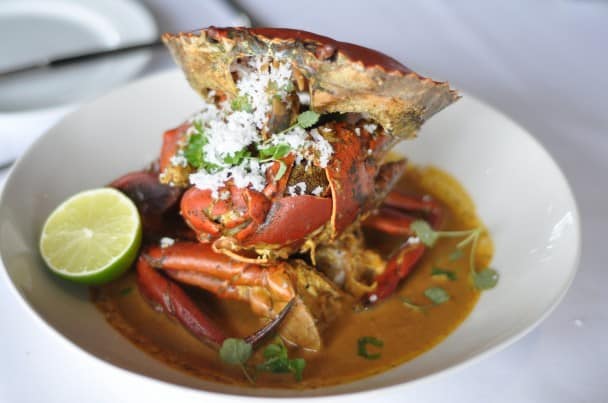 Serves 2-3
INGREDIENTS
2 crabs, about 1.2kg (2lb 12 oz) each
400 ml (14 fl oz) coconut milk
1 ball of tamarind
1 tablespoon curry powder
1 table spoon chilli powder
2 teaspoons cumin seeds,
½ cup fresh grated coconut
1 teaspoon black pepper
1 teaspoon fennel seeds
1 teaspoon black mustard seeds
¼ teaspoon ground turmeric
50 g (1 ¾ oz) ghee
1 red onion sliced
1 sprig curry leaves, leaves picked
3 small green chillies, finely chopped
½ litre water
1 sprig of drumstick leaves
Juice of ½ limes
METHOD
Place each crab on its back with the eyes facing you, and then drive a thick skewer or the point of a sharp knife between the eyes and into the centre of the crab. Break off tail flaps on the underside and discard. Carefully pull off back shells and reserve. Cut each crab in half lengthwise, then remove the "dead man's fingers" (soft gills) and discard. Rinse and discard the stomach sac. Cut each crab half into three. Leave the large claws attached, but crack them with the heel of a knife
Roast the cumin seeds, coconut and pepper till the coconut is golden brown. Grind to a smooth past and put aside.
Heat the ghee in a large heavy-based saucepan over high heat, add the mustard seeds till they start to pop, then add the fennel seeds till it brown, add onions, curry leaves, chilies and cook for a few minutes or until the onions are golden.
Add the curry powder, chilli powder and turmeric mix in and add the crab and cook for another 3 minutes, at this stage you need to stir it a lot so the spices don't burn.
Then add the coconut mixture, stir and add water. If the curry is too dry add more water.
Cover and simmer for 12 minutes or until crab is just cooked through and sauce has thickened. Stir in the drumstick leaves, lime juice and season to taste with salt.
Serve with rice and enjoy!