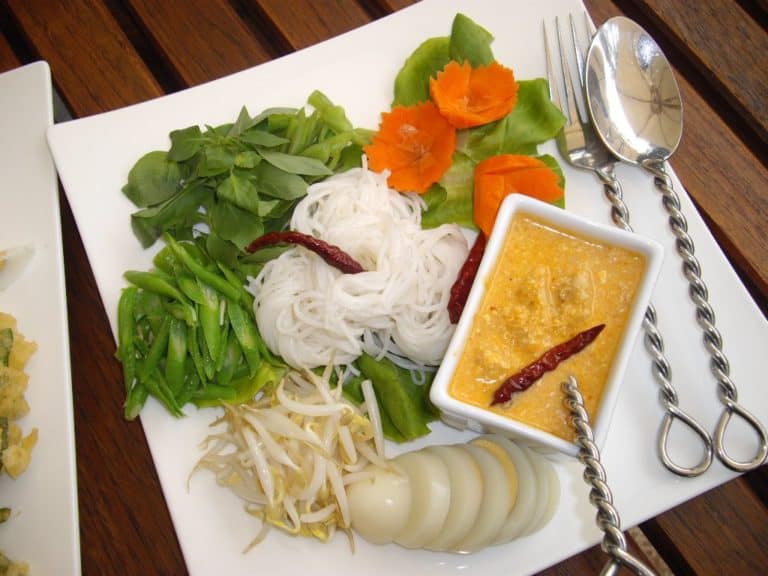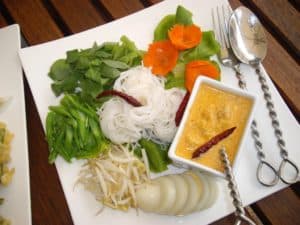 Ariyasom Villa is one of our favourite hotels in Bangkok and is one of the city's more unusual and unique places to stay. Beyond the superb location, luxurious rooms and a sense of old Bangkok history that runs through the original 1940 building, the hotel has a very special food angle in its restaurant. Owner David Lees has been a devout vegetarian for many years and the 'Na Aroon' fine dining restaurant at Ariyasom serves no meat at all (fish dishes are served though).
But this is only the beginning. The team of cooks and David himself are incessantly creative and experimental in the kitchen, serving a huge range of classic Thai cuisine suitable for vegetarians. On top of the Thai side of the menu is a rotating selection of fusion dishes, European influenced dishes and seasonal favourites.
Only the finest ingredients are used for every stage of the preparation and the nutritional and health aspects of every meal have been clearly thought through. David points out that within five minutes walk of his hotel it is possible to find almost every variety of Thai and international food on this planet. Located in downtown Bangkok, the choices range from street food vendors on the street leading to Ariyasom Villa to speciality restaurants along the length of the vast Sukhumvit Road. Whilst this dizzying array of dining options offer great choice, it is very rare to find dedicated vegetarian restaurants anywhere in Bangkok, and particularly hard to find vegetarian food with such taste and variety.
The menu is exceptionally priced for the standard of food served and I would recommend any vegetarians passing through Bangkok to take a small journey to Ariyasom Villa to sample some of the delights. Moreover, I'd suggest staying there if you are holidaying in Thailand – the accommodation is also very reasonably priced and up there with the best in the city. The hotel has its own blog where new dishes and food news are released, along with details of new programs at their spa and news about the property in general.