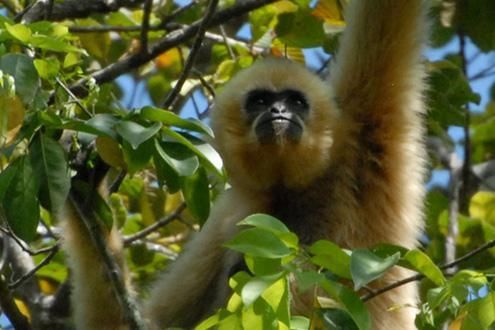 This endangered species of gibbon was only discovered in 2010 and Cambodia's Ratanakiri province has the largest known population in the world!
The experience begins from Ban Lung in Ratanakiri, Cambodia's northernmost province bordering both Vietnam and Laos. Ratanakiri has some of the most diverse animal and plant life in mainland Southeast Asia.
Departing from Ban Lung you travel downstream on the Sesan River passing local villages and cycling through the forest until you arrive at the gibbon research station. The station is where the scientists live whilst conducting research on the surrounding wildlife, and it provides basic but adequate bathroom, kitchen and sleeping facilities. You sleep in hammocks set up in a solid structure to provide shelter; toilet facilities are simple and shared with station staff and researchers.
During the trek you'll take a night time jungle hike, equipped with torches to spot nocturnal animals like pygmy-loris and the civet, a fascinating way to see the jungle humming with life after dark. You'll arise before sunrise and follow the calls of the gibbons who greet the dawn by singing. Your expert guide will try to locate the gibbons in the forest and you can watch them as they go about their activities in the tree canopy.
The gibbon trek provides a truly incredible and unforgettable experience with some of the rarest wildlife in Cambodia, and a chance to witness and understand the work of scientists and researchers as they strive to preserve Cambodia's most beautiful and unique animals.
In order to preserve the environment and the peace of the area, a minimum of 2 and maximum of 6 people are permitted to join the trek and children under 15 years old are not permitted.
Please note that this tour has regular set departure dates.
Exploring the villages of Ratanakiri – Amazing. We had a great time - and I'll never forget the ferry crossing in Ratanakiri where fellow passengers included, babies, school children, frogs intended for a family's dinner, a pig strapped on its back to the back of the motor bike, a basket full of piglets, also on a motor bike, a dozen or so hens (some hanging upside down) again on the back of a bike and something flappy (possibly another hen) hidden behind a plastic bag, also on the back of a motor bike We don't have fellow passengers like that in Maidenhead!
Map centered on Gibbon Spotting 3 Days/2 Nights Trek. Zoom out to view other hotels (H) and experiences (E) in the area.