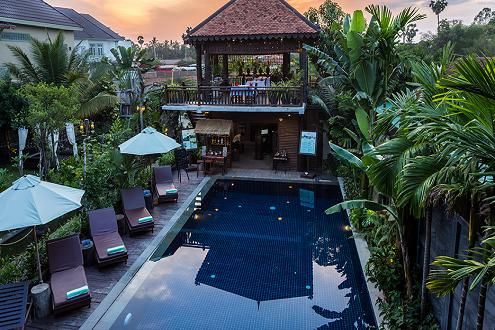 This charming ten-room property is hidden away from bustling Siem Reap, set amongst tranquil, tropical gardens. Heavily influenced by Khmer architecture, it blends traditional with modern and due to its small size, provides a more peaceful, personalised stay.
The rooms face out over a lovely pool area, restaurant and bar where you can enjoy traditional Khmer and western cuisine. The space is quite small, but it has everything you could need for a beautiful stay. Enjoy spa and massage treatments from the comfort of your room. Otherwise, you can find a spot in the garden or by the pool to relax.
Rooms are tastefully decorated, with wooden flooring and unique furnishings giving a luxurious yet traditional feel at the same time. While there are no interconnecting rooms available, for families or groups, you can close off the front entryway door to share a balcony.
In all, we feel Java is ideal for those seeking a great value, small property to retreat to after exploring Siem Reap.
Superior - This is what we would describe as our standard category. These will be decent 3/4* hotels providing a really good level of service. We would generally expect them to be providing a little something extra, in terms of character, guest experience or facilities too.