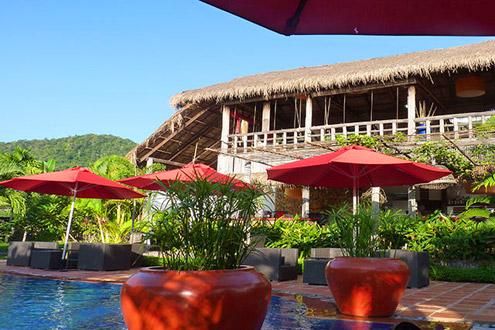 Rainsey Bungalow is a charming boutique hotel located at the foot of Kep's hillside, just a short stroll from the coast.
With just 3 King Rooms and 6 Bungalows, the Rainsey Bungalow provides comfortable accommodation in a beautiful garden setting. Rooms are compact but tastefully furnished and decorated, in keeping with the overall ambience of the resort. Antique colonial floor tiles, period art pieces and up to date amenities combine to create a modern resort with plenty of period atmosphere. All rooms have en-suite bathrooms, flat-screen televisions and air conditioning.
The resort is set a short walk back from the beach and within easy reach of all of Kep's attractions. There is a great little swimming pool surrounded by manicured gardens for taking time out and relaxing in. The main restaurant is on a raised terrace with great views.
Immaculately maintained and kept throughout, Rainsey Bungalow offers charming accommodation in a well-run, modern hotel and will appeal to couples and families alike.
Superior - This is what we would describe as our standard category. These will be decent 3/4* hotels providing a really good level of service. We would generally expect them to be providing a little something extra, in terms of character, guest experience or facilities too.