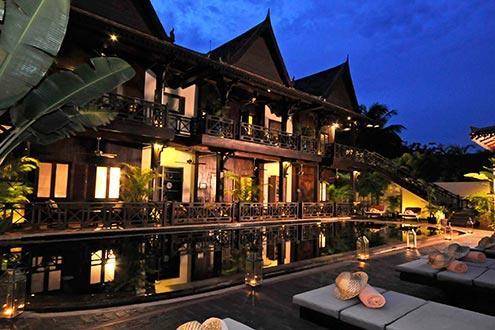 Samar Villas is the definition of a luxury boutique hotel, with just eight rooms, buckets of character and staff that make it feel like a home away from home. The original Angkor villas feature a truly unique design with exquisite antiques, individually designed rooms and Khmer influences at every turn.
The location is about 10 minutes from central Siem Reap in a quiet residential part of town close to the Angkor temples; an oasis of serenity away from the much bigger tourist hotels.
Each of the eight bedrooms is housed in one of the traditional buildings with original features and characterful design. All rooms are warm and welcoming, with space to relax but each is unique, where one room might have a canopy bed, in the next you'll find original etchings and collages by Yves Saint Laurent.
The hotel's renowned Fou-Nan restaurant is across from Samar Villas in its beautiful grounds, a place many come for a lovely dinner and to watch traditional Cambodian dancing at an Apsara show. The hotel has its fantastic spa and numerous activities for guests such as cookery classes.
Samar Villas is a gorgeous hotel for people who like traditional architecture in a homely yet luxurious boutique setting. The residential setting will suit those who want to escape the hustle and bustle of the town and be close to the Angkor temples.
Luxury - Luxury hotels would have a superb level of service, very comfortable and usually spacious bedrooms, excellent food, great design and character. For us, when we visited, these places all had the 'wow factor'. A luxury hotel should satisfy the criteria of the most discerning clients.