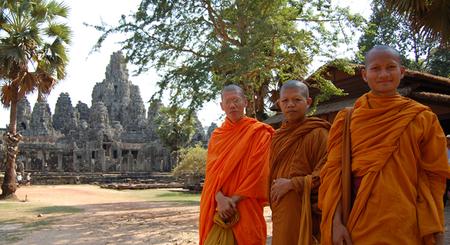 The temples of Angkor are one of the true wonders of the world and are alone worth a trip to see. Built by the Khmer civilization between 802 and 1220 AD, they represent one of humankind's most astonishing and enduring architectural achievements. From Angkor, the Khmer kings ruled over a vast domain that reached from Vietnam to China to the Bay of Bengal. The structures one sees at Angkor today, more than 100 stone temples in all, are the surviving remains of a grand religious, social and administrative metropolis.
Beyond Angkor lie many more treasures. The Tonle Sap Lake, which connects Siem Ream and the Capital, Phnom Penh, is the largest in Asia. Cambodia's south coast has some stunning beaches and islands, whilst the mountains, rivers and towns of the country offer much to the explorer. From the Cardamom Mountains in the west to the wild and rugged landscape in the northeast, there is much to Cambodia still to discover in terms of wildlife and culture. Recent colonial history has also left some noteworthy architecture and hybrid cuisine.
Tourism in Cambodia is relatively new, and only specialist operators can take you beyond the temples of Angkor to the many other fascinating facets of the country. Cambodia is a brilliant country to visit and is great when combined (by air, land or sea) with neighbouring Thailand or Vietnam.
All our holidays are privately guided and tailor made so you can discover the real Cambodia in a style that suits you.