180 McIver, Coonoor
India, Tamil Nadu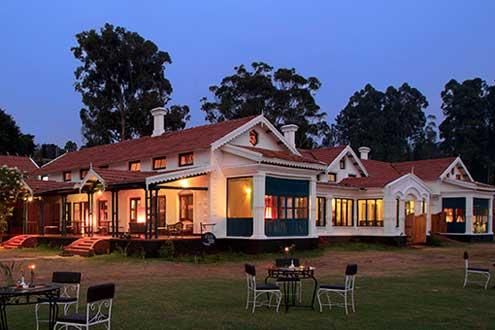 Info : 180 McIver
Nestled in the Nilgiri mountains, 180 McIver is a quirky bungalow style hotel featuring a delightful Colonial house and some truly spectacular views. It's a simple retreat in an otherwise unpopulated part of Tamil Nadu, complete with delicious food and good service.
Coonoor is a short drive from Ooty, a popular hill station with rolling green landscapes, crisp mountain air, and loads of British Colonial charm. There are plenty of tea factories and plantations in the vicinity, as well as Sim's Park, the botanical gardens, Catherine Falls, and the fort at Droog. At 180 McIver, you can play a round of badminton, enjoy a cup of tea on the veranda, curl up in front of the fireplace with a good book, admire the flowering eucalyptus tree, and enjoy a meal at La Belle Vie, the on-site restaurant.
The six rooms are basic and comfortable, though some are a little chintzy in design. They all have TVs and fireplaces. This is simple and modest accommodation in gorgeous surroundings, so if you need state-of-the-art luxury touches, you might find it a little too basic here. Come instead for the unbeatable panoramic views and enjoy the tranquillity of being off the beaten track.
Rating
Comfort - This is our lead in category. There will generally be a no frills approach and while some will be characterful, some will do exactly what it says on the tin - provide a clean, comfortable and good value place to spend the night. These places are normally 3* hotels.
Our office is open now
Why not give us a call