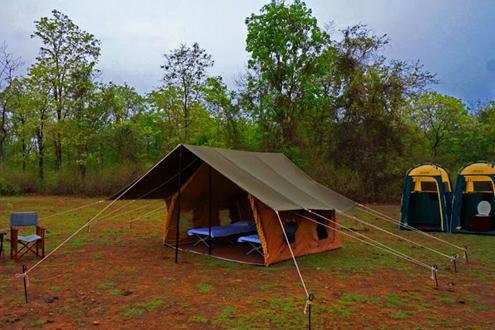 This brilliant overnight camping and trekking experience allows you to get out into the beautiful countryside and enjoy a scenic and wildlife experience that is otherwise impossible to reach. Although the walking is not strenuous, a reasonable level of fitness is advisable due to the heat. The camping is comfortable rather than luxurious, though it is all set up for you and a tasty meal is cooked in front of you.
You'll start the day with a drive from your lodge to Matkuli, a village at the foothills of the Satpuras. This is near the starting point of the 8km trek towards Jhela, the site of your first night's camp. En route to Jhela you will walk through open woodland towards the Denwa River, which you will then follow all the way to the camp. All these areas lie within the reserve and you are likely to encounter several species of birds such as the crested serpent eagle, grey hornbills, kingfishers, jungle prinias, black-hooded orioles, golden-fronted leafbirds and many more. Lunch will be taken at the camp, after which you can explore at your leisure.
The next day is a 10km walk to Pachmarhi. The first half of the journey is mainly on light hilly terrain. Kanchighat marks the halfway point, where you will stop for snacks. There is a beautiful stream here where guests can take a dip and enjoy the birdlife, which might include the red-whiskered bulbul, Indian nuthatch, oriental white-eye, common tailorbird and Indian yellow tit. From Kanchighat you will begin the 6km ascent to Pachmarhi, moving from teak forests into thick sal forests until you reach Pachmarhi Hill Station for lunch. After a leisurely afternoon, you'll be driven back to the lodge.
Eco/Adventure - This category covers gorgeous lodges in the jungle, comfortable safari camps and dreamy, but simple, beach cabanas. These places defy conventional categorisation: what is communing with nature to one person may be terrifying bugs to another! Many of these places are very comfortable and the service generally of a very high level - but please read the website review carefully and/or talk to us and be sure to have understood what you are letting yourselves in for!
Map centered on Trekking and Camping at Satpura. Zoom out to view other hotels (H) and experiences (E) in the area.