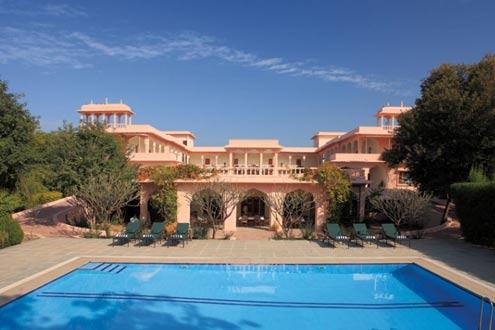 Dev Vilas is a modern wildlife lodge constructed in the Indo-Saracen architectural style, inspired by the Maharaja hunting lodges. Situated close to Ranthambhore Tiger Reserve, it's more of a casual and informal accommodation option than a five-star resort. The lodge is on 3.5 acres of land and there are plenty of beautiful bird species that call the Dev Vila grounds home.
The lodge consists of 21 suites and seven tented bungalows, all individually decorated. Each room and tent is a unique conception of colour and décor, and they all feature air conditioning and well-equipped bathrooms. The management has sourced materials locally and operates the lodge using eco-friendly practices, including rain harvesting and watering the grounds with recycled water. On the property, there's a swimming pool, bar, dining room, sunset terrace, and lovely orchards full of guava and mango.
The drawcard here is the tiger reserve, and plenty of groups use Dev Vilas as their base for safaris to Ranthambhore National Park. If sharing space with large travel groups cramps your style, you might choose something a bit higher end. Dev Vilas is a casual and informal low budget choice for travellers to Ranthambhore region and tiger reserve.
Comfort - This is our lead in category. There will generally be a no frills approach and while some will be characterful, some will do exactly what it says on the tin - provide a clean, comfortable and good value place to spend the night. These places are normally 3* hotels.