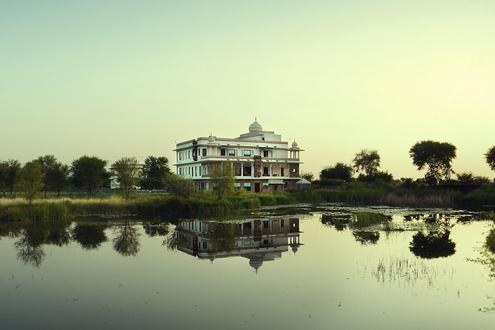 Info
Rating

Gallery

Pics

Map
The land where Kesar Bagh now stands is the place where the Jojawar family once had a hunting lodge, where the ancestors of the current family entertained illustrious guests. The nearby ancestral home of the family has been converted into a hotel for a good number of years now and Nagendra Singh and Amitvikram Singh Jojawar, the younger generation, have made this their project.
Kesar Bagh is a sensitive update on the old hunting lodge, with modern touches and clean lines and a lovely aesthetic in the design. Although hunting would be frowned upon in this day and age, the lodge is all about the glorious natural surroundings, the abundance of birdlife and the profoundly peaceful and relaxing setting.
There are eight suites in the main room, all spacious with very comfortable beds and traditional, but restrained furnishings. In a separate building, there are two further suites. The lower floor suite has a terrace and plunge pool, while the upper floor one has a Jacuzzi bath on the terrace. The top floor faces west so enjoys glorious views, especially when the sun sets over the lake beside the hotel.
The facilities are all about giving the guests time and space to relax and enjoy the countryside. There are several spots where the staff will arrange private dinners and encourage guests to enjoy drinks as the sunsets. The pool is relatively large for such a small property, and the dining area is light and airy. The hotel has its stables and guests can, of course, explore the local area by jeep, by bicycle or on horseback.
The real selling point of Kesar Bagh, though, is the people. The Thakur himself, Rao sahib Maharaj Singh Ji, often leads the expeditions out to the local area when he is there. The staff are generally from the local area and have worked with the family for a long time, if not generations. The atmosphere is relaxed, and there is plenty of space for guests to enjoy, but this is very much an interactive rural-based experience, rather than any kind of a luxury hotel.
Homestay - What we mean by 'Homestay' is generally a large family owned house, still occupied by at least some members of the family. Interaction with guests is encouraged and is in fact unlikely to be avoided! These places always have bags of character are usually highly charming and can provide a fascinating shortcut towards understanding local life a little better. Facilities can range from the luxurious, to pretty basic and meals are generally taken as a group and served in the local style rather than from a menu. The service is almost always fairly quirky and idiosyncratic. Great fun.
Map centered on Kesar Bagh. Zoom out to view other hotels (H) and experiences (E) in the area.