Samode Palace, Samode
India, Rajasthan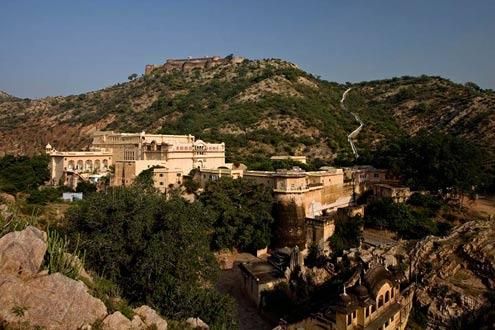 This 475-year-old remote palace is sumptuously decorated in Indian and Mughal styles, but still has plenty of modern luxury touches. It's romantic and floral, with chandeliers, curved archways, and lovely murals and frescoes. Nestled into the Aravali Hills, Samode Palace is a half an hour northwest of Jaipur and a couple of hours away from Delhi. This makes it quite accessible for those travelling along the Golden Triangle route.
There are 42 rooms and suites, lavishly decorated and garnished with luxurious touches, such as marble, white linen, four poster beds, and an indulgent sink-and-laze bathtub full of rose petals. Some of the rooms in the lower category are on the dark side, which is why we would recommend a deluxe room for plenty of extra light and great views. The infinity pool on the rooftop offers a spectacular way to see the sunset.
This is a wonderful hotel, but its accessibility to the Golden Triangle does mean that it attracts tourist groups, and there is entertainment offered in the evenings to accommodate them. It's remote, but might not be quite remote enough if you desire solitude. This makes Samode Palace a better choice for those with limited time who are seeking a remote palace hotel experience.
Superior - This is what we would describe as our standard category. These will be decent 3/4* hotels providing a really good level of service. We would generally expect them to be providing a little something extra, in terms of character, guest experience or facilities too.