Udai Kothi, Udaipur
India, Rajasthan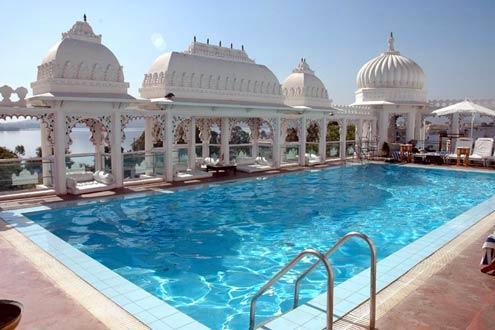 Just in case Udaipur wasn't quite charming enough for you, Udai Kothi came along. This independent family-owned hotel is just back from the shores of Lake Pichola in the heart of the old town. The interior is well designed and oozing with local charm; the pool and rooftop terrace area is a particular pleasure upon which to dine and drink. Come here for lake views, gorgeous surroundings, and a pleasant convivial atmosphere.
Colonel James Tod called Udaipur "the most romantic spot on the continent of India" in the nineteenth century, and since then, the "Lake City" has capitalised on its natural beauty and stunning palaces. The tourism boom has taken its toll, but a few things remain an unsurpassable pleasure: boating on Lake Pichola, wandering through the evening bazaar, and admiring the detail on the paintings and mosaics that adorn just about everything. At Udai Kothi, you can relax in the garden, book a spa treatment, swim in the pool and Jacuzzi, and dine in style on the rooftop.
There are 64 rooms and suites, all decorated in an attractive traditional style with international standard amenities. The standard rooms can be a bit cramped, particularly those in the lower category that tend to be over-furnished. However, the suites are very spacious indeed and provide excellent value for money.
In peak season, Udai Kothi can feel a bit crowded, but this hotel is friendly and well designed to make the most of Udaipur's unmistakeable charm. Don't expect a modern and sleek five-star affair: the service is friendly but not slick. Come here to be charmed in the heart of lovely Udaipur.
Superior - This is what we would describe as our standard category. These will be decent 3/4* hotels providing a really good level of service. We would generally expect them to be providing a little something extra, in terms of character, guest experience or facilities too.
Our office is open now
Why not give us a call