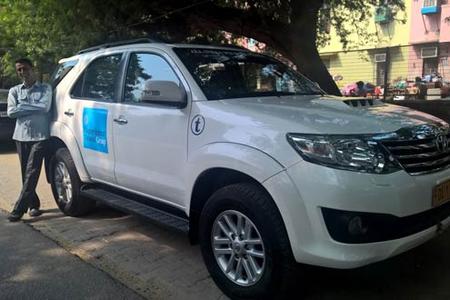 Travelling around different states in India is primarily with a car and a driver. The driver will stay with you whilst 'touring' which will give you flexibility and the convenience and confidence to just relax and enjoy your holiday.
With our local partner companies, Experience Travel Group have developed a compact roster of highly experienced drivers, who we know well, and have often travelled with personally on our own trips. We'll use them over and over again, they know our style of travel, what is expected of them and good work is rewarded and training offered. They are well paid and looked after and driving is a well-respected job in India. Drivers are not intrusive and often have limited English, though enough to get by. They are not trained guides and are primarily there to make your travel as comfortable as possible.
As standard we use Toyota Innovas, which would suit 2 passengers with ample space for luggage. They usually have bucket seats and A/C front and back.
If you would like a more upmarket vehicle, then we often use a Toyota Fortuner, which is a SUV, 4 wheel drive with extremely comfortable seating, extra space and an elevated position. Even more luxurious options are available, so please do ask. For a single traveller we can book an Indigo which is a slightly lower standard than the Toyota Innova, and a more cost effective option.
Where a driver is mentioned in your itinerary, it will include:
All travel between mentioned areas, driver living costs and accommodation* for them, all petrol, toll and related costs, water available to use at your disposal.
In the event of a breakdown we will immediately replace the vehicle and driver and ensure that your holiday proceeds uninterrupted.
* Please note that we arrange decent accommodation for our drivers. The accommodation offered by hotels is sometimes sub-standard and if this is the case, we pay for your driver to stay somewhere he can be assured of a decent night's sleep. We will also always pay for overnight accommodation for a driver if he has an early start from a far off destination.
PLEASE ENTER YOUR DETAILS BELOW: