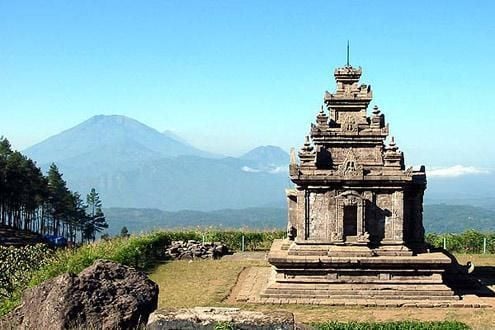 Gadung Songo is an eighth century Hindu temple complex devoted to Shiva and Vishnu. It is the oldest surviving Hindu temple in Indonesia and is a collection of nine temples 1000m above sea level situated along the upper foothills of Gunung Ungaran volcano. Five of the temples have been restored and are in good condition, although much of their carvings have been lost. The real draw of a visit to the complex however, is the magnificent view that compares favourably with almost all of the spectacular vistas that Java can offer. To the south you will see the nearby Danau Rawa Pening shimmering in the sun as well as Ganung Merbabu and Merapi that dominate so much of the central Java horizon. To the west are the equally dramatic Gunung Sumbing and Gunung Sundoro.
The views are best in the early hours and it is recommended that you take your time to enjoy the views and savour the atmosphere. There is a hill path that takes you to the three temple groupings, with the third and final group being the highest and most spectacular. The path can be walked in about an hour but it is worth taking longer.
Halfway through the tour there is a hot sulphur spring that spews steam from the side of the mountain. This can be seen throughout the complex and creates small pools of hot water. These pools converge with a nearby stream that is diverted into a nearby swimming pool where you can take a quick dip.
Map centered on Walk to Gadang Songo. Zoom out to view other hotels (H) and experiences (E) in the area.