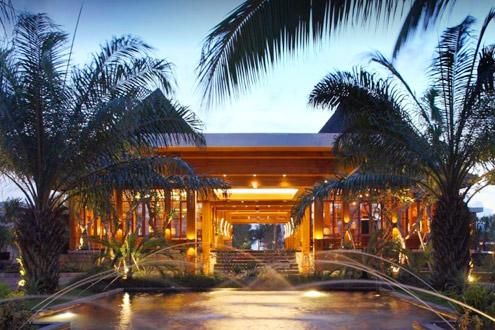 The Samaya is an oasis of calm and tranquillity set amongst lush tropical gardens with a wide white sand beach, minutes from the heart of lively Seminyak and Legian. Modern and chic in design, the resort offers wonderful luxury and is a perfect romantic getaway for couples looking to enjoy the abundance of trendy restaurants and nightlife in the area.
The 46 villas are split into two properties, each with their own pool and restaurant, with 24 beach side villas and 22 directly across the street in the Royal Court. All of the villas are very spacious and the surrounding vegetation ensures a very private and peaceful experience. They all have a spacious courtyard with a sitting area and a good size plunge pool. The rooms themselves are minimalist and ultra-chic with a wide range of modern comforts and features.
The Garden Pool villas are in the beach side property and are our suggested choice. At a slightly higher cost there is the option of a Royal Courtyard villa, which are fantastic and offer a more spacious villa and private garden, a large 11m long private pool and a Jacuzzi, although they are obviously further away from the beach.
The beachside property offers a stunning green and pool area overlooking a wide stretch of white sand and the Indian Ocean beyond. When you do decide to leave the privacy of your own villa this is a beautiful place to relax, unwind and enjoy the sumptuous food in the restaurant.
Minutes from the hotel in both Seminyak and Legian there are a huge array of options for eating and drinking. This is the trendy heart of the expat community and for those looking for a bit of life during their beach stay this is a perfect combination of luxury, tranquillity, tropical sand and nightlife.
Ultimate - There are very few hotels we would describe as 'ultimate'. Hotels in this category must have absolutely everything anyone could want and really be aiming for the stars. These hotels generally go well above and beyond and they would always be at the very top end of the market. These are for clients looking for that extra special place.