Sanchaya, Bintan Island
Indonesia, Bintan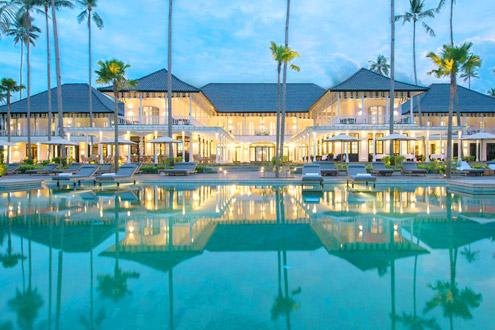 Info
Rating
Features

Gallery

Pics
The Sanchaya is an elegant yet intimate resort with a beautiful, Maldivian-style beach and a relaxing atmosphere, a perfect romantic getaway and convenient beach stop in Southeast Asia.
The resort itself is on the island of Bintan, an Indonesian island but only a 45 minute ferry ride from Singapore. It's a lush island with plenty of flora and fauna in the middle, but its main attraction is the beautiful white sandy beaches that fringe the island. The whole island has a very relaxed, laid back vibe but the Sanchaya takes this to new levels – it's on its own private stretch of beach and is a haven of peace and tranquillity.
Starting with the hotel's main attraction – the beach. Clean white sand, tall palm trees, beautiful clean waters that are shallow and great for swimming and comfy beach loungers make this a truly stunning sea front spot. As with the rest of the resort and gardens, the beach is cleaned and maintained meticulously, so it is always welcoming and attractive. The infinity pool is large and very nice indeed, looking over the beach. Pool attendants bring fresh clean towels, poolside hampers with refreshing towlettes, cold water and little snacks regularly.
There are 30 rooms in total made up of 21 villas and 9 suites. The suites are all rooms in the main "Great House", which is at the centre of the resort. It is a lovely building with hints at colonial architecture, with breezy long galleys and attractive white walls with grey slate roof tiles. Varying in size, they offer different views ranging from garden view, sea view to veranda view. Towards the rear of the property are lofty Thai-style villas set around a pool – offering space and a bit more peace and quiet away from the main house. Along the beach front and slightly behind are one, two and three bedroom villas with plenty of space with the three bedroom villa boasting its own pool. The best room in the resort is undoubtedly the Presidential Villa with a private pool, direct beach access and four bedrooms set over two stories. All have large, comfy beds, beautiful bathrooms with excellent amenities and tasteful décor; the perfect combination of colonial luxury and old world traveller charm with artistic maps on the walls. The mini bar is actually referred to as a "maxi bar", with all soft drinks, snacks and beers free of charge and replenished daily. Each room also has its own wine fridge with comprehensive wine guide, which is at an additional cost. Each room has an iPad that is linked to the large LCD TV, where you can watch movies and TV shows, and most rooms have a balcony.
The main house itself has a lovely driveway leading up to it, and has a romantic library with big leather chairs and lots of books – a nice place to escape the heat of the sun. There is a bar with bags of colonial grandeur serving an array of nice drinks and cocktails. The lobby is intimate and unobtrusive, with a relaxed space that doesn't feel like a hotel lobby at all. The main restaurant has a few outdoor tables and looks out over the pool, offering a la carte breakfast, lunch and dinner. There is also a Thai restaurant closer to the beach that serves delicious and authentic food. Little touches such as menu lights and mosquito repellent are very welcome in this romantic setting.
There is a small gym, a spa, croquet lawn and yoga pavilion. When visited in 2015, there was some ground towards the back of the resort where nothing has been built, and the decision had not yet been made whether or not to build more rooms. However, this does not spoil the peaceful ambience at all and is no eyesore as it is removed from the rest of the resort.
The staff here are incredibly friendly and attentive; they will address you by name and are extremely helpful. The service at the Sanchaya is all about personal touches, from small gifts in your room to warm welcomes every morning from the staff. Overall the resort is small, but this intimate feel creates an air of exclusivity, which makes the Sanchaya a great place for couples wanting a peaceful and romantic getaway.
The Sanchaya is reached by a 45 minute ferry ride from Singapore, and is the only property on Bintan to have a stylish VIP arrival lounge at Bintan port where you can enjoy drinks, snacks, Wi-Fi and comfortable seating whilst The Sanchaya staff sort out immigration procedures and an Indonesian visa on arrival as well as checking guests into their suites and villas – an incredible welcome perk! You are then transferred by comfortable air conditioned car for 20 minutes from the ferry terminal. An almost seamless transfer from Singapore Airport to the property makes this a very convenient and easily reach beach destination for people transiting through Singapore, finishing a longer trip through Southeast Asia or looking for a short break.
Last visited in April 2015.
Luxury - Luxury hotels would have a superb level of service, very comfortable and usually spacious bedrooms, excellent food, great design and character. For us, when we visited, these places all had the 'wow factor'. A luxury hotel should satisfy the criteria of the most discerning clients.
AC
Bar
Beach Frontage
Dining Options
Fresh Coffee Maker
Gym / Fitness Centre
Infinity Pool
Library
Spa
Wine Cellar
Yoga