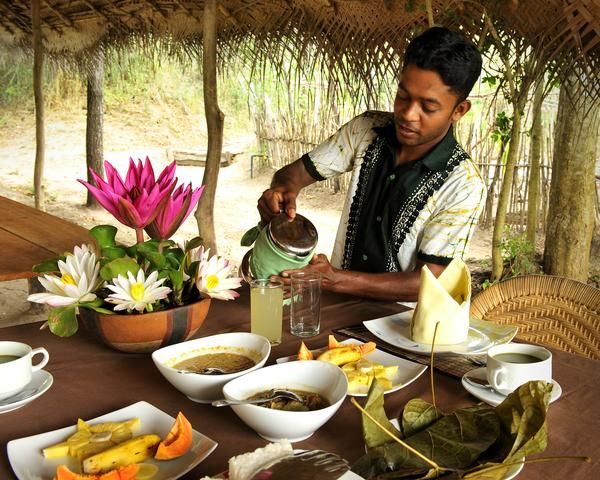 Good food is one of life's greatest pleasures. Here at Experience Travel we are always cooking and comparing recipes we have picked up from further afield. A firm favourite with Sam is Sri Lankan cuisine.
This month we have asked Dr. Thamara to share two of her favourite recipes with us.
Although a doctor by profession, Thamara is well-known for her culinary talents, despite not cooking until she was 28! Inspired by childhood meals prepared by her maternal grandmother and aunt, Thamara can now be found heading up events at FoodCycle as well as running Sri Lankan pop-ups around London. See www.mazimas.co.uk for more details.
Food is best when shared, so if you have any tips or recipes you would like to share with us, please get in touch! The best recipe will be placed online and made into a recipe card, to be shared with other foodies out there.
Dr. Thamara's Pumpkin Curry
Ingredients:
•250g green-skinned pumpkin, unpeeled
•2 cloves garlic, sliced
•1 tbsp onions, sliced
•1 green chilli, sliced
•¼ tsp turmeric
•¼ tsp curry powder
•1 cinnamon stick
•2–3 curry leaves (optional)
•juice of ½ lemon
•2 tbsp vegetable oil
• ¼ cup fresh milk
•1 ½ tbsp coconut milk powder.
• 1½ tbsp
•salt to taste
• ½ cup hot water
The Method:
Cut the unpeeled -pumpkin into bite-sized chunks. Place the pumpkin into a
saucepan with 1 ⁄2 cup of water. Slice the onions, garlic and green chilli, then
add the cinnamon, turmeric, lemon and salt to the saucepan. Simmer for 5-7
minutes, on a medium heat, until the pumpkin is tender. Now add the fresh milk
and coconut milk powder and cook for another 2 minutes. In a separate saucepan,
add the oil and chilli powder. Now place the pumpkin mixture into the pan with
the oil and chilli and cook for a few seconds. Sprinkle roasted curry powder over the
pumpkin curry and serve.
Tip: Eat with rice, meat or fish curry, Leeks Mallung or salad for a
tasty, well-balanced meal.
Leeks Mallung
Ingredients:
• 250g leeks, sliced into rounds
• 1 tbsp sliced onions
• 1 green chilli, sliced
•1 tbsp Maldive fish ­flakes
•a pinch of turmeric
• 2 tbsp freshly grated coconut (or desiccated coconut)
•salt to taste
•oil, for frying
The Method:
Heat the oil in a saucepan over a medium heat. Add the leeks, sliced onions, green
chilli, Maldives' fish flakes and turmeric and cook for 2–3 minutes, stirring frequently.
Add the grated coconut and warm through. Season with salt to taste and serve
with rice, pumpkin curry or dhal.
Tip: Mallung is a dry dish so resist the temptation to add too much
water. This is a mild version to complement the delicate ­ flavours of
the leeks and coconut, but feel free to use more chilli for added heat.
Customer Feedback
Just to touch base with you and thank you for fixing our week away. We had a wonderful time and it was a great success.
About: LUX* Maldives