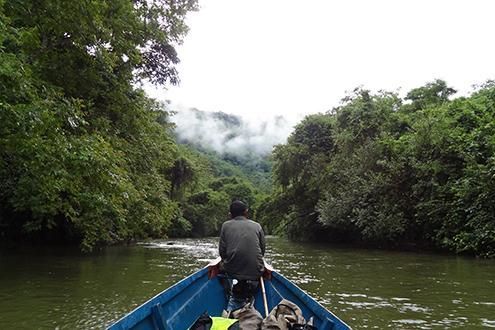 Nam Et – Phou Louey National Protected Area is located in the north east of Lao and covers 7 districts and three provinces. The area has primary forest, a high level of biodiversity, and a number of species including gaur, clouded leopard, Asian golden cat, white-cheeked gibbon, turtles, frogs and lizards. Significantly, the area has the most important populations of Indochinese tigers (Panthera tigris corbetti) in the world. It is estimated that there are 7 - 23 tigers in the area. Tigers represent the overall health of the ecosystem, as only the healthiest ecosystem can support enough prey to support this large carnivore.
The first and currently only area opened to visitors in the protected area is the Nam Nern River. There are wildlife viewing opportunities in both the day and night here, with one of the most thrilling and awe-inspiring being the night safari where you float down river in the cover of darkness while listening to the sounds of the jungle and watching the fireflies dance. Larger animals are spotted through the use of a spotlight manned by a local ethnic hunter-turned-guide. Nature activities during the day include bird watching, wildlife tracking at the Boung Man salt lick, medicinal plant discovery and moderate hiking.
Villagers living in the area comprise many ethnic groups and their livelihood is very much associated with the natural environment by way of agricultural production and shifting cultivation. The ethnic Khmu people of Ban Son Koua are your guides and hosts and can also take you on a tour of their village, cook traditional Lao food, and provide you with a first-hand understanding of survival in this rugged landscape. Visitors also learn about tiger conservation from park staff while staying overnight at the park substation campsite.
The tour has been designed to create a direct link between conservation and tourism. Every visitor must pay a fee, which is included in the tour price, to the village development fund before entering the area. The amount of money received by the villages depends on the numbers of wildlife seen by the tourists, who are required to fill out a wildlife monitoring form at the end of their tour. The money from the village development fund is used to support small-scale village development activities chosen by each village, rather than cash payments. For tourists who are lucky enough to see a tiger - an extremely rare occurrence--an additional fee must be paid. This special fee is charged in order to provide local people with higher incentives to protect this extremely endangered species - a tried and tested success on the road to wildlife conservation.
A commendable project providing a one off opportunity in Laos to view rare wildlife.
Map centered on Nam Et National Park (Day and night safari). Zoom out to view other hotels (H) and experiences (E) in the area.