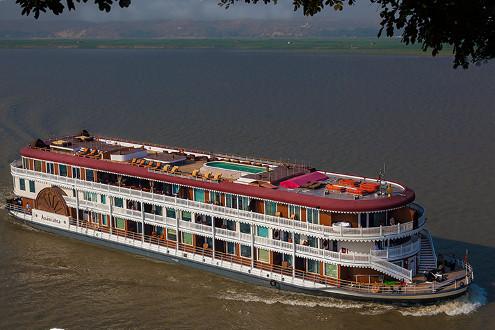 Info : Anawrahta
A boat cruise from Bagan to Mandalay or vice versa normally lasts a day or two, but with the Golden Land Voyage and Ancient Capitals cruises from Heritage Line, you can take your time, dive into the details, and do so luxuriously. This five day cruise takes the time to really show off the region's most fascinating natural and man-made wonders.
The cruise route varies depending which direction you travel in but as will tend to cover the charming riverside town of Salay, with its impressive, intricate teak monastery and gorgeous colonial houses, culturally rich Pakkoku, Yanderbo, ancient Ava, Sagaing, and Mandalay. Along the way, you'll be treated to walking tours, cultural demonstrations, cooking classes, morning yoga and more.
Sixteen spacious cabins measure in larger than some hotel rooms at 32 square metres. The Junior, Executive and Palatial Royal Suites are larger than many capital city-based apartments, and some feature private outdoor jacuzzis. Regardless of which room you select, you'll have access to your own private balcony and you can take advantage of the jacuzzi plunge pool, cabanas, sun deck, and exquisite dining spaces, both indoor and out.
If you have the luxury of time and would like to explore the landscape and ancient treasures along the Irrawaddy (Ayeyarwady), the Ancient Capitals or Golden Land Voyage cruises offer you the chance to do so in style.
Rating
Deluxe - This is our first really 'upmarket' category. It might be a beautiful tiny hotel with very limited facilities or a 5* resort hotel with all the trimmings; but any hotel in this category will be a well-run establishment with very comfortable rooms, a strong service ethos and excellent food.