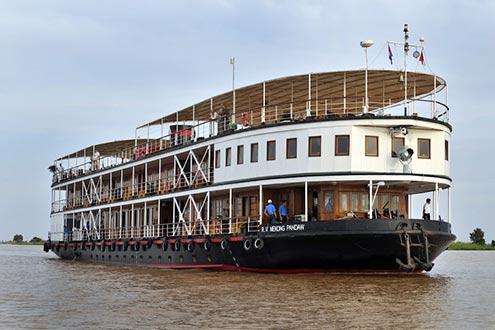 Info : Pandaw Cruises
Pandaw Cruises offer comfortable cruising along the Mekong River between Saigon and Siem Reap. The cruises take you from the buzzing city of Saigon via the Mekong Delta region of Vietnam, through the countryside of rural Cambodia and up to the spectacular temples of Angkor. They also operate in reverse so you can choose whether to start in Vietnam or Cambodia.
The 8 day cruise provides a great way to see it all without the need to pack and unpack your suitcase several times. Alternatively, we can arrange an tour of Cambodia by land that ties in with a 3 or 4 night cruise from Phnom Penh down to Vietnam focusing on the waters of the Mekong Delta.
Meals and excursions are included on Pandaw Cruises, however you are not tied to set activities and individual exploration is encouraged on shore. Dinners, cooked by an excellent chef, are informal in style and there is no need to dress up.
Cabins are comfortable, with en suite facilities, and are usually finished in teak wood with traditional décor. There are no TV's in the cabins (to avoid disturbing neighbours) but iPads are available with headphones.
Most cruises operate on one of two boats: RV Mekong Pandaw (24 cabins) or RV Angkor Pandaw (16 cabins). Both have a relaxing sun deck - a great place to watch the scenery go by and/or enjoy a sundown cocktail.
A wonderful way to experience a beautiful region.
Rating
Superior - This is what we would describe as our standard category. These will be decent 3/4* hotels providing a really good level of service. We would generally expect them to be providing a little something extra, in terms of character, guest experience or facilities too.