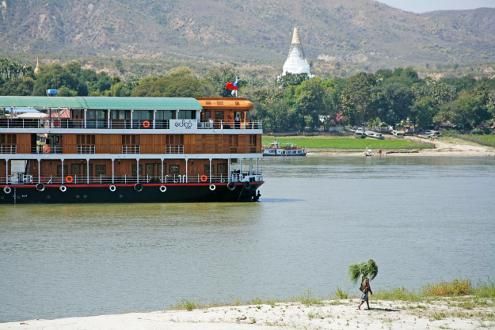 Info : Paukan (Long) Cruises
The RV Paukan fleet is made up of a tastefully decorated, beautiful and historical 29-cabin colonial steamer from 1947 and smaller modern teak vessels fashioned in the 21st century. Whichever vessel you board, you can expect charming hotel-grade boutique facilities and truly wonderful service.
Routes include an extensive 10-night cruise along the Irrawaddy River between Mandalay and Prome (or vice versa), a 10-night journey that covers the upper part of the Irrawaddy River between Bagan and Mandalay, a week long discovery round-trip to and from Mandalay, and a thrilling Chindwin River adventure lasting 10 nights. The latter is a most fascinating voyage that covers rarely seen destinations, dramatic gorges, tribal villages, ancient towns passing thick jungle en route.
Paukan is known for its friendly and authentic service, with the dining and extras such as massage services all getting the thumbs up, you can expect a good time with a great crew on a beautiful boat in Myanmar.
Rating
Superior - This is what we would describe as our standard category. These will be decent 3/4* hotels providing a really good level of service. We would generally expect them to be providing a little something extra, in terms of character, guest experience or facilities too.