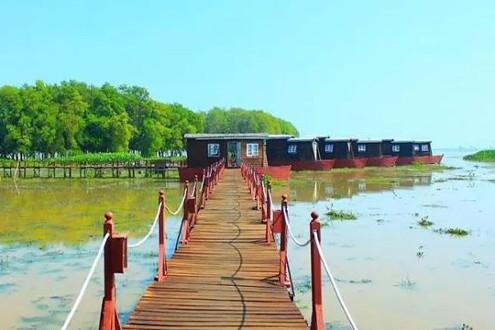 Perched on the edge of the Moeyungyi Wetlands, the resort offers basic rooms and facilities, open-air dining and helpful staff. The main drawcard here is the nature that surrounds the resort: expect incredible sunsets, peaceful boat trips and hundreds of colourful bird species that call the area home.
There are rooms and quaint boat-shaped houses available at the resort, and all of them feature comfortable beds, electricity and air-conditioning. This is by no means a luxury affair: visitors accustomed to international standards might consider it to be a bit run-down or lacking in its service or culinary quality. But it's a perfectly lovely natural experience right on the water and more than adequate for an overnight visit.
Eco/Adventure - This category covers gorgeous lodges in the jungle, comfortable safari camps and dreamy, but simple, beach cabanas. These places defy conventional categorisation: what is communing with nature to one person may be terrifying bugs to another! Many of these places are very comfortable and the service generally of a very high level - but please read the website review carefully and/or talk to us and be sure to have understood what you are letting yourselves in for!
Map centered on Moe Yun Gyi Wetlands Resort. Zoom out to view other hotels (H) and experiences (E) in the area.