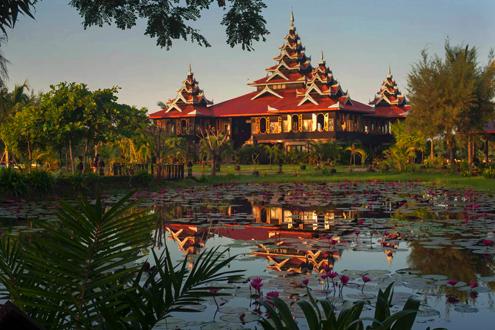 The Mrauk U Princess Resort is a leafy, lush and green resort set on the banks of the Kaladan River.
With 21 Standard rooms and bungalows, the resort offers a selection of quality accommodation with a peaceful and welcoming atmosphere. Comfortable yet rustic, the Standard rooms offer single or double beds, simple en-suite bathrooms and a small veranda. The Village House rooms provide much more space, with tiered wooden ceilings, rattan lounge area and spacious bathrooms with separate bathtub.
With a vegetable farm, two large lotus ponds and plentiful mature trees, the Mrauk U Princess Resort offers a traditional feel and quiet, serene surroundings. The main restaurant is a large wooden building with excellent views of the surrounding countryside and provides a range of cuisines a selection of wines.
The resort is flanked by rural villages where the local children will wave and smile as you pass by or stop for a tea. Excellently located for exploring Mrauk U's incredible temples and ruins, the resort is one of the better accommodation options in this remote region where glorious kingdoms once flourished.
Access to Mrauk U is by a picturesque four-hour boat ride from Sittwe and is easily tagged on to a stay at Ngapali beach. The Mrauk U Princess Resort retains the quality of its sister properties across the country and comes recommended for a pleasant and relaxing stay in this fascinating and historical part of Burma's Rakhine State.
Superior - This is what we would describe as our standard category. These will be decent 3/4* hotels providing a really good level of service. We would generally expect them to be providing a little something extra, in terms of character, guest experience or facilities too.
Bar
Restaurant
Spa
Spectacular Views
Varied Local Excursions