Wa Ale Island Resort, Wa Ale Island
Myanmar, The Mergui Archipelago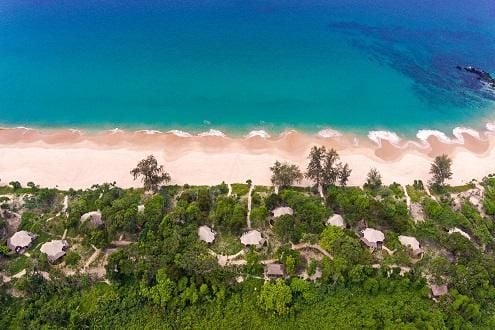 Wa Ale Island Resort is the first luxury property to open in the 800 islands of the beautiful Mergui Archipelago. The resort can be accessed from Ranong in Southern Thailand or Kawthaung in Southern Myanmar; as such it works well as a unique island retreat at the end of a holiday in either country.
The property is comprised of 3 treetop villas and 11 luxury-tent style beach villas, all crafted from local materials. The beach villas can comfortably accommodate up to 4 people and the treetop villas sleep 2. All have been carefully designed to blend in with the beach location. On site there are 2 restaurants where full-board plus a range of drinks are included.
Located on a private cove in a pristine marine park, the location is remote, idyllic and well worth the speedboat journey to get there. Spend your time snorkelling, diving, exploring the jungle trails or just relaxing and enjoying the service.
Luxury - Luxury hotels would have a superb level of service, very comfortable and usually spacious bedrooms, excellent food, great design and character. For us, when we visited, these places all had the 'wow factor'. A luxury hotel should satisfy the criteria of the most discerning clients.