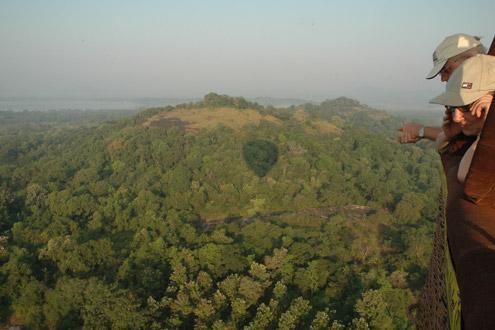 Glide majestically above ruined cities, sail over undisturbed wildlife and hover as the sun rises through the morning mist on the horizon: hot air ballooning is a magical treat and there are few better places to do it than Sri Lankas ancient triangle.
With little or no sensation of movement or perception of height, hot air ballooning is a unique and magical way to experience a country. Travelling at the same speed of winds makes for a feeling of sensational tranquillity, while the earth rotates beneath you and the views rapidly expand.
Soaring between 500 and 2000 feet above tropical forests, dry-zone plains and rocks jutting up dramatically: hot air ballooning is by far the best way to see the Sri Lanka countryside if you discount bullock cart of course… It is easy to forget, when travelling on the busy coastal roads, that most of Sri Lanka is given over to agriculture and is thinly populated. From the air, in the lovely silence, you can reflect upon the amazing natural wealth that was bestowed on this island.
Those lucky enough to experience Sri Lanka from the air are guaranteed a beautifully peaceful morning flight with the sunrise glimmering through the morning mists on the horizon, little specs of blue and white clothed children making their way to school, wide blue wewas (reservoirs), sleepy meandering rivers, ancient temples and peaceful paddy fields.
The silence is only occasionally broken by a burst of the burners, but otherwise this is a deeply peaceful experience which brings with it a wonderful intimacy with the incredibly landscape of Sri Lanka.
Adventure Centre Asia are the leading operator in the country and bring with them a wealth of experience in operating hot air ballooning in Asia. Safety is naturally the first priority and the highly qualified (all pilots have both international and Sri Lankan qualifications) pilots have the final say on whether the balloon takes off, weather permitting.
Adventure Centre Asia offer a four hour package which includes an hours flying time. From the morning wake up call, to preparation of the balloon, to a champagne breakfast afterwards, everything is thought of.
Your trip includes:
- A 3-4 hour travel experience
- Pre flight tea and biscuits
- Approx one house flight +/- depending on conditions.
- Champagne and tropical fruit Breakfast
- All hotel Transfers
- Friends can come along for the breakfast too for an extra $5 a head.
- Flights leave from near the Kandalama Lake in the Cultural Triangle.
Please note that the cost is fully refundable if you are unlucky enough to have bad weather on the day of your flight. Your wake up call will not come and you will not be woken in the morning.
Season: October through to April.
Map centered on Hot Air Ballooning. Zoom out to view other hotels (H) and experiences (E) in the area.