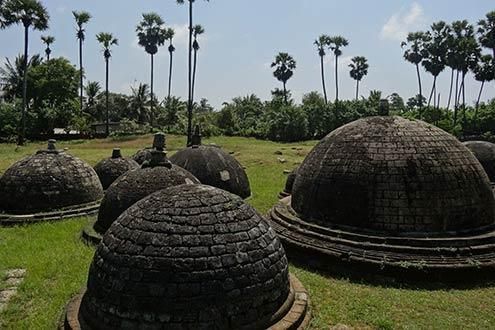 The following is an overview of the sites worth seeing, though as with all of our tours, we suggest flexibility and discussion with your guide to prioritise what interests you!
Starting out at Point Pedro and the mini desert at Manalkadu, the sandy dunes are in stark contrast to the lush vegetation and fine agricultural soil which made Jaffna such a rich region in time gone by. Amidst the sand dunes, lying half buried, is the ruin of St Anthony's Church.
From there we drive along the northern tip of Sri Lanka to Keerimalai Springs and Naguleswaram Temple. The mineral springs are famed for their curative properties and anyone can have a dip and the site itself is of cultural and historical significance.
Close by and inland is the important historical site of Kandarodai or Kandurugoda in Sinhalese. This is a fascinating archaeological site with the remains of almost 50 small stupas, built close together along with other buildings, relic houses and so on. The origins of the site are disputed but certainly show the massive significance of the Jaffna Peninsula in ancient times. The countryside around the site has many classic examples of the unique Jaffna cultivation system – the constant irrigation of the ditches in the fields making best use of the superlative quality of the ground water in these parts.
From here you might also wish to visit the ancient Hindu temple at Maviddapuram and then take a relaxing dip in the sea at Casuarina Beach, which though on Karativu island, is best reached from the west side of Jaffna Peninsula along the Ponnalai Casuseway. Whilst on Karativu, you might also wish to visit the well preserved Dutch Fort at Hammenhiel - now a hotel run by the Sri Lankan Navy.
Map centered on Jaffna Peninsula Day Tour. Zoom out to view other hotels (H) and experiences (E) in the area.