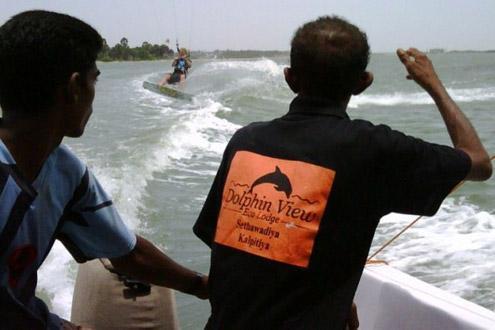 Kite Surfing is the fastest growing water sport in the world. It is not wind surfing, it is not waveboarding, it is not surfing and it is not kite flying. It is the fusion of these disciplines with other influences to create the wildest new water sport for years. It has now arrived in Sri Lanka, which has a number of excellent locations for safely practising the sport.
Kite Surfing is an 'extreme sport' and it should not be attempted without proper instruction and supervision. Once mastered it is extremely exhilarating - a real adrenaline sport! You should never attempt to kitesurf until you have completely mastered the control of the kite on land, and these beginners courses will enable you to do just that. These courses are designed to help you get to grips with the theory and practice on land before learning in the water. Tuition is individual and led by an extremely experienced instructor who recommends a minimum of two days tuition for beginners. After this you would expect to have a sound understanding of the theory behind the sport and a degree of technical ability. Generally speaking though, it takes four to five days to really get a hang of it both in land and on the water.
Kites and boards of different sizes can be rented by the day for experienced surfers who don't want to carry equipment round the world with them. The Kite Surfing centre is based in Negombo, which makes it convenient to slot into a trip at either the beginning or end of and itinerary. Likewise, it's good for experienced surfers who would like to hire the equipment for themselves as it can be simply collected on arrival at the international airport and dropped off prior to departure.
Experienced kite-surfers or those having completed the courses would probably be interested in a 'Kite-safari', which could be tailored to your needs. Taking off from Negombo, with all the required equipment supplied, to some of the more remote spots ideal for this sport, staying in anything from tents, simple guest houses, eco-resorts to top hotels. A particular favourite of instructor and leader Marc, is that of the lagoon around Kalpitiya in the Puttalam district. The conditions for Kiting are excellent and the surrounding areas make for interesting travelling. Very few tourists make it to this part of the island. Prices vary greatly depending on the number in the party, the number of days on tour and the accommodation used.
Contust us for more details.
Map centered on Kite Surfing. Zoom out to view other hotels (H) and experiences (E) in the area.