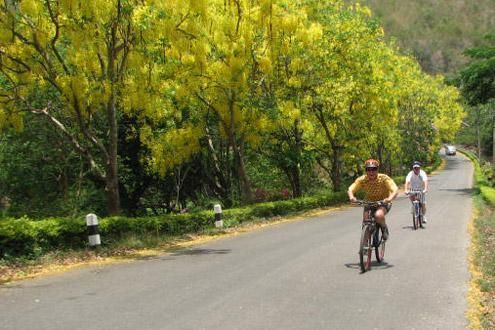 From a day excursion to a two-week island-wide expedition, Experience Travel offer the best researched, supported and tested biking trails around. We have teamed up with one of the most respected and experienced adventure operators in Sri Lanka, to offer exciting excursions at very reasonable prices and with safety given paramount importance.
Using high end well maintained equipment, a mountain bike will be selected in advance to match your height and preference. Only the best fully imported bikes are available in a range of sizes from 14" to 22" frames. "Rock Shox" front suspension and Shimano LX gearing together with bike helmets and accessories ensures total comfort on the tracks. Prices depend on the size of the group and the duration & specification of the tour. We can tailor a trip to suit your needs. A popular place to start a biking tour is Nuwara Eliya Sri Lanka, high in up in the hill country, and work your way downhill from there. The journey up to Nuwara Eliya can be made by either vehicle or train. The climate in these areas is far more conducive to physical exercise, although we can arrange for bikes to be delivered to almost anywhere in the country if you would prefer. Cycling is one of the best ways to see the rural areas of Sri Lanka and meet the friendly inhabitants of this beautiful island. The team have a great deal of experience in leading cycling tours here and will take very good care of you. The staff know the areas and trails inside out and will also take care of any maintenance of the bikes, should it be required. The tours, however long in duration, are individually guided by experts in the field who have been enjoying this sport for years. Cycling journeys will allow you to take in a wonderfully varied range of scenery as you work your way down the mountains. From the tea estates and plantations of the upper hills to the lush, fertile lowlands and all the way to the beach if you like!
Depending on your levels of fitness and experience you can select the pace and duration of your tour, from a gentle meander to an all out endurance test, cycling for as many hours a day as you wish for as long a distance as you chose. Speak to us about your wishes and we will suggest an itinerary to work on on. Accommodation along the way can also be tailored to your tastes. Camping trips are popular. At the same time you could chose to have an itinerary put together to end up in cosy, comfortable hotels and bungalows if that is more your taste.
Map centered on Mountain Biking. Zoom out to view other hotels (H) and experiences (E) in the area.