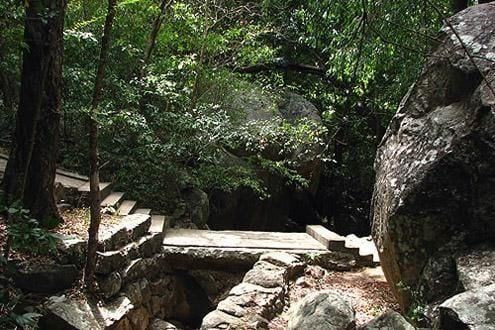 The monastic ruins at Ritigala are steeped in ancient history and mythology. They lie on the spot where it is claimed Hanuman (the monkey god) leapt to India to tell Rama that he had discovered where Sita was being held by the king of Lanka.
In the slightly more recent past, monks found Ritigalas caves ideal for a sparse existence and these pamsukulika (rag robes) monks were endowed a monastery by King Sena I in the 9th century. Following the Chola invasions in the 10th and 11th centuries, the monastery was abandoned and lay deserted and forgotten for over 900 years until it was unearthed by British surveyors.
The monastery shows none of the usual features. There are no Bodhi trees, relic houses or images of the Buddha, and the only embellishments are on the urinals of the forest monastery. Although this is not a typically designed place of worship, with perhaps more of a frugal feel, the monastery is a beautiful place to visit steeped in history. We find children enjoy the feeling of discovery and exploration here as you need to explore yourselves, rather than have buildings explained in detail by a guide.
Spend at least a couple of hours exploring this ancient site, wondering along the ancient paths once trodden by monks over 1000 years ago.
Map centered on Ritigala Rock Monastery. Zoom out to view other hotels (H) and experiences (E) in the area.