Ambassadors, Galle Fort
Sri Lanka, Galle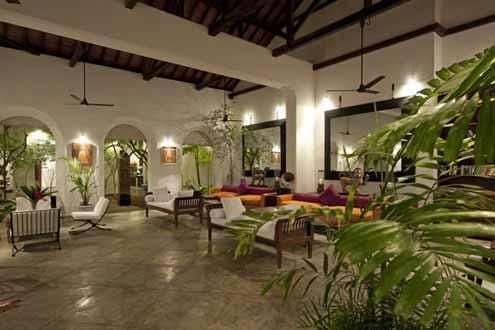 Ambassadors used to be the residence of the Bangladeshi Representative. During the extensive renovation completed by the current owner, ancient archways were opened up, attracting an influx of wonderful light and air into the property. This large house is located on a tranquil part of Lighthouse Street in Fort, very close to clear waters offering fantastic snorkelling opportunities. Large and comfortable, the house faces a small and lovely garden full of temple trees. The stately sitting room is tastefully furnished with palms, antiques, and plush sofas. The archways travel to an intimate grassy courtyard with a small shaded breakfast table, and the occasional rabbit hopping by.
A kitchen, dining room, three double bedrooms and swimming pool complete the ground floor layout. The sweeping staircase leads to a spacious master suite and second bedroom with twin beds. The doors of each bedroom lead to a private roof terrace, where guests can peer over the rooftops of the Fort. The terrace is also accessible by stairway from a landscaped garden down below. This stately house is full of cool and spacious places to relax and unwind, and offers refined tropical luxury in the fort.
Villa - The 'Villa' is a similar concept to the 'holiday home' in Europe, with some key differences. Our villas in Asia are always fully staffed with cooking and service provided for you. Staff will generally cook meals to your specification and purchase food and drink for you at cost price. They are generally pretty smart and luxurious too and feel in many ways like a small private hotel. Nonetheless, your villa is still effectively a home and therefore you cannot expect the same level of training, English speaking or slickness that you might expect from a hotel at a similar cost. As the owners are not generally holiday professionals we cannot guarantee the quality of a villa matches expectations in a way we can with hotels. That said, the personal local touch means villas are generally much more friendly and interactive than hotels and have much to recommend them. The privacy and space makes them wonderful for families, groups of friends or couples looking for privacy and relaxation.