Mahoora Standard Camping, Uda Walawe
Sri Lanka, The Deep South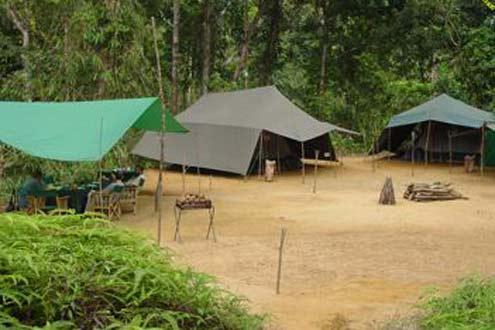 The Mahoora Standard Camping offers you the chance to experience some of Sri Lanka's amazing wilderness in the true spirit of adventure.
Camping out in some of the many national parks, nature reserves and rain forests is an adventure not to be missed for those who love the wild. The Mahoora Standard Camp is the cheaper version of the Mahoora Luxury camp, offering a different experience with the same high levels of service.
The tents are simple dome structures and beds, mattresses and linen are provided. Showers and toilets are set up in a separate area of the camp site.
The team set up camp in some spectacular locations inside the parks and take care of all your needs whilst you are there. Meals are wholesome and plentiful and are included in the price. The camping includes multiple safari drives in the parks using their own 4 wheel drive jeeps. Evenings tend to include camp fires out under the stars.
The camp can be set up for you in a number of locations throughout Sri Lanka. Popular choices include Yala, Wasgamuwa, Wilpattu, Uda Walawe, Gal Oya and the Sinharaja Rain Forest. Prices vary depending on the numbers in the group, the duration of the stay and the location itself. There are discounts available for larger groups and longer stays. The service is fully customisable and can be tailored to suit your itinerary. Staying overnight in the parks allows you to see more wildlife, especially at dusk and dawn - times when day visitors are arriving or departing.
Experience Travel offer competitive rates at all properties, expert knowledge and the ability to tailor the tour to suit your budget and personality. Enquire here.
Eco/Adventure - This category covers gorgeous lodges in the jungle, comfortable safari camps and dreamy, but simple, beach cabanas. These places defy conventional categorisation: what is communing with nature to one person may be terrifying bugs to another! Many of these places are very comfortable and the service generally of a very high level - but please read the website review carefully and/or talk to us and be sure to have understood what you are letting yourselves in for!
Why not give us a call
We'll get back to you asap