Plantation Hotel, Kithugalla
Sri Lanka, Hill Country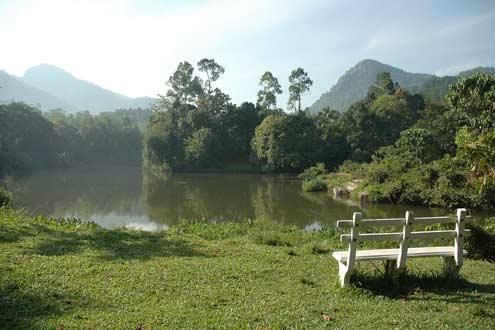 Info
Rating
Features

Gallery

Pics
Located just outside Kithulgala, The Plantation Hotel sits in a commanding position overlooking the Kelani River. Kithulgala, famous as the location for the film 'Bridge over the River Kwai', is now better known for white water rafting.
The Plantation Hotel is a good mid-range hotel offering decent rooms and facilities. The location is the real selling point, with a long river frontage and plentiful, lush forest land. Swimming and bathing is possible from the banks beneath the restaurant.
The hotels eight rooms all have a/c and spacious, tiled bathrooms. It can get busy around lunchtime as the restaurant is a popular stop off for day trippers and groups doing rafting excursions. By night, the hotel is calm and peaceful, and the two restaurants are delightful places to dine, with a fresh breeze and charming view.
Aside from rafting there are several other attractions. Ancient temples, rubber and tea estates and caves make for great walking excursions. The wildlife around the hotel and river is varied and makes for an interesting stop for nature lovers, particularly those interested in birdlife. The focus is on rafting with different grades available, depending on your previous experience.
Eco/Adventure - This category covers gorgeous lodges in the jungle, comfortable safari camps and dreamy, but simple, beach cabanas. These places defy conventional categorisation: what is communing with nature to one person may be terrifying bugs to another! Many of these places are very comfortable and the service generally of a very high level - but please read the website review carefully and/or talk to us and be sure to have understood what you are letting yourselves in for!
24 Hour Room Service
Bar
Birdwatching
Garden
Hiking/Walking
Rafting