Rangala House, Kandy
Sri Lanka, Kandy and Around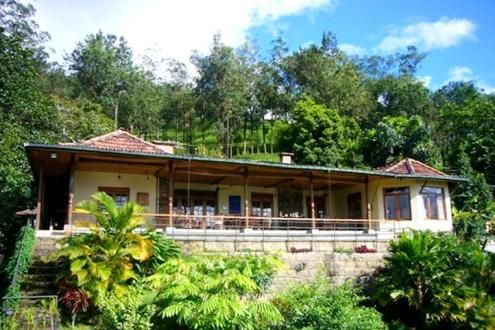 Info
Rating
Features

Gallery

Pics

Comments
Holidays
Perched on a hill at 1000 metres altitude around tea plantations just outside Kandy, Rangala House is a spacious villa-hotel which can be rented by the room or the entire villa.
The property consists of three double bedrooms, a lounge, kitchen and swimming pool. All the rooms have en-suite, tiled bathrooms. There is also a 'cinema room' with a projector and a large library of DVDs for guests to use. Music systems have been placed in a number of the communal areas for use by guests renting the entire property. A 50 foot veranda stretches the length of the house opening the view up from almost anywhere in the property. Meals are usually taken out here too, though there is an indoor dining area as well. The lounge has a good selection of books, DVDs & music. There is also a piano although it is not supplied with a pianist!
The overall design is modern and a pleasant mixture of European and Sri Lankan influences. Comfortable throughout, much attention to detail has been made in the renovation of the property. The pool is excellent and is surrounded by a well kept lawn, flowers and a flourishing spice garden.
Meals are cooked in the European style kitchen by the resident staff or guests can prepare their own if they prefer. Groceries can be shopped for locally and the staff will prepare what you like. Rangala House is unique in this sense when comparing with other properties in the region and it is an extremely cost-effective system.
An abundance of bird-life is found in the vicinity and there is a telescope on the balcony to facilitate more detailed inspection. The idyllic Knuckles mountains are a short drive away and Rangala House can be used as a base for exploring there. The superb Victoria golf course is only half an hour from the house and there is a driving net in the garden of the house to practice your swing. Kandy town, with all its attractions, is a fifty minute drive. Excellent walking is possible in any direction from the hotel.
Rangala House offers guests the chance to get away from it while being close enough to be classed as a Kandy hotel. The staff are flexible and will be as hands-on or invisible as you wish. A great addition to Sri Lanka's growing portfolio of small hotels.
Superior - This is what we would describe as our standard category. These will be decent 3/4* hotels providing a really good level of service. We would generally expect them to be providing a little something extra, in terms of character, guest experience or facilities too.
Airport transfer
Birdwatching
Cook
DVD & CD Library
Fully staffed villa
Hiking/Walking
Outdoor Pool
Rangala House was in the most amazing location and we could have spent even more time here. I will never forget that view from the terrace. Also, we visited the local tea factory which is not a tourist attraction so we had a brilliant time finding out about working life there. The children in this village were charming and not used to seeing many white people so we enjoyed talking to them.
As for the hotels, they are among our favorites after decades of travel. George at KK and Anthony at Rangala were great hosts. In fact, many of our fondest memories will be of getting to know them, as well as their expat friends from the surrounding area (George included us in a Christmas dinner party at KK, and Anthony did the same for New Year's Eve at his). KK and Rangala are very different types of places. KK is quite swish, but also very tastefully done, with great food and all the rest. For people who can afford it, it is very easy to recommend. Rangala is more basic, and I would thus suspect that the average couple that demands KK-style comforts might be put off by Rangala. However, for some like us with bipolar tastes, it was the perfect combination of places to stay, giving us two distinct and equally special holidays in one. Plus, Rangala's location is somewhat unique, and it is thankfully a bit outside of Kandy. The walks in the area were great. And Anthony was arguably the best host we have had at any hotel, anywhere.
Our office is open now
Why not give us a call