Beach Hut, Unawatuna
Sri Lanka, The South Coast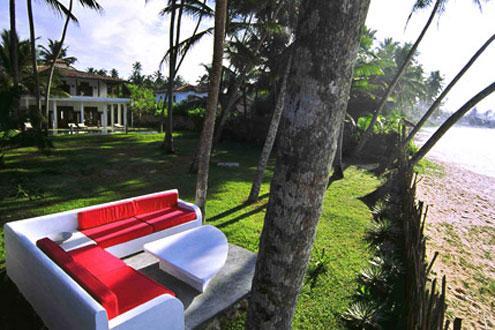 Couples and small families will appreciate the seclusion and tranquility at the Beach Hut. The two-storey villa sits on the edge of Unawatuna Sri Lanka, a beach known for its coral bay and white sandy shores. Large manicured lawns, ocean views, and a private swimming pool frame the property. On the top floor, the master bedroom and a smaller second bedroom are both air-conditioned. An en-suite bathroom separates the two. The master suite has several sets of beautiful french doors leading out onto the terrace, which faces three ways and offers panoramic views of the property and the Indian Ocean.
On the ground floor, a spacious living area is furnished with style, using both modern and antique pieces. Entertainment technology includes a TV, DVD player, and a sound system, with a selection of board games for the kids to enjoy. A second bathroom and a fully-equipped kitchen complete the ground floor layout.
Sri Lankan delicacies can be prepared by the Beach Hut staff at cost price, and they are open to suggestions and flexible with meal requirements. The staff source all their produce from the local markets, which is an economical and very fresh way to eat and drink well. The villa is a short stroll away from Unawatuna's wide range of beachside restaurants, cafes, and bars.
Relaxing on the property is easy, with a private pool, beautiful gardens, and a charming cushioned outdoor area facing Unawatuna Beach. Park benches and hammocks in the gardens provide ample opportunities for lounging, reading, or enjoying the natural beauty of the grounds.
Ideal for couples looking for privacy, families and small groups (parents may need to keep an eye on children traveling between the top and ground floors, as the spiral staircase is a potential hazard), the Beach Hut comes highly recommended for its sumptuous surroundings, prime location, and excellent service.
Villa - The 'Villa' is a similar concept to the 'holiday home' in Europe, with some key differences. Our villas in Asia are always fully staffed with cooking and service provided for you. Staff will generally cook meals to your specification and purchase food and drink for you at cost price. They are generally pretty smart and luxurious too and feel in many ways like a small private hotel. Nonetheless, your villa is still effectively a home and therefore you cannot expect the same level of training, English speaking or slickness that you might expect from a hotel at a similar cost. As the owners are not generally holiday professionals we cannot guarantee the quality of a villa matches expectations in a way we can with hotels. That said, the personal local touch means villas are generally much more friendly and interactive than hotels and have much to recommend them. The privacy and space makes them wonderful for families, groups of friends or couples looking for privacy and relaxation.