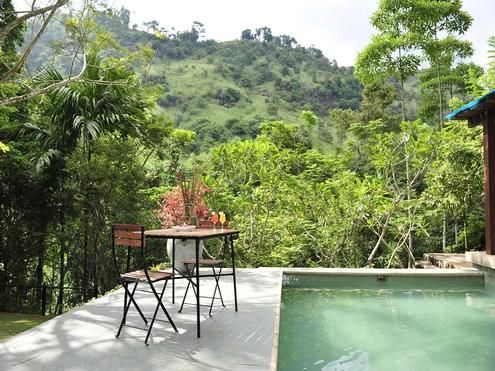 Info
Rating

Gallery

Pics

Map
The Weir house is located in Ulapane, only 45 minute drive from Kandy, so its an ideal place to explore both the beautiful tea country and the all activities that the area has to offer. It's located far enough from the main road to feel isolated and walk around the acres of tea estates that surround the house, but close enough that you aren't driving endlessly whilst exploring.
The house itself is beautifully furnished mixing modern and tradition Asian style furniture, and surrounded by 6 acres of tropical, well maintained gardens. From every view in the house youll see a lush landscape and a new area of the gardens to explore. In the living room you'll find a 270 degree panoramic view from large reclining doors and windows.
In the main house there are 2 double rooms and 1 twin, all extremely comfortable and pleasantly decorated. Each has an en suite bathroom. There is no A/C, but as you are in the tea country, its not really needed. If you were a couple renting the entire house privately, you can chose which ever bedroom you wish. Downstairs (not attached to the main house) is a large bedroom, featuring 2 double futon beds and en suite, which is perfect for older children, or a couple wanting more privacy.
During your stay, you will be looked after by a house manager, chef and 2 other members of staff. The chef will provide you with all your meals on a half board basis, blending both eastern and western cuisine. There is a pantry and cooker situated next to the dining room, which is ideal if you'd like to cook your own meals.
The Weir house is absolutely perfect for a group of friends, or a family who want to spend some time right in the hill country. With its great spaces to relax, a pool, tv/dvd system in the living room and very attentive staff, you'll feel well looked after and relaxed in this private retreat.
Villa - The 'Villa' is a similar concept to the 'holiday home' in Europe, with some key differences. Our villas in Asia are always fully staffed with cooking and service provided for you. Staff will generally cook meals to your specification and purchase food and drink for you at cost price. They are generally pretty smart and luxurious too and feel in many ways like a small private hotel. Nonetheless, your villa is still effectively a home and therefore you cannot expect the same level of training, English speaking or slickness that you might expect from a hotel at a similar cost. As the owners are not generally holiday professionals we cannot guarantee the quality of a villa matches expectations in a way we can with hotels. That said, the personal local touch means villas are generally much more friendly and interactive than hotels and have much to recommend them. The privacy and space makes them wonderful for families, groups of friends or couples looking for privacy and relaxation.
Map centered on Weir House. Zoom out to view other hotels (H) and experiences (E) in the area.