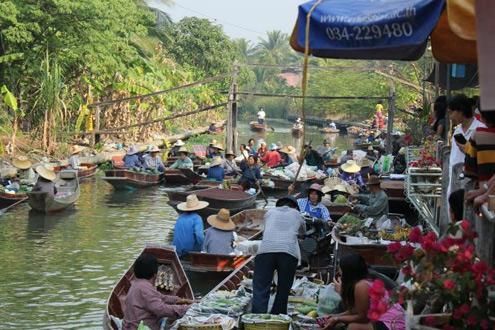 The "khlongs" or canals of the floating markets are packed with small wooden boats. Thai ladies sell fruit, vegetables, cooked food and drinks. The most popular of these, Damnoen Saduak, is situated just outside Bangkok and an organised tour, either with a group or privately, can be arranged. Getting to the hub of activity involves a trip on an exhilarating Longtail boat through the canals. You can pick up some bargains for yourself or just enjoy the exciting atmosphere and the excellent photo opportunities.
For those seeking a little more authentic experience, the small and irregular Tha Kha Floating Market offers a way to really escape the tourist crowds while still seeing the iconic floating markets that are so distinctive to Thailand. Tha Kha Floating Market is located a little distance out of Bangkok, and one of the reasons it has remained so secret is because it only operates on certain days. Here you will see local vendors peddling fruit and vegetables to each other from their boats. Tha Kha functions as a genuine market for locals and the focus is much less on selling souvenirs to tourists!
A trip to Tha Kha Floating Market can also be combined with a trip to the bizarre "Railway Market". Again just a simple local market selling groceries and vegetables, except it is built across a railway track. At certain times each day all the stalls will be whisked aside to allow the train to pass through, then pulled quickly back into place after the train has passed - truly it must be seen to be believed!
Duis autem vel eum iriure dolor in hendrerit in vulputate velit esse molestie consequat, vel illum dolore eu feugiat nulla facilisis at vero eros et accumsan et iusto odio dignissim qui blandit praesent luptatum zzril
Map centered on Floating Markets. Zoom out to view other hotels (H) and experiences (E) in the area.