Ban Dok Bua Homestay, Phayao
Thailand, North and East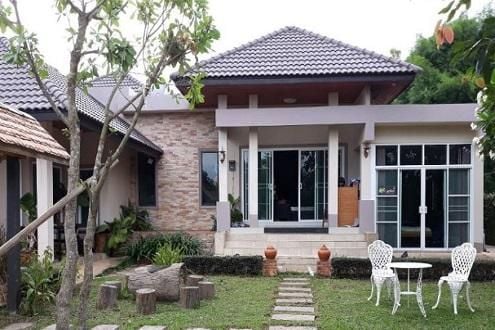 An authentic homestay with a lovely Thai family set amidst beautiful countryside. The house is built in a more modern style, but the experience provides a genuine taste of rural Thai life. You can pick herbs and vegetables from the organic garden to make an exceptionally delicious northern Thai dinner, eaten on a low table in the garden under the stars. If you rise early, you can watch monks give alms at a nearby temple, and throughout the day you can visit neighbouring homes to get a sense of local crafts, farms and ways of life.
Three bedrooms can accommodate up to eight guests (two twin bedrooms and another containing two double beds), which makes it ideal for families. The rooms are clean, a good size and fitted with air conditioning. Above all, the location is beautiful; it is a truly undiscovered part of Thailand that will make you feel miles away from the everyday.
Homestay - What we mean by 'Homestay' is generally a large family owned house, still occupied by at least some members of the family. Interaction with guests is encouraged and is in fact unlikely to be avoided! These places always have bags of character are usually highly charming and can provide a fascinating shortcut towards understanding local life a little better. Facilities can range from the luxurious, to pretty basic and meals are generally taken as a group and served in the local style rather than from a menu. The service is almost always fairly quirky and idiosyncratic. Great fun.