Mirihi Island Resort, Ari Atoll
The Maldives, Central Islands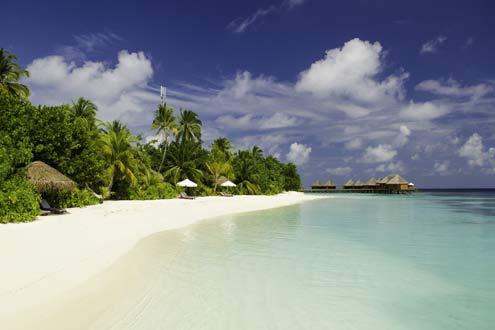 Blessed with white sand beaches, turquoise blue waters and one of the most amazing house-reefs, Mirihi has recast itself as a luxury boutique option for the Maldives.
The décor is a combination of sandy floors, thatched roofs and dark woods, making for a calming and uplifting atmosphere. It is both casual and very stylish. Furthermore and most impressive is a grown up approach to inclusions and service, where guests are treated as such and are free to do as they please.
The accommodation comprises of 6 Beach Villas (featuring designer furnishing, polished wooden floors, king size and over-sized open-air bathrooms) and 30 stilted Water Villas (as the beach villas but larger and with private over-water sundecks and steps into the sea).
The secluded Dhonveli and Muraka restaurants serve buffet and a-la-cart menus whilst the Anba Bar provides a laid-back setting to unwind on the beach.
Activities are varied with a full range of water sports, excellent snorkeling on the house reef, scuba diving and sailing & fishing trips. The marine life is abundant and a sandy lagoon just off the main island is perfect for the sailing and windsurfing. In keeping with the peaceful atmosphere there are no motorised water sports. On land there is a fitness centre and spa.
Mirihi Island Resort is situated on an island just 350 by 50 metres. Accessible by a short seaplane flight from Male, Mirihi is one of the smallest, most charming and quiet resorts in The Maldives.
Ultimate - There are very few hotels we would describe as 'ultimate'. Hotels in this category must have absolutely everything anyone could want and really be aiming for the stars. These hotels generally go well above and beyond and they would always be at the very top end of the market. These are for clients looking for that extra special place.