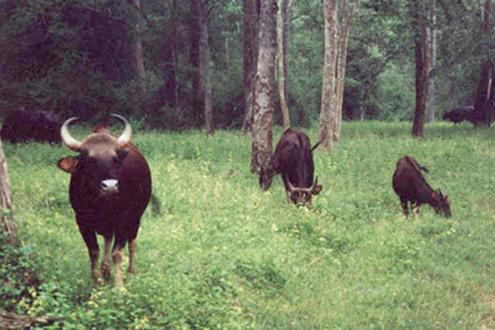 An early morning gibbon trek in Nam Cat Tien national park is a fantastic way to get up close and personal with some of Vietnam's wildlife while on the lookout for one of the country's most elusive primates.
Nam Cat Tien is located about 5 hours drive from Saigon and is one of Vietnam's most important protected areas. Until 2010 the park had Vietnam's last remaining wild Javan Rhinoceros but the population has since been wiped out by poaching. The rare and endangered yellow-cheeked gibbons still live wild in the park, but their conservation is also threatened by poaching, logging and the fact that they do not live in communities. A particular territory will be occupied by only two individuals which means that a lot of space is needed to sustain a population.
The trek sets off early from the Forest Floor Lodge at around 4.45am - sunrise is one of the best times to hear the gibbons singing through the jungle. With your experienced local guide, travel off the paved road that runs outside the national park and into a clearing in the trees, where you can listen out for the gibbons calling to each other. As the sun slowly rises you hear the sounds of the exotic birds and insects humming into life as light permeates the forest.
Then your guide will lead you across marked trails to follow the gibbons for around 2 hours. They can sometimes be seen swinging through the trees or heard calling to each other. Other primate species you may encounter include macaques and langurs. The forest is also home to a number of bird species including hornbills and jungle fowls, while woodpeckers can often be heard drilling into tree trunks. Rarer still are sightings of mouse deer, civets and snakes, although your guide may pick up foot prints or scent markings to point out to you.
Exotic plant, palm and vine species are abundant too - wind your way through wild bamboo, under creeping vines and around the trunks of gigantic yellow banyan trees, the oldest of which has been growing in the park for around 500 years.
Return to the forest floor lodge at around 8.30am (although this is dependent on how active the gibbons are). As the gibbons are totally wild there is no guarantee that you will see them. Please note that this tour is only operated during the dry season (October to May).
Map centered on Gibbon Trek. Zoom out to view other hotels (H) and experiences (E) in the area.