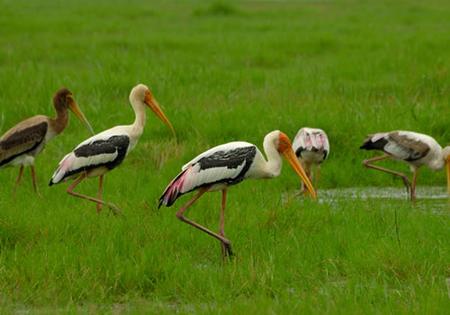 Established in 1954 to protect the catchment area of the Senanayake Samudraya reservoir,GalOyaNational Parkis considered to be among the most scenically beautiful landscapes inSri Lanka.
The Senanayake Samudraya reservoir - which is not a part of the national park - is the largest inSri Lanka, developed as part of a development scheme to open up around 162,000 hectares of forest for agricultural and industrial purposes. The reservoir supports an important fishery and is a valuable source of water for irrigation.
Gal Oya is located just east of Sri Lanka's central hills, lying primarily in the Badulla District. Two general zones can be distinguished within the park, with low peneplain, broken by bare rocks known as 'turtlebacks' to the east, and with a higher peneplain to the west. The valley here is the only one in Sri Lanka which can claim to have given shelter to Sinhala Kings in three different locations; King Tissa in the 2nd Century, to King Buvanekabahu in the 13th Century and to the self-proclaimed King Dore Swamy in the 19th Century. There are a number of cultural sites within the park, with the Digha Vapi Dagoba, built in the 2nd Century to mark the spot where the Lord Buddha is supposed to have sat during his last visit toSri Lanka, and just to the east of the park, the Henebedde cave near Wadinagala contains a Brahmi inscription.
Around 45% of GalOyaNational Parkis forested, 33% is savannah, 9% grassland and 2% chena (forest disturbed by shifting agriculture). Around 10% of the park consists of water bodies. The forested areas are generally evergreen and of medium stature with a densely closed canopy layer containing species such as halmilla (Berrya cordifolia), etamba (Mangifera zeylanica), and ebony (Diospyros ebenum). The savannah, found mostly towards the west of the park, and houses tree species such as aralu (Terminalia chebula) and bulu (Terminalia bellirica), shrub species such as nelli (Phyllanthus emblica), and the dominant ground vegetation consists of tall grasses. The grassland zone occurs mostly around the water bodies and is entirely secondary vegetation.
Thirty-two mammalian species have been recorded in the Gal Oya region, with the most prominent being the grey langur (Semnopithicus entellus), the endemic toque macaque (Macaca sinica), leopard (Panthera pardus), sloth bear (Melursus ursinus), elephant (Elephas maximus), wild boar (Sus scrofa), water buffalo (Bubalus bubalis) and three species of deer. With regards to avifauna, more than 150 bird species have been observed in the region including endemic species such as the red-faced malkoha (Phaenicophaeuspyrrhocephalus) and the spurfowl (Galloperdix bicalcarata). The park is unique in providing the last breeding refuge for the painted partridge (Francolinus pictus watsoni). Reptiles including crocodiles, snakes and lizards are all found within the park.
The park itself is largely undeveloped for tourism however it is possible to visit on a day safari with Tree Tops Jungle Safaris. Ask you consultant for more information.