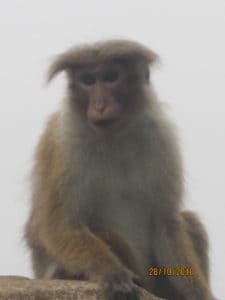 Caroline Russell has just returned from a long-anticipated two week holiday in Sri Lanka. She very kindly put together the following account of her trip for us to add to our blog. Here she describes her experience of a classic Experience Travel trip, mixing adventure and luxury and included some of her favourite snaps to accompany the piece. She writes:
"I'm British and tie myself in knots over tipping and service. On my visit to Sri Lanka, I couldn't have been more wrong when I was bothered about being driven around like a lady of leisure. Deva, a tall older man whose father had served as a surgeon with the British navy before independence in 1948, was courteous but never subservient, and besides being an excellent driver with an immaculate and comfortable car, was a mine of information on every stage of our trip. He told us facts on the economy, on the history and on Sri Lanka's varied geography and climate while he drove us through the wet low country to the hilly region and then on to the dry zone.
He found train rides, batik factories, jewellers, wood carvers, Kandy dancing performances, and most luxuriant herbal body massage and sauna. After our late afternoon safari at Udu Walawe National Park, he took us to an elephant orphanage and transit camp where we saw 45 young elephants being bottle fed and after our hot climb up the rock of Sigiriya he found us an elephant ride along gentle paths and through a swampy river.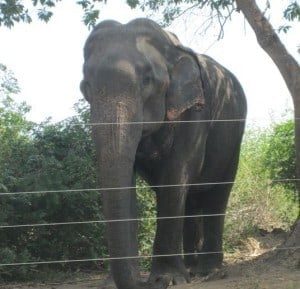 His unrivalled skill was in seeing and directing us to the wealth of birds, trees, flowers and butterflies that were so abundant throughout our journey. He spotted chameleon on the top of posts, land monitors scurrying into the undergrowth, kingfishers pausing on telegraph wires.
Not only did he spot all these animals but he stopped frequently for us to get close up and take all the photos we wanted. And showed us all we needed to know in his excellent collection of bird, tree and insect books that he carried in the car.
Parakeets, Indian roller birds, sunbirds, serpent eagles, elephants, water buffalo, deer, peacocks trailing their train of feathers against the breeze as they flew for their evening roost up a tree – all these were noticed and pointed out.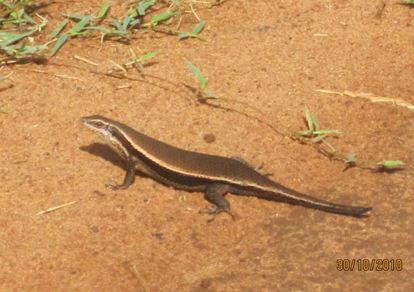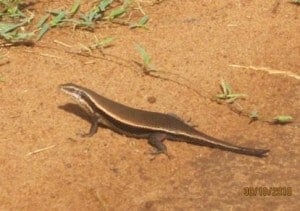 I'm a very novice bird watcher but with this hawk-eyed driver, the abundance of wildlife in this jewel of an island was thoroughly displayed to our intimate gaze.
The high point of our trip was our adventure in the jungle bush at the Back of Beyond near Sigiriya. The drive there was long and late, the track narrow, dusty and overhung with strident grass. Elephant dung littered the pathway, a farmer loomed up at us in the evening gloom with a bobbing torch to direct us on our way, the lights of the village fell far behind and we wondered whether we would ever arrive.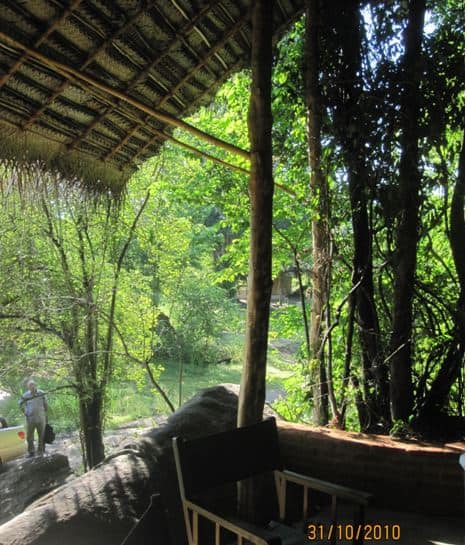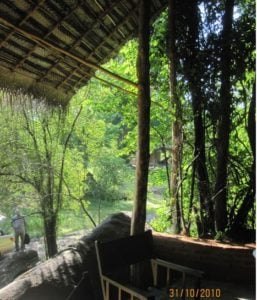 When we finally got there it was raining and our tree house seemed lost in darkness, isolated and surrounded by noises from crickets, frogs, and rustling animals and trees. We reassured ourselves by eating at the general shelter and having a drink of gin brought with us from duty-free and then, with our umbrellas up, tripped through the bush back to our beds over the rock among the trees. My friend, a little scared of all the bugs, talked to them all telling them she would not be killing them but that their place was outside her mosquito net and that it was for her to be inside. She then shrieked as she caught several of them with a tissue and tossed them over our railing onto the rock below. No more bugs inside our nets and we both slept well until the hesitant grey light of dawn crept through the trees and the birds began to call at 5.45 the next morning.
Our only regret about this jungle visit was that we rushed off both mornings to see Sigiriya and Anuradhapura without giving ourselves time to browse around this isolated heaven. Definitely out of our comfort zone, especially when I discovered a scorpion the next night, it was wonderful to stay so isolated, to be given a cookery lesson over the kitchen fire on how to make string hoppers and fish curry, to be cared for by people who knew the jungle, and to shower and sleep in the open air.
I so hope to come again – and spend at least double the time I was able to give it this first holiday in Sri Lanka."