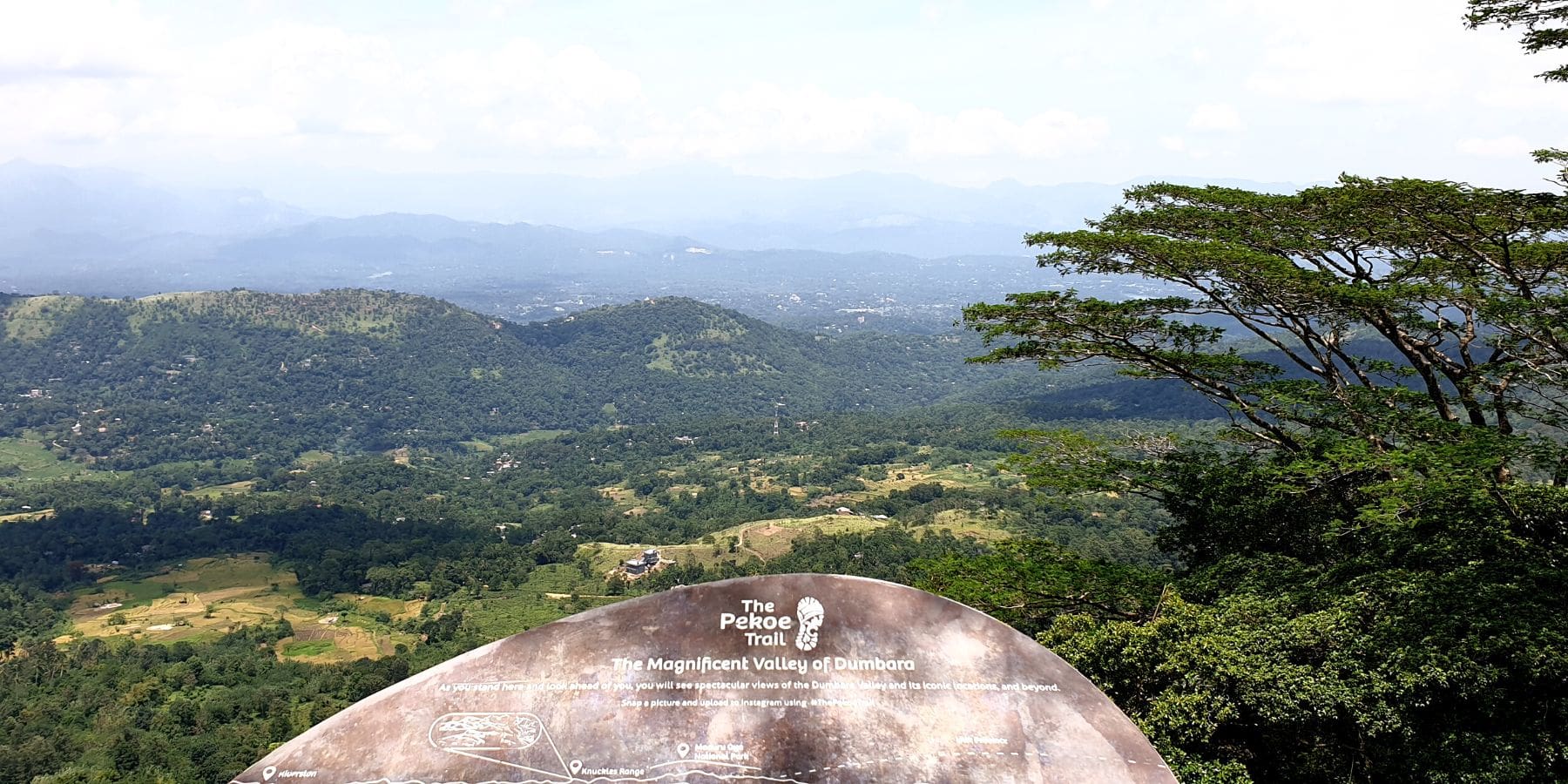 Welcome to the Pekoe Trail
As the name suggests, the Pekoe Trail is a 300 km (approx. 186.5 mi) trail that travels through the central hills of Sri Lanka, starting from Hanthana, running through the tea plantations that adorn the slopes, and ending in Nuwara Eliya. The Pekoe Trail is the brainchild of avid explorer, Miguel Cuñat, who has been traversing these mountains for decades. With the EU and US Aid coming on board, under the banner of Serendipity Trails, the Pekoe Trail was curated as the first continuous point-to-point walking trail in Sri Lanka.
The 300 km trail has been sectioned into 22 stages, each averaging about 12 km ( 7.46 mi) and of varying levels of difficulty based on the elevation gain. Most of the Pekoe Trail runs through some well-trodden areas such as Kandy, Hatton, Haputale, Ella and Nuwaraeliya while introducing you to a side of those areas that would otherwise remain hidden. The paths vary from short patches of tarred roads, near the towns, to overgrown old quarry-laid cart roads, built during the British colonial times to transport tea from the vast estates to the factories. Some of the routes, however, are less defined and are barely visible footpaths that the tea pickers use as shortcuts through the estates and forests.
Recently, I spoke to EuroNews about How this 300 km walking trail is empowering the women of Sri Lanka, which you can read or watch.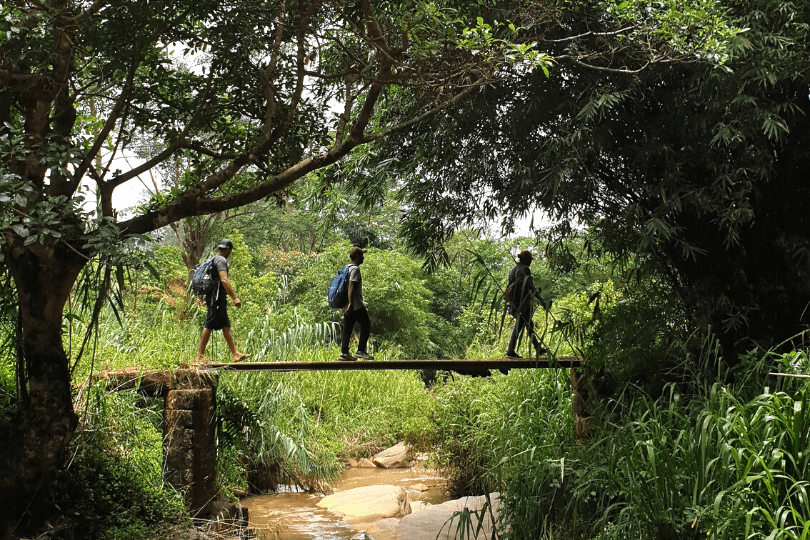 While 22 treks through tea plantations may sound monotonous, it could not be further from the truth of the experience of walking the Pekoe Trail. Each stage usually starts from a small town, before going through tea gardens that seem to spread as far as the eye can see. Some stages will take you through dense forests with trees so high, you'll hurt your neck looking for the treetops. Others will feature fragrant Eucalyptus forests. Every stage will offer amazing viewpoints, each taking your breath away. During your Pekoe Trail experience, you will pass shrines and hermitages, a few well-visited sites, as well as sections so remote, you will not see anyone for hours. You will be treated to the sounds of gushing waterfalls, babbling brooks, the songs of birds varying from tiny sunbirds to the squawk of crested serpent eagles, and on occasion, the temple gongs, and bells and chimes from Hindu shrines.
As of now, only the Pekoe Trail Stage 1 is officially open but the routes for the other 21 have been mapped out and most of them can be walked. By mid-2023, 10 selected trails will be clearly marked and signposted. The remaining 12 trails are expected to follow suit by the end of 2023.
Cathy from TravelGuruTV shares her experience of hiking Stage One, a hike from Kandy to Galaha in the video below. She hiked with our guide Ramli who also had a tonne of useful information about the other stages.
Planning your Pekoe Trail Trip
It is important to have a good understanding of each of the Pekoe Trail stages before embarking on them. As a fair number of the trails travel through areas that already see tourist footfall, it is easy to plug in a hike or two, or even more, to your Sri Lanka holiday. Here is a sample itinerary to give you an idea. However, below are some points to remember. 
When is the best time to hike the Pekoe Trail?
The trail can be done throughout the year but during May and June, and from September to December, the hills may see a considerable amount of rain. This does not mean you cannot walk the trails during this time but you must exercise extra caution, especially as the leeches are out with a vengeance! If it is a more strenuous stage, the leeches can become problematic, as you cannot stop to rest in peace without having several of the rubbery "surveyors" inching up your legs. The rest of the year is mostly dry, with occasional spells of rain, and the mist rolling in and out depending on where in the hills you are exploring. If there is heavy rain, the team on the ground will always prioritise your safety and cancel the walk.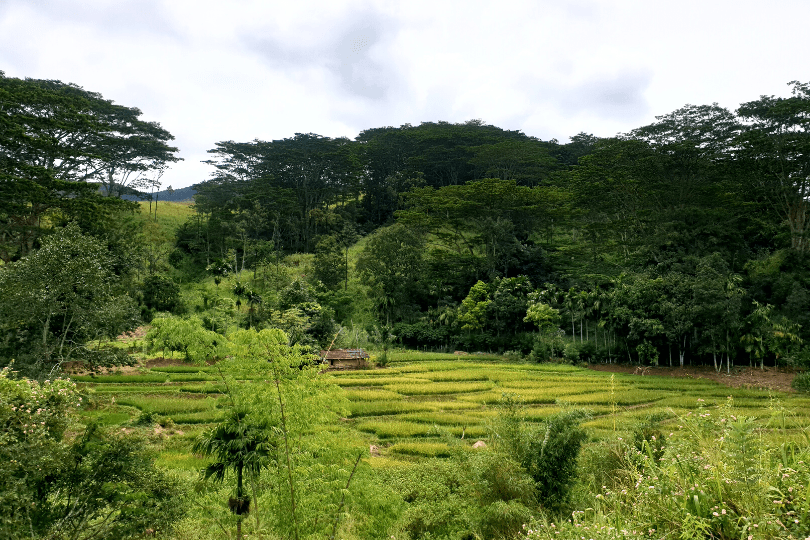 Picking the Right Pekoe Trail Stages for You
Each of the main bases in the hills gives multiple trails to select from. Kandy has 2, Hatton has about 4, there are 3 in and around Nuwara Eliya and 6 from Haputale/ Ella. Some may be as short as 9 km or as long as 17 km. Understanding the terrain is particularly important when selecting the trails. Some are uphill all the way, some downhill, and others may go up and come down. Trails that go uphill are considered tough but can be made moderate or easy by just reversing the start and endpoints. Luckily, our team is very well–versed in the finer details and can help you choose what is best for you. Make sure to let them know your fitness level and if you have any conditions that may affect the trek. We can then ensure you are comfortable on the trail. Have a chat on 020 7924 7133 to have your holiday tailor-made.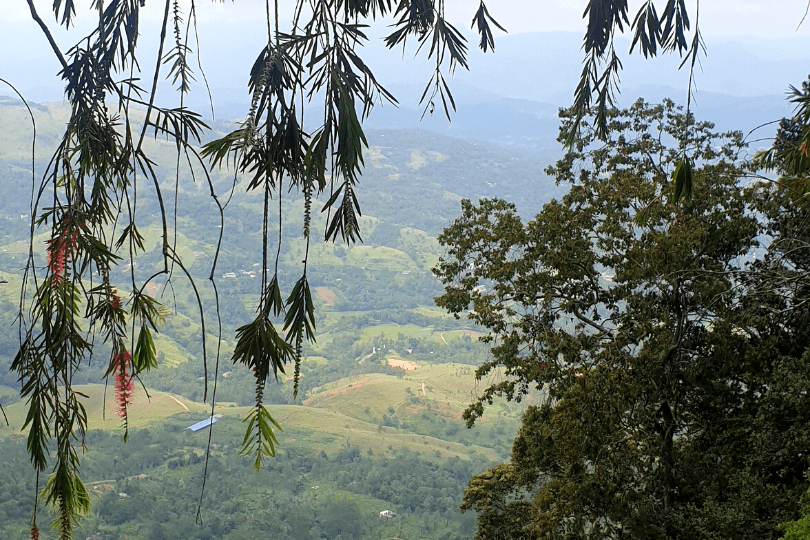 How to Get to the Pekoe Trail
The stages of the Pekoe Trail are designed to be walked from point to point, enabling you to do several segments from one base. On our holidays, your chauffeur guide will drop you at the starting point, from there a specialised trekking guide will escort you along the trail, handing you back over to your chauffeur at the endpoint. As there can be a fair distance between the drop–off and pick–up points, and because most of the trails are a little far away from main cities, it is important to base yourself strategically.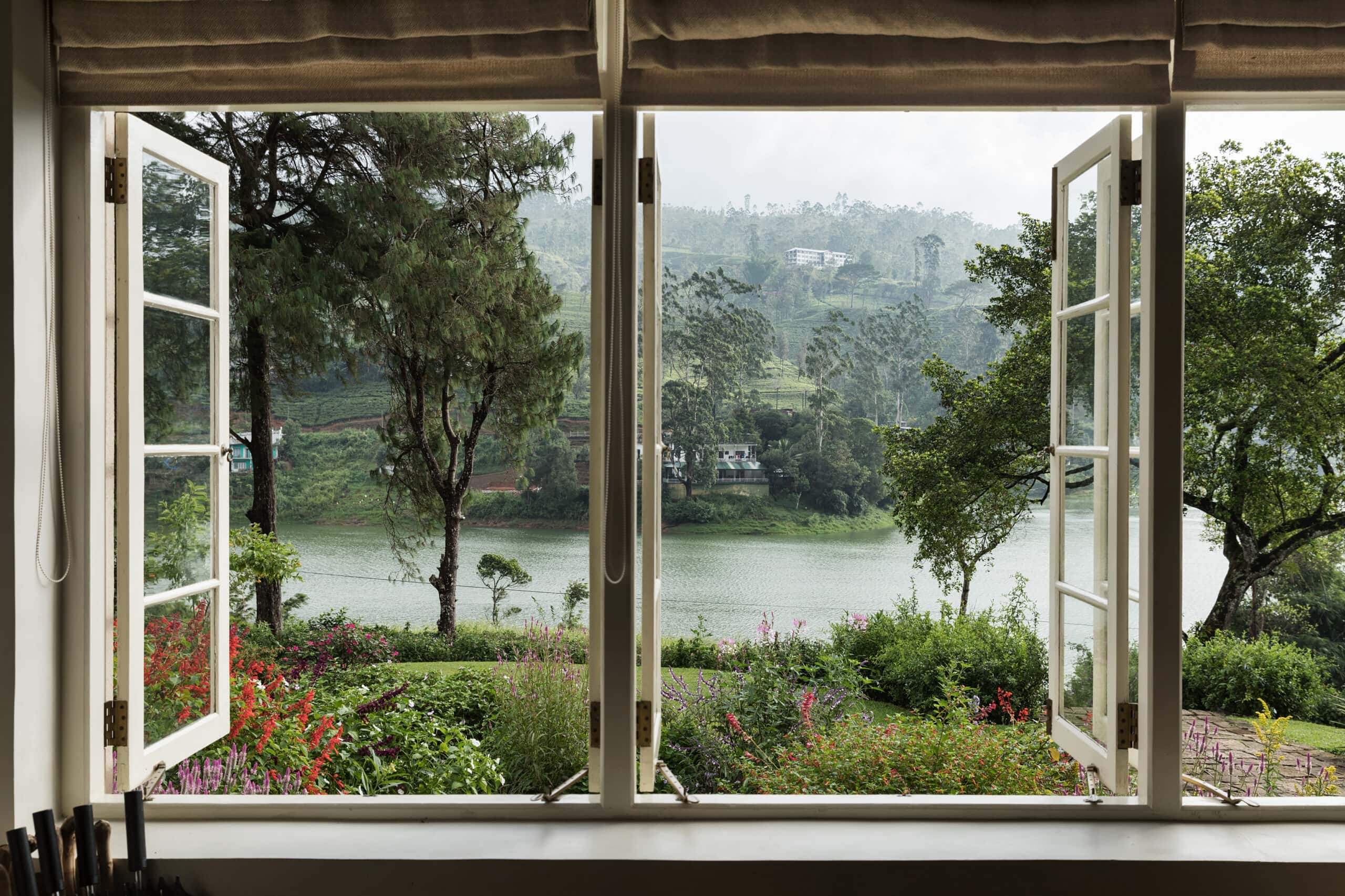 Accommodation near the Pekoe Trail
Along the trail, there are lots of accommodation options available, with a variety of styles and calibres ready to cater to a wide range of travellers and budgets. With time, more hotels will become available, and it is the Trail's intention that homestays and guest houses will emerge along the trail, bringing tourist dollars to areas that previously saw none. At present, most hotels are based a little further away from the trailheads, but we will help you select the hotels that suit you the best.
A few of our favourites are listed below.
W15 Hanthana – A great base for Pekoe Trail Stages 1 and 2 as trail 1 goes right by its front door.
Thotalagala Estate Bungalow – The perfect option to avoid going up and down the tricky road to Pekoe Trail Stages 13 and 14, and to relax in comfort afterwards.
Amba Estate – Just a few kilometres from Pekoe Trail Stage 15 and a short drive to the start of trail 16.
Roseland Cottages – Comfortable accommodation with breathtaking views to do Stages 15 and 16 from.
Hide Ella – A strategic base that is centrally located, and perfect to do Pekoe Trail Stages 15, 16 and 17. Plus it's just a 10-minute walk to the restaurants that Ella is known for.
Nine Skies – A beautiful base for both Stages 16 and 17.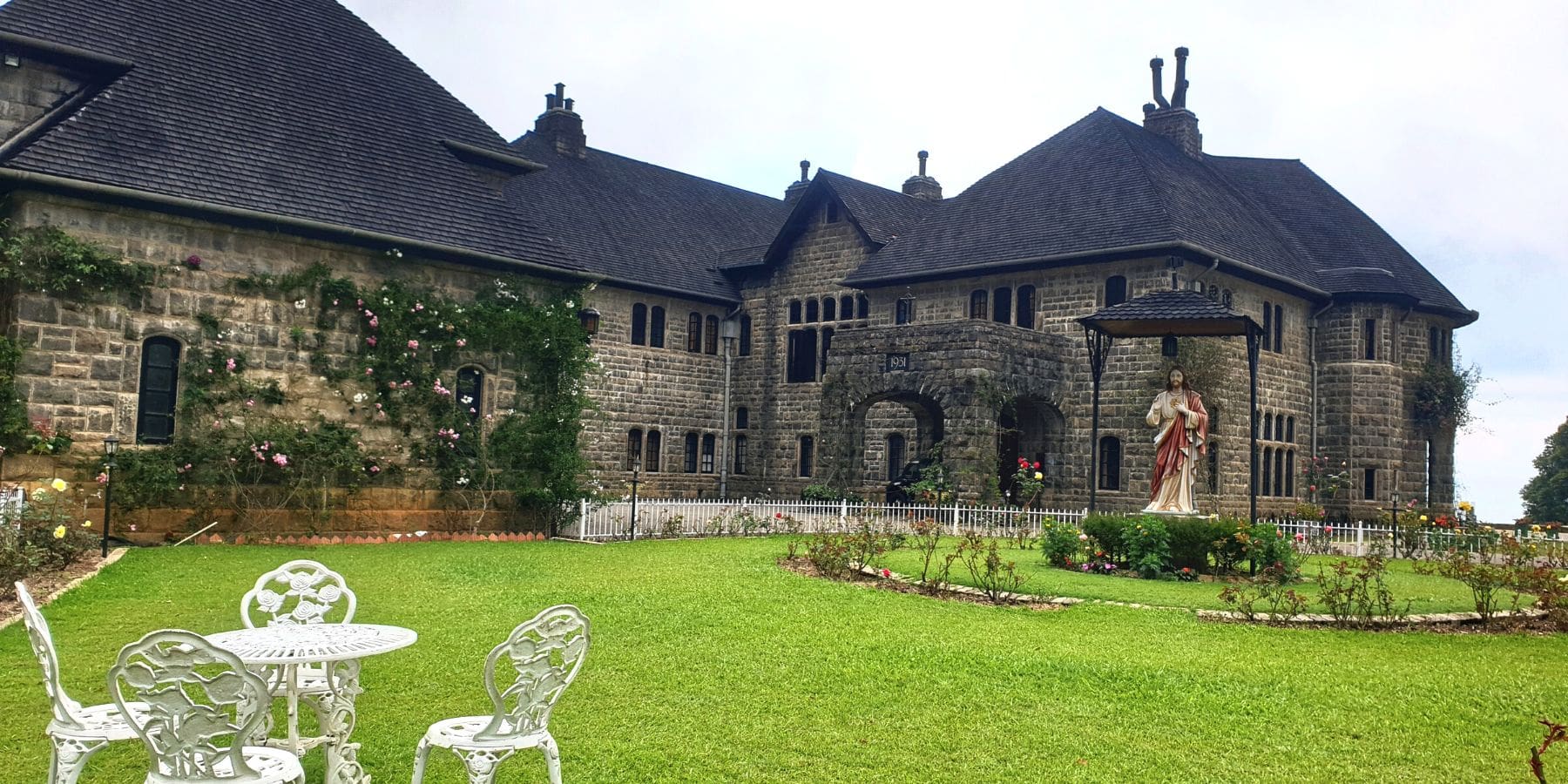 The Essential Gear and Supplies
A sturdy pair of shoes is a must as some of the paths are rough and rocky. 

 

A cap or hat is also a must have as the sun can beat down, even in the cool climes of the hills.

Sunglasses and

sunblock

are also advised.

 

 

Pack a raincoat

just in case

. As a tropical country, sudden showers can

happen,

even in

the dry season. 

 

On average, you will need 2 L of water per trail.

 

Your preferred insect repellent w

ill

also come in handy.

 

 
Our host will provide you with leech socks if needed.  
The Pekoe Trail Experience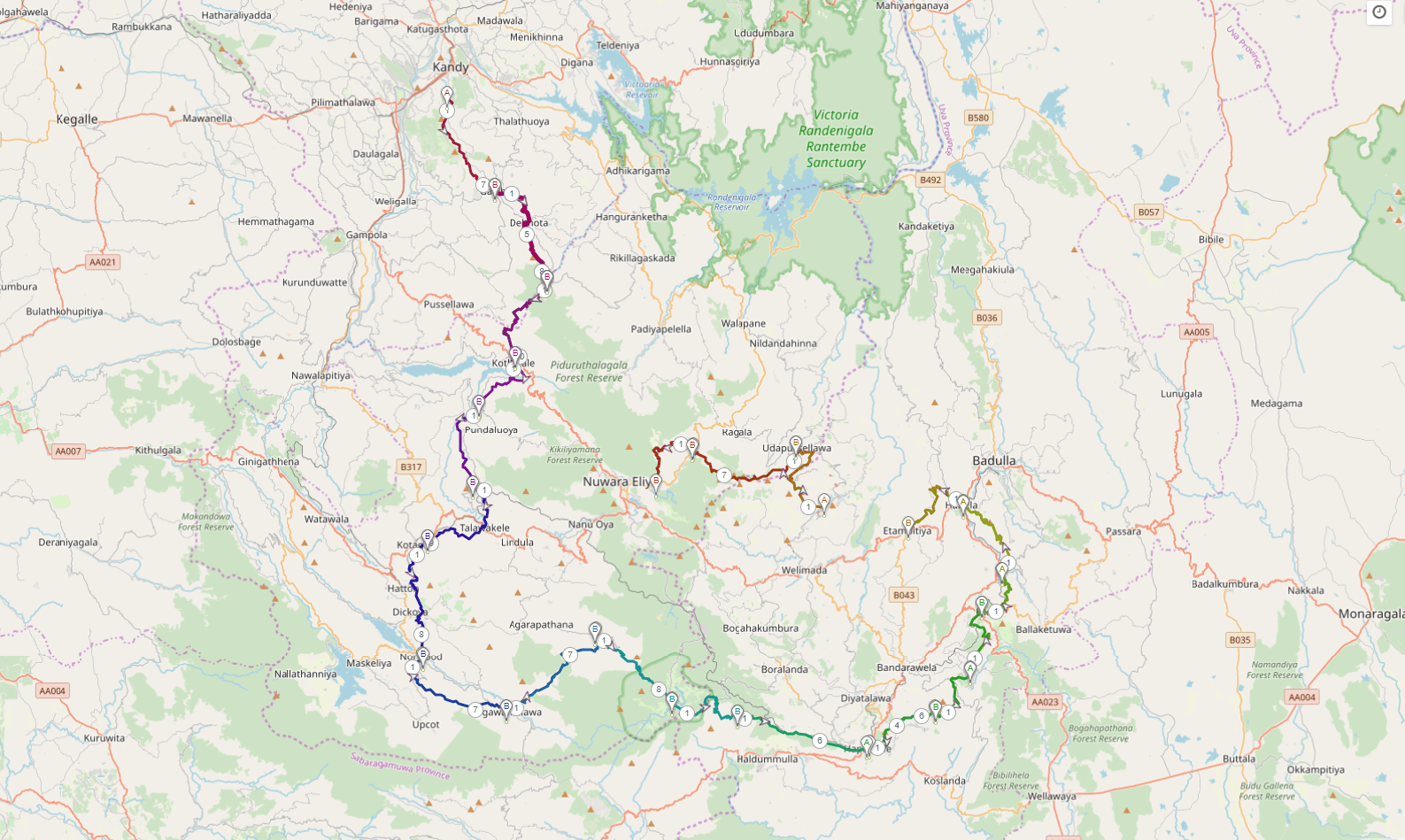 Pekoe Trail Map and Overview
22 Trails, from Hanthana to Pedro  
Shortest: 8.75 km/ 5.44 mi
Longest: 17.19 km/ 10.68 mi
Average: 13.39 km/ 8.32 mi
Combined: 294.59 km/ 183.005 mi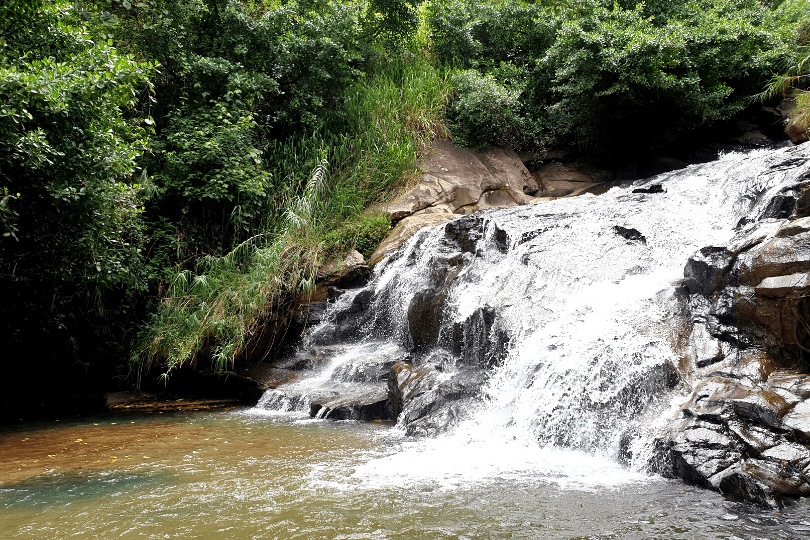 Pekoe Trail Scenic Highlights
Uragala Mountain range 

Dumbara Valley 

Loolecondera Estate 

Taylor's Seat 

Chariot path 

Adam's Peak 

Idalgashinna

Horton Plains 

St. Catherine's Seat 

Ella Gap 

Nine Arched Bridge 

Pedro Tea Estate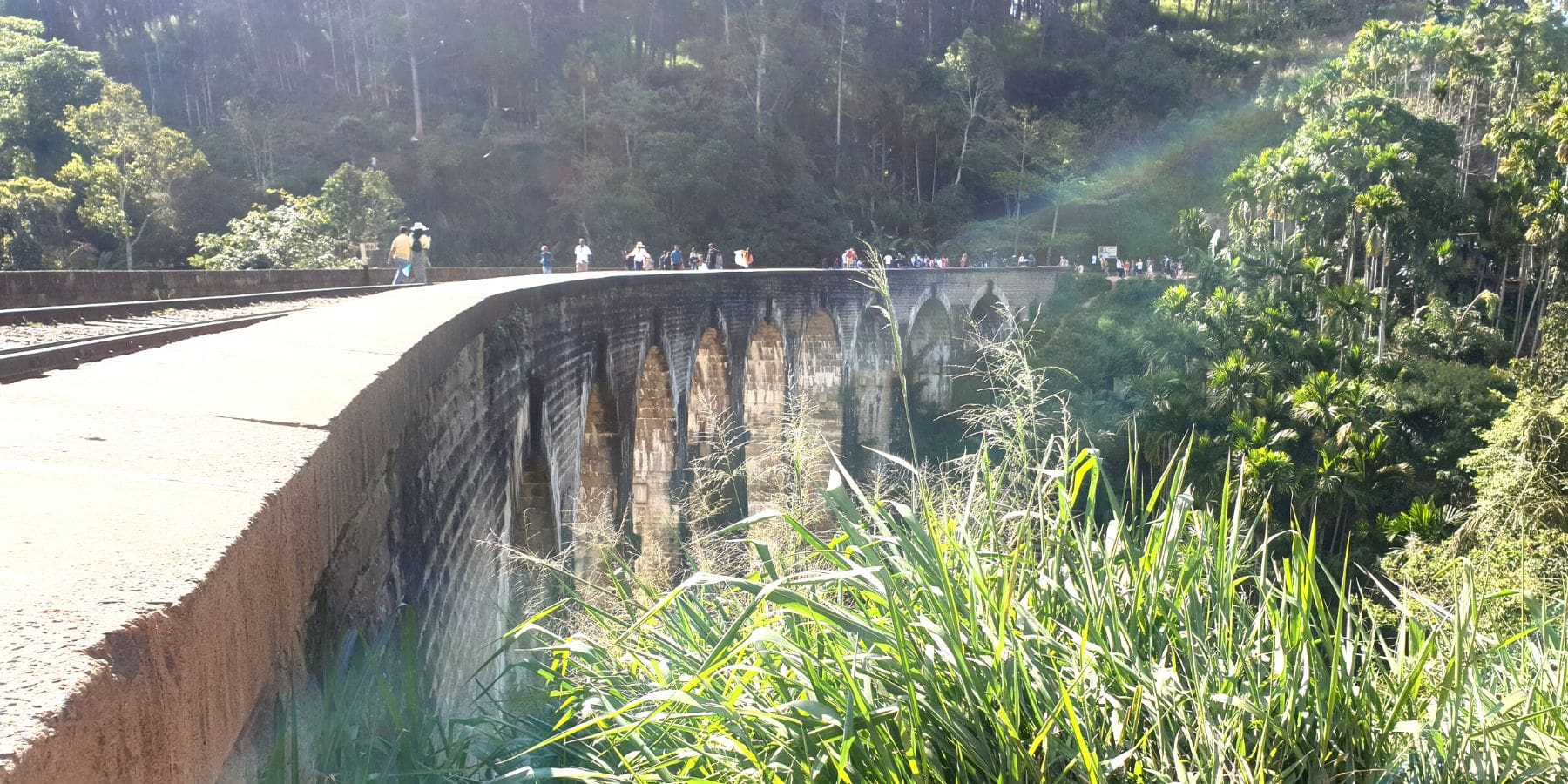 The Gorgeous Nature and Wildlife of Sri Lanka
The trail starts at 730 m above sea level, going as high as 2,110 m as it continues through the central hills for 300 km; running through 24 tea plantations, 4 nature reserves, 2 national parks and 3 districts. This means that you will come across a wide range of vegetation, from small endemic medicinal plants to Pinus and the Eucalyptus forests introduced during colonial times, from ancient lush green forests to flat plains that were settlements during the prehistoric era, from wild strawberries to pear orchards, and from the expected tea plantations to unexpected paddy fields and geometrically laid out vegetable farms.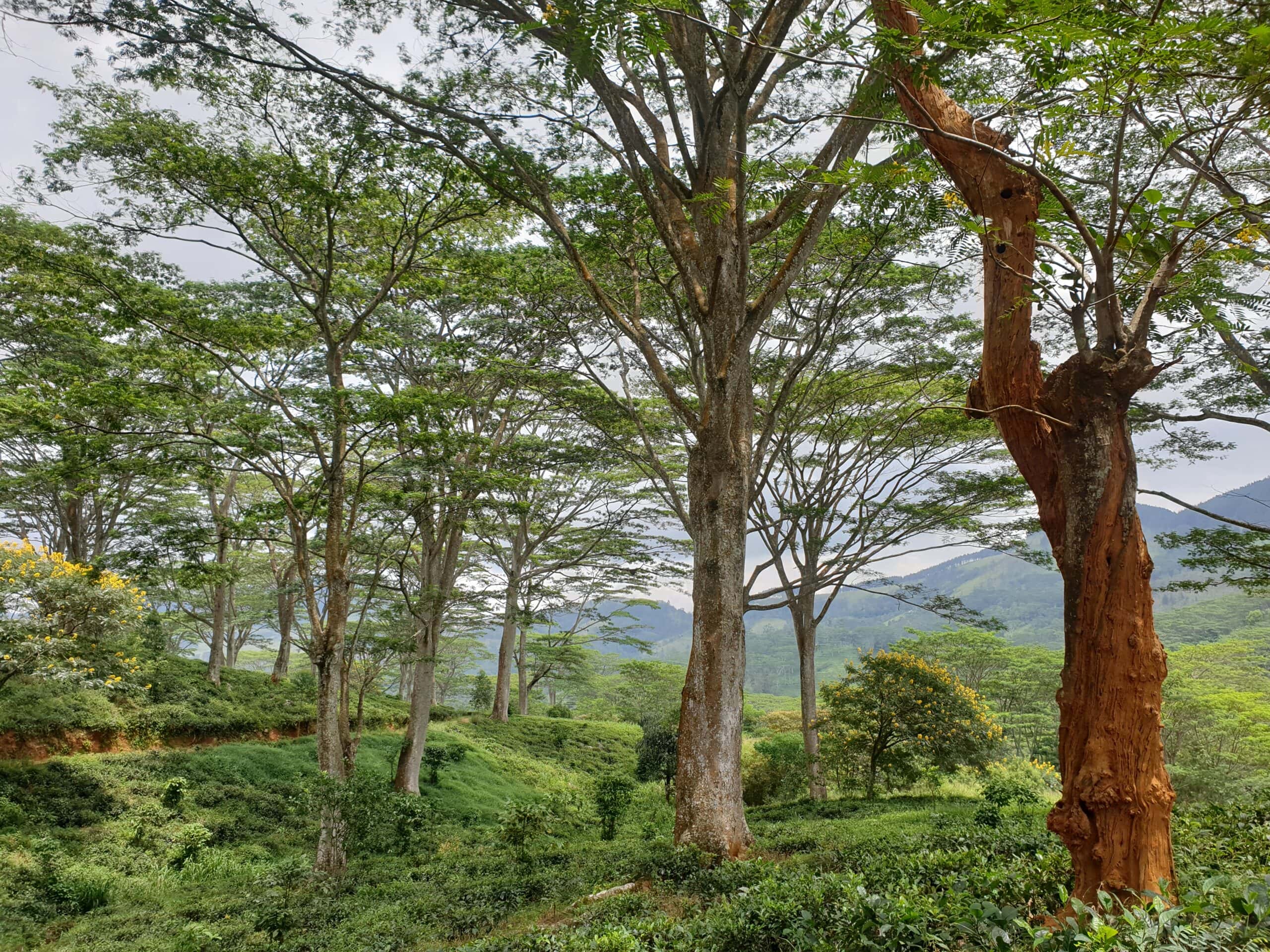 The birdlife is especially wonderful with some ubiquitous birds like the Bulbuls, Swallows and Manias, and also endemics like Scimitar Babblers and Sri Lankan Hanging Parakeets, as well as rare species such as the Black Eagle and the Sri Lanka White-eye. Reptiles are also a common site from land monitors, slinks, lizards and chameleons, and on occasion, a snake or two. It is always lovely to spot a timid Barking Deer prancing through the tea bushes, but you would be surprised by the number of goats that will bleat at you from atop a rock. It is, however, the beloved Rice Hounds that make the most appearances, as they soak up the sun in the villages or follow their owners to work in the estates. We are yet to encounter a leopard on the trail!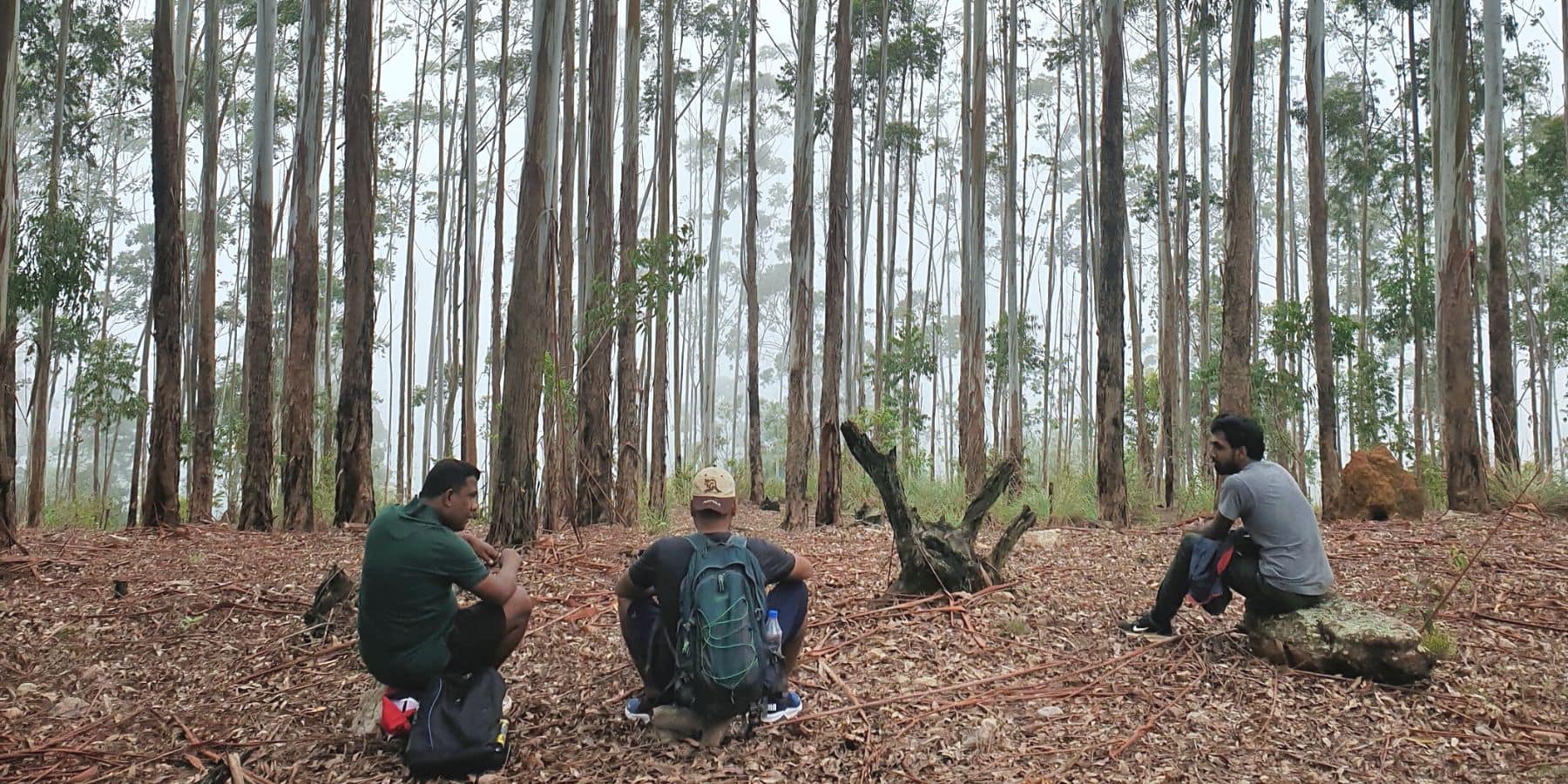 Hiking Experience Steeped in History
The Culture and Traditions of the Pekoe Trail
While the Pekoe Trail is a celebration of the natural beauty of the central highlands of Sri Lanka, it also creates an opportunity to interact with, and understand, the local communities that you meet along the way. Many of them hail from South India, as their ancestors, were brought down to work the plantations as indentured labour during British rule, and they are interspersed with Sinhala communities in different regions.
A common thread that can be seen across all communities is a sense of spirituality. Sometimes, having walked for several hours without seeing anyone, we come across a Hindu shrine, with silk scarves and gold trimmings, tied to an old tree with a trident secured to the ground, but with an offering of fresh flowers, and an oil lamp whose flame remains dancing in the cool wind. Closer to the villages and towns are Hindu Kovils and Buddhist temples, and when crossing towns, even a mosque or two. The mutual respect for spirituality is best depicted by one of the shrines tucked a little above the trail on stage 01 of the Pekoe Trail where a Cross, a Buddha statue and a trident, all stand together under one small shelter.
While the Pekoe Trail is new as a concept, and product, many of the paths taken on the trail are well over a century old as they were laid out by the British to transport tea from the vast plantations to the factories. Many of the landmarks along the trail are from the colonial period and from the tea industry.
What Historical Sites can be seen on the Pekoe Trail?
As you travel the Pekoe Trail stages, you can discover the history of tea. From the home of the first tea planter, James Taylor, to the first tea plantation in Sri Lanka, field No. 07 in the Loolecondera estate, you will find yourself passing old tea factories, British tea bungalows, muster sheds, carriage roads, the remnants of old pulley systems, as well as the bridges and railroads that transported the tea so delicately plucked and laboriously processed.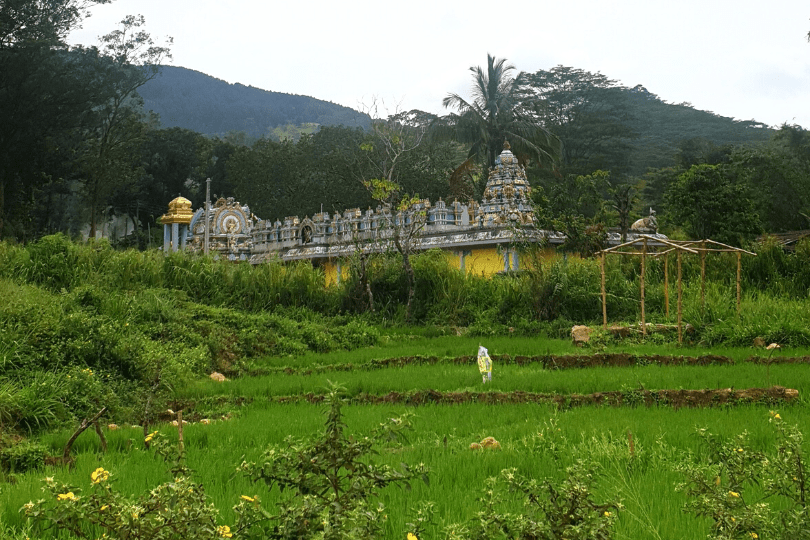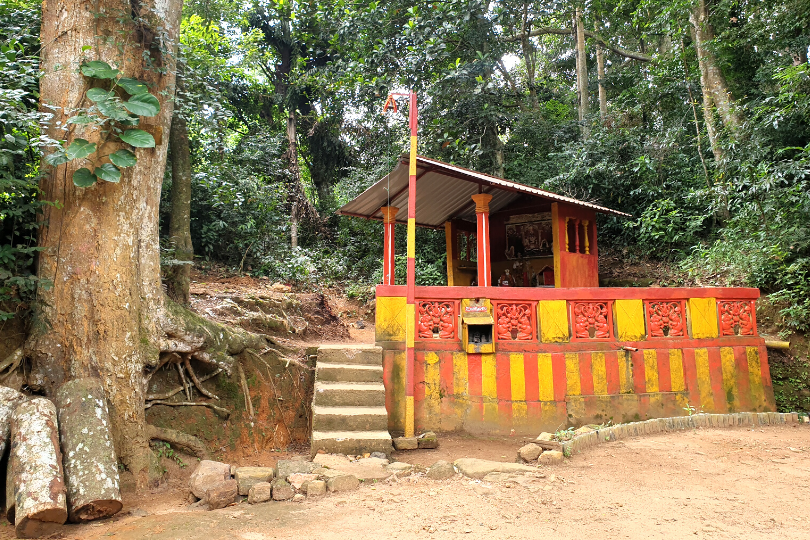 Communities on the Trail
While the emerald tea gardens, and the beloved cup of tea they produce, have enticed many a traveller to visit the island, the people who work in the plantations are most often seen only as a decorative element on the tea-covered slopes. Hiking the Pekoe Trail means going past the veneer, helping travellers understand the daily toil of the tea pickers, giving an opportunity to meaningfully interact with them, and to even walk through their villages that are often hidden within the estates. These paths are a two-way street. Giving trekkers an opportunity to experience a more holistic tea experience, and also enabling tourist dollars to seep into the communities that will benefit from this infusion. Something that they would not have seen before the introduction of the Pekoe Trail.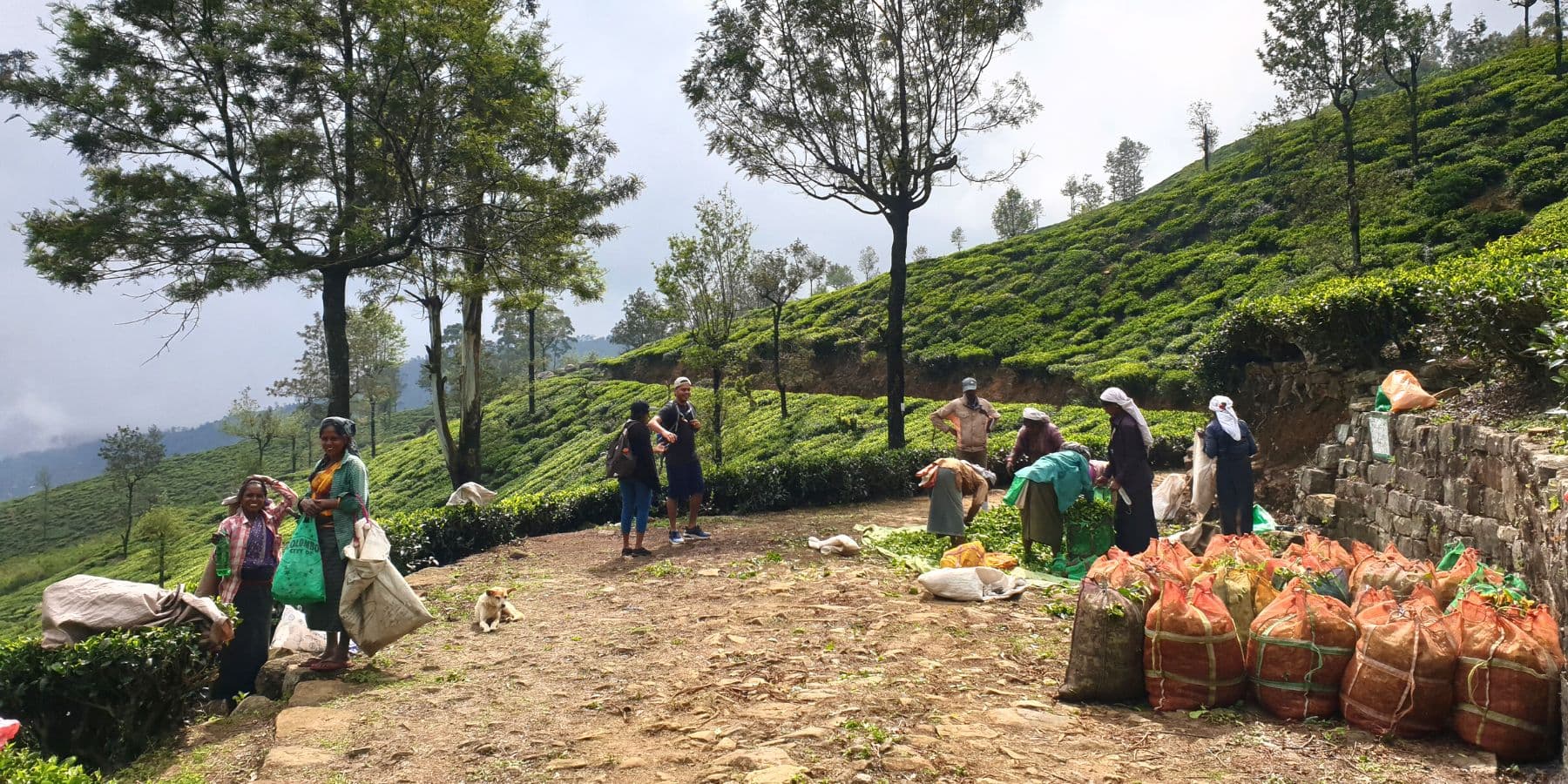 Everything You Need to Know Before Setting Off on Your Pekoe Trail Adventure
When spending long hours in nature, preparedness is key. Each trek may take between 2.5 hours to as long as 6 hours, depending on the trail and your level of fitness on the day. Therefore, a thorough understanding of the stages (or the right advice from our travel team) will help you be ready for the challenges of the trail.  
As mentioned before, a sturdy pair of shoes are essential to take on the rugged terrain, and also for grip and support on slippery ground. While the hills are mostly cool, the sun can easily beat down, so bring your sunglasses, hat and sunblock. The other absolute essential is plenty of water! It cannot be stressed enough. We recommend carrying 2 litres with you. On the flip side, make sure to pack a raincoat as the weather can be very unpredictable. If you take any medication, carry it with you in a small backpack. For those with low blood glucose levels, carrying a few chocolate bars or sweets will come in handy.  
We will provide light snacks and refreshments along the way, laying them out at a scenic spot. Independent travellers can easily pick something up from one of the local shops in the trailhead towns. We will also provide dry bags to keep your phones safe, in case it rains. We will also provide leech socks to keep away the crawlies.  
Be sure to carry only the essentials with you. You do not want to add unnecessary weight to your backpacks or risk losing anything valuable. Bring just what is necessary, a little bit of money, your phone, camera and a power bank. Please avoid carrying significant amounts of money, wearing jewellery or carrying any other valuables. There is no reason to tempt fate.  
If it is raining heavily before the trail, your guide will advise that the trek be cancelled, for safety. If it is not raining on the day but the rain has been pouring down for days, they may still advise that the trek be cancelled. Owing to the fact that some of the narrow dirt tracks can wash away with continuous rain, greatly increasing the risk and reducing accessibility.  
It is best not to tackle the trails alone as there are long stretches where you may not meet anyone for several hours, and phone connectivity can be very spotty. Therefore, on the off chance that someone falls and sprains an ankle or for some reason cannot move, the other person may have to backtrack to find, or call, someone to assist. This is one of the main reasons we send all our clients with well-trained guides. Our guides are aware of the areas that are risky, are trained to look after clients in an emergency, speak the local language and have the local knowledge if anyone needs medical help.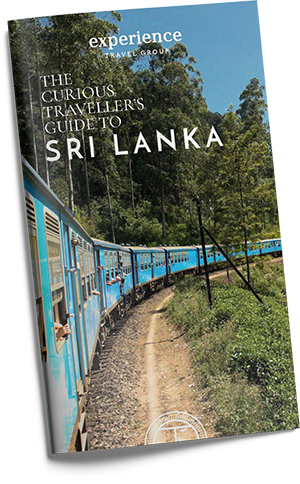 CURIOUS TRAVELLER'S GUIDE TO SRI LANKA
Wondering when to visit Sri Lanka? Our Curious Traveller's Guide to Sri Lanka will give you a more detailed breakdown of the best time of year to book a holiday, as well as tips on the best beaches, unmissable sites, and much more.
DOWNLOAD NOW
ETG & the Pekoe Trail in the Press