Our in-country expert, Richard, shares his insider suggestions for a day's exploration of UNESCO heritage George Town in Penang. Sampling the best street food and art the old quarter has to offer, he makes some fantastic suggestions to help you plan your trip to Malaysia.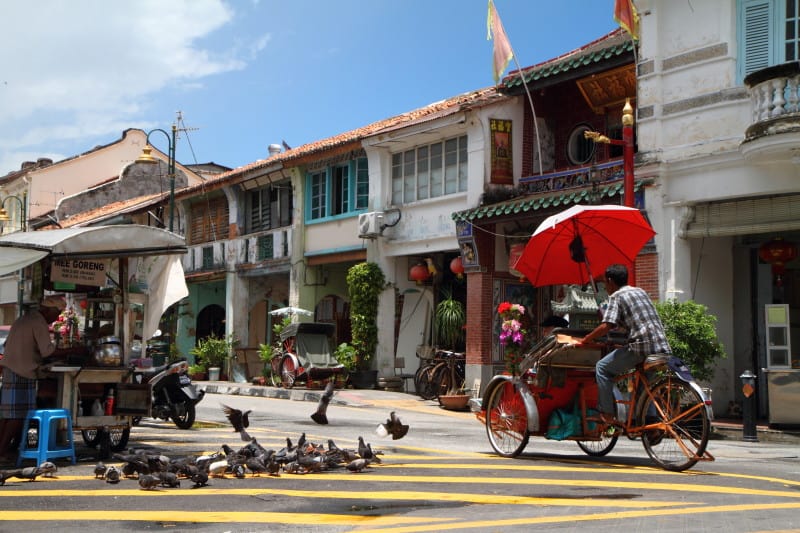 One could be forgiven for believing that George Town's city planner dabbled in Cubism.  Imagining the city as a painting, it would have a colonial town hall center-canvas, a blue, Chinese-inspired mansion just to the right, an abandoned, re-purposed bus depot covered in street art falling off the left edge, a bright yellow Hindu temple filling out the top and endless wisps of steam dotting the canvas as hawkers do their bidding.  George Town is a seemingly fragmented collection of architecture, art, culture, cuisine and history, but somehow it all comes together, forming one cohesive, eclectic portrait.
My exploration of this canvas began, as all explorations should, with a rented Vespa. The goal was simple: inspiration for my mind and my stomach.
The focus was Old George Town, a UNESCO World Heritage Site, with a network of small lanes and alleys perfect for zipping around on two wheels, whether by motorbike, bicycle, feet or trishaw (in which case it's technically three).
---
Read our top 10 Malaysia experiences »
---
First stop was to fuel up for the day at Tai Tong Restoran, a local and lively dim sum haven where trolleys filled with buns and dumplings nip around the 'no frills' interior. For first-timers the process for ordering your food is simple:  wave down a cart and point.  The shrimp dumplings, char siew pau, lou mai gai, and har gao all washed downed with chrysanthemum tea is a good starter's menu.
Afterwards I drove to 'The Awaiting Trishaw Paddler', a three-story mural by Ernest Zacharevic: street art's most popular name known for his youthful murals of everyday local life – with the most famous being 'Little Children on a Bicycle Mural.'  At a slow cruise I passed 'Little Girl in Blue' and 'Broken Heart.'  Diverting to other artists I found one of the 52 iron works in a series known as Marking George Town.  The happiest street art I encountered has to be the 101 Lost Kittens project, most notably 'The Real Bruce Lee Would never Do This.'
Needing a cultural distraction I decided to see a holy trinity from the 19th Century.  First stop was Kuan Yin Teng, a Taoist/Buddhist temple famous for being Penang's oldest.  The open courtyard is festooned with locals, tourists, pigeons and the biggest incense I've ever encountered, creating a dreamy and photogenic atmosphere.  Walking a block north I took a quick photo of and read a plaque on St. George's Anglican Church – this 19th Century beauty is Southeast Asia's oldest Anglican Church.  Walking south a few blocks I visited the Masjid Kapitan Keling Mosque, an old world, whitewashed Moorish building situated on a green, grassy plot.
---
Read our top 10 Malaysia experiences »
---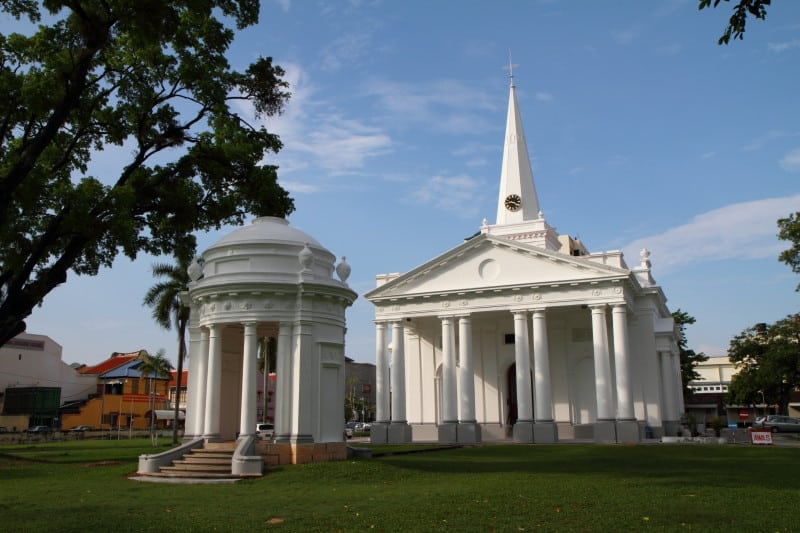 St. George's Anglican Church
Feeling famished, I saddled up on the Vespa and wandered around India Town, a frenetic ward with everything from mobile shops to spice merchants.  I made a quick photo stop at Sri Mahamariamman Temple, figuring that ticking off a fourth major religion in the hour would bring some good karma, before settling down at Woodland's Vegetarian Restaurant.
As the city began to heat up it was time to find an indoor activity in the form of the Pinang Peranakan Mansion.  It offers the best example of Peranakan architecture in George Town while also tastefully recalling the culture and lifestyle of the town's genteel Straits Chinese.
Although the mansion/museum is beautiful, these places tend to induce sleep so a quick ride and coffee were now in order. Hin Bus Depot hit the spot.  The old bus station has been re-imagined into an art centre and event space.  The abandoned feel, expressive murals, airy grounds and decent café make it an ideal spot in which to unwind.
As the sun descended into the Andaman Sea it was time to finish the day off with duck kway chap, a delicious rice noodle soup.  The best place to eat it is Kimberly Street, a well-known enclave for street food.  Finding the best was simple: look for the hawker with the biggest queue.  After a patient wait you'll have two options: have the dish with just duck or with pig innards and organs.  I bravely ended my exploration with all the trimmings. It had been just another day in the ever colourful George Town.
---
For more information about George Town, from travel experts who've been there themselves, do call 020 3432 4736 or email us with your questions here. To see how visiting this UNESCO heritage site could fit in with a wider holiday to Malaysia, have a look at our example holiday itineraries. Do note they're just a starting point, our holidays are tailor-made so we can tweak all elements to suit your exact needs. 
---